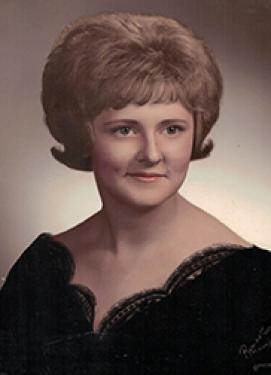 Linn County News
Published Oct. 7, 2020
Ruby Lorene Pointer, age 73, Mound City, Kan., passed away on Friday, Oct. 2, 2020. She was born in Kansas City, Mo., on March 3, 1947, the daughter of Loren and Ruby Jacobs Fritts. She graduated from Pleasanton High School. Ruby and William "Pete" Pointer Jr. were united in marriage on Dec. 25, 1966. He preceded her in death on Jan. 5, 2018. She was also preceded in death by her parents and a son, Brandon.
Ruby worked managing the Pleasanton School Bus Fleet and later was a janitor for Pleasanton USD 344. She enjoyed crocheting, quilting, gardening and home improvement projects. Ruby was a quiet, kind and compassionate person. For many years, she took children from the Pleasanton community to enjoy a vacation at Disney World.
Ruby is survived by sons Eric Pointer and Wendi, and Bryan Pointer; a sister, Barbara Sutterby; and granddaughters Kyra, Jaidyn and Danyka Pointer.
Memorial service will be at 7 p.m. Wednesday, Oct. 7, 2020, at the Schneider Funeral Home and Crematory, Pleasanton Chapel. Visitation will be from 6 p.m. to service time at the Pleasanton Chapel. Online condolences for the family can be left at www.schneiderfunerals.com. Contributions are suggested to Children's Mercy Hospital, c/o Schneider Funeral Home, P.O. Box 525, Pleasanton, Kan. 66075.
OBITUARIES

Linn County News Published Sept. 22, 2021 Wilhelmina "Billie" Rose Suddock, age 90, of Wichita, Kan., died Thursday, Sept. 16, 2021. In lieu of flowers, the family requests donations to the Home Health & Hospice of Kansas. Rosary... [More]

Published in the Linn County News Sept. 22, 2021 Virgil Elmer Spencer, age 82, Mound City, Kansas passed away Friday, Sept.17, 2021. He was born on August 8, 1939 in rural Mound City, Kan. the son of Elmer Allen and Thelma Barker Spencer. ... [More]

Troy E. Mitchell, age 87, of Pleasanton, Kan. passed away in Overland Park, Kan.on Friday, Sept. 17, 2021. Troy was born the son of Jesse James and Naomi Folsom Mitchell on June 23, 1934 in Kansas City, Kan. He married Ruby Venable on October 4, 1951... [More]
More Obituaries
View All Obituaries
NEWS

For immediate release: September 22, 2021 On September 21, 2021, The Linn County Sheriff's Office was given information that a student at Pleasanton USD #344 was bringing a knife to school. Information led Deputies to believe that the student may want to harm others.... [More]

By JACKIE TAYLOR Linn County News jackielcn@linncountynews.net After Linn County Sheriff Kevin Friend spoke on School Resource Officer (SRO) activity, County Commissioner Jim Johnson commented at their Monday meeting that the commissioners needed to clear... [More]

By JACKIE TAYLOR Linn County News jackielcn@linncountynews.net Continuing their discussion concerning annexation at their Monday meeting, the City Council spoke of Pleasanton resident Kimberly Campbell's request for voluntary annexation... [More]
More News
SPORTS

LINN COUNTY NEWS NEWSPAPERSRME@yahoo.com After losing their first three games, including by 30-6 at Uniontown last Friday, Pleasanton's Blu-Jays will be looking to score first when they host Troy at 7 p.m. this Friday in a non-district matchup. "We... [More]

LINN COUNTY NEWS holtadam82@yahoo.com The Prairie View football team continues to perform at a high level as they hosted Parsons on Sept. 17. The Buffalos took control of the game early on both sides of the ball, which led to an eventual 38-14 victory.... [More]
More Sports
OBITUARIES POLICY
• May be mailed, e-mailed, faxed or hand delivered.
• Must be received by 9 a.m. on Tuesday morning in order to appear in that week's edition.
• Full obituaries submitted by individuals are required to be paid in advance.
• Obituaries submitted by funeral homes will be billed to the funeral home.
• Cost: $30 for 300 words or less. Each additional word over 300, 10¢. Photograph $5.
Call Barbara at 913-352-6235 or e-mail reporter@linncountynews.net