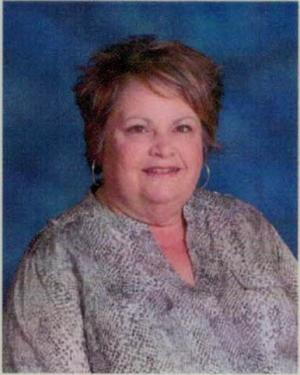 Sheila Diane Price
07-27-1953 to 07-18-2019
Linn County News
Published July 24, 2019
Sheila Diane Price, 65, loving mother, grandmother and wife, passed away Thursday, July 18, 2019, at her home in La Cygne, Kan. Sheila was born in Miami, Okla., July 27, 1953, to Benjamin and Pat (McNelis) Swango.
She attended school in Miami and graduated from high school there in 1972. She also attended college at Pittsburg State University, receiving a Bachelor of Science Degree in Education in 1981.
On Nov. 24, 1973, Sheila married Ron Price in Miami. They moved to La Cygne to begin their teaching careers at Prairie View USD 362. Sheila taught 30 years in the school system, fourth grade at Fontana Elementary then finishing her career at Parker Elementary teaching kindergarten. During that time she loved teaching students who later became lifelong friends.
Sheila was a member of KNEA and the local chapter of PEO. She was a member of the United Methodist Church, where she was a member of many committees, taught Sunday school and Vacation Bible School. Some hobbies included playing bridge and bunko with her girlfriends. She enjoyed getting together to share laughs and meal with friends. Being a coach's wife, Sheila sat through many games, whether it was for her own children, grandchildren or the local athletes; Sheila was a loyal supporter of Prairie View High School athletics. Sheila also loved spending time with all of her grandchildren, playing Mexican Train Dominos, going to lunch or visiting them at school for Grandparents Day.
Sheila is survived by her husband, Ron Price, La Cygne; two daughters, Julie Diane Oetken and Jill Michelle (Matt) Peuser, Olathe, Kan.; seven grandchildren, Christopher, Olivia, Karlee and Sophie Oetken, and Dylan, Zachary and Weston Peuser, all of Olathe; mother Pat Christenson, Miami; brother Randy (Kim) Swango, Miami; and nephews and niece Cole Swango, Collinsville, Okla., Clint Swango, Oklahoma City, Okla., and Rachel Swango, Joplin, Mo.
She was preceded in death by her grandparents; her father, Benjamin Swango; stepfather Bill Christenson; and her brother, Greg Swango.
A celebration of life was held on Monday, July 22, at the United Methodist Church. Burial took place following the service at Oak Lawn Cemetery, La Cygne.
Memorials have been established in her name with Parker Elementary School and United Methodist Church. Donations can be sent to Schneider Funeral Home, 202 N. 4th St., La Cygne KS 66040.
OBITUARIES

Linn County News Published May 24, 2023 Gene Raymond Mitchell, 84 years, passed away on November 24, 2022 in his home Grand Rapids, Mich. He was born in Kansas City, Kan., the third child of Otto and Ruby Mitchell. Preceded in death by his parents and brother,... [More]

Linn County News Published May 17, 2023 Richard Scott Secrest, age 93 of Nevada, Mo., formerly of Pleasanton, Kan., passed away on Tuesday, May 16, 2023. He was born the son of Ancil and Beulah (Jackson) Secrest on May 29, 1929, at Edgerton, Kan. Richard married... [More]

Linn County News Published May 17, 2023 Donald Raymond Wier, age 82, of Denton, Texas, passed away on May 11, 2023. The second child of Lloyd Elmer and Thelma Olan (Meek) Wier, Don was born on July 9, 1940, in Fort Scott, Kan., a farm kid who excelled in... [More]
More Obituaries
View All Obituaries
NEWS

A health and cancer screening event is planned for 11 a.m. to 2 p.m. on June 3 at the Pleasanton United Methodist Church, 751 Main Street. This event will have prostrate and skin cancer screenings, take-home colorectal cancer screening kits, blood pressure readings, tobacco... [More]

This year's Thunder on the Street event, set for June 3 on Main Street in Pleasanton, promises several activities for all ages. The wall of death is back this year, only under a new company - Ives Brothers Wall of Death and promises tons of gravity defying entertainment.... [More]

Saturday, May 27 Linn Valley Memorial Day ceremony at the memorial at 10 a.m. Prescott Cemetery Memorial Day ceremony at 10:30 a.m.; a potluck lunch will follow at the Community Building in Prescott with the city providing the meat, drinks and table service.... [More]
More News
SPORTS

The Prairie View track team traveled to Wichita May 26-27 to compete in the 3A State track championship and brought home some hardware to say the least. The girls' team earned the school's first State track championship as they scored 41.5 points to win the 3A girls'... [More]

The Jayhawk-Linn track team traveled to Wichita on May 26-27 to compete in the 2A State track championship. The Hawks were well represented this year as they sent a total of 13, seven girls and six boys, to State. The boys' team earned multiple medals at the meet. Gus... [More]
More Sports

OBITUARIES POLICY
• May be mailed, e-mailed, faxed or hand delivered.
• Must be received by 9 a.m. on Tuesday morning in order to appear in that week's edition.
• Full obituaries submitted by individuals are required to be paid in advance.
• Obituaries submitted by funeral homes will be billed to the funeral home.
• Cost: $30 for 300 words or less. Each additional word over 300, 10¢. Photograph $5.
Call Barbara at 913-352-6235 or e-mail linncountynewsreporter@gmail.com