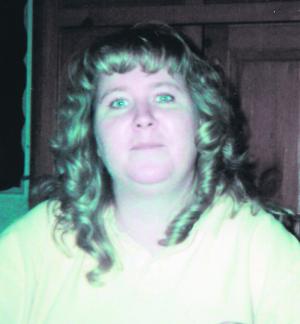 Sherry Sue Conner, 44, Prescott, Kan., passed away Saturday, Aug. 22, 2015 at her home. She was born April 2, 1971, at Kansas City, Kan., the daughter of David and Peggy Ann Kieffer Walters. She attended grade school in Baldwin, Kan., and graduated from Olathe North High School.
She married Bryan Conner Aug. 29, 1998, at Stilwell, Kan. She enjoyed reading, fishing, dancing, country music and attending her daughter, Lenzie's, activities.
She was preceded in death by her father David Walters; and a stepbrother Jeff Dinges.
She is survived by her husband, Bryan; daughter Lenzie Conner; mother and stepfather, Peggy and Harold Dinges; brother, Tony Walters; three sisters, Kimberly Andrus, Brenda Melvin, and Carol Walters; stepbrothers, J.R. and James Dinges; and stepsisters, Rene Randall and Carla Bowen. Sherry is also survived by multiple aunts, uncles, nieces, nephews, and friends. She will be greatly missed by all who knew her.
Graveside funeral service will be held at 10:30 a.m. Thursday, Aug. 27, 2015, at the Prescott, Kan., Cemetery. Potluck dinner to follow at Tony and Angie Walters', 22002 E. 125th, Fulton, Kan. Visitation will be held from 5 to 7 p.m. Wednesday at the Schneider Funeral Home and Crematory, Mound City Chapel. The family suggests contributions to the Lenzie Conner Education Fund. A message for the family may be left at www.schneiderfunerals.com. Arrangements: Schneider Funeral Home and Crematory, Mound City Chapel.
OBITUARIES

Linn County News Published Nov. 24, 2021 Kristina Diane Roth, age 43, of Hesston, Kan., entered her heavenly home on Sunday, Nov. 21, 2021. Kris was born March 11, 1978, the daughter of Robert (Bob) and Diane Burnett in Garnett, Kan., and lived with her family in... [More]

Linn County News Published Nov. 24, 2021 Neta Lee Leonard, age 69, of Pleasanton, Kan., passed away Friday, Nov. 19, 2021. She was born on July 2, 1952, at Lincoln, Kan., the daughter of Dee and Delores Hall Montgomery. Neta was a nurse over the years. She enjoyed doing genealogy,... [More]

Linn County News Published Nov. 24, 2021 George Herbert Eaton, age 83, La Cygne, Kan., passed away Thursday, Nov. 18, 2021. He was born on April 18, 1938, in El Reno, Okla. He graduated from El Reno High School and attended Johnson County Community College obtaining certification... [More]
More Obituaries
View All Obituaries
NEWS

City clerk asks in preparation for 2022 mobile home park licenses Broaching whether to contact Linn County or Linn Valley about building-inspector help for upcoming La Cygne mobile home park license renewals dominated the city clerk's report at the Nov. 17 La... [More]

Defense expects to file motion opposing Dec. 23 Zoom setting A "no return of service" on a subpoena to an alleged crime victim prompted prosecution to request a continuance for a scheduled evidentiary preliminary hearing. At a scheduled half-day go hearing... [More]

Deputy Tanner Ogden joined on a chase initiated by the Garnett Police Department after it crossed county lines on Wednesday, Nov. 24, on the western edge of Linn County. Ogden followed the vehicle, a white van being driven by Daniel R. Evans, on 2200 Road past Iliff then the... [More]
More News
SPORTS

The 2021 high school football season for the three Linn County schools has concluded, and so it is time to announce the 2021 All County football team. This season was not as successful for the teams as it has been in the past. Both Prairie View and Pleasanton were eliminated... [More]

The 2021 high school football season has concluded, and the three Linn County high school football teams had multiple players make their respective All League football teams. The Prairie View Buffalos had multiple players on this year's All-Pioneer League team. Colton... [More]
More Sports

OBITUARIES POLICY
• May be mailed, e-mailed, faxed or hand delivered.
• Must be received by 9 a.m. on Tuesday morning in order to appear in that week's edition.
• Full obituaries submitted by individuals are required to be paid in advance.
• Obituaries submitted by funeral homes will be billed to the funeral home.
• Cost: $30 for 300 words or less. Each additional word over 300, 10¢. Photograph $5.
Call Barbara at 913-352-6235 or e-mail reporter@linncountynews.net