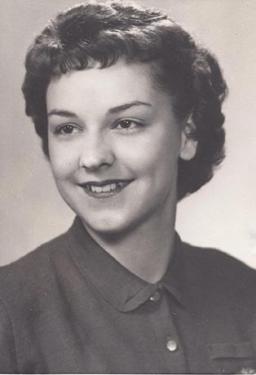 Linn County News
Published Aug. 11, 2021
Verena Ruth Moore, born Verena Ruth Foster, died during the late evening of May 19, 2020, in Los Angeles, Calif. She was born on Aug. 12, 1938, in La Cygne, Kan., to George and Renoma Foster. She had been a resident of York Healthcare and Wellness Centre, not far from the home of her son, Wesly, for almost two years.
Verena's early life was spent on her family's farm outside La Cygne. She and her parents moved to town when she was still fairly young. Her father, George, became a minister, and the family moved around quite a bit, including time spent in Fort Worth, Texas, and Texhoma, Okla. Although Verena was an only child, when she was in eighth grade in Fort Worth she found herself a sister in a girl named Quilla. Over the years, the two kept in touch and grew ever closer. Even though their families moved apart, they would often visit each other, and eventually were roommates in college.
Verena studied English and Home Economics at Southwest Baptist University at Bolivar, Mo., and Oklahoma Baptist University at Shawnee, Okla. She became a school teacher, working mainly with elementary and middle school students. She was married in June of 1962 to Samuel A. Moore and the couple moved to Los Angeles, Calif. They adopted two children– Wesly, born in March 1966, and Melody, born in July 1969 – and later had a daughter by birth, Megan, born in February 1980.
A self-described "child of the Depression," Verena was always and forever immensely practical. She was an accomplished seamstress, and often made clothing for herself and her family. She did everything she could over the years to keep her children from worry, even though this was not always obvious at the time. She never lost her positive outlook, no matter their circumstances, even later in life when health and mobility challenges complicated her life. One of her proudest accomplishments may have been a trip she took to Russia in the early 1990s, alongside other school teachers, after the collapse and dissolution of the Soviet Union. She raised her own funding through contributions and donations, telling others that she and her colleagues were "going to help Russian teachers learn how to teach" in the absence of a state-produced curriculum.
One of the highlights of Verena's later years was a year-long visit with her lifelong dearest friend, Quilla, at Quilla's home in Texas. The two renewed and refreshed their great friendship, together enjoying activities such as church services on Sundays, shopping and other outings, preparing and sharing meals, and puttering in Quilla's garden. Quilla shared that, when the time came for Verena to return home, "I was not ready for her to leave but she was missing you all. One of the sweetest things she said before leaving here was, "'Wouldn't it be nice if we could hold hands and go into Heaven together?' Indeed, God gave us a sister bond."
Verena is survived by her son Wesly; daughters Melody and Megan; sons-in-law Chuck, Gary and Steven; ex-husband Sam; granddaughters Hannah and Amanda; and lifelong friend and chosen sister Quilla Hill.
A small, private family service was held in Orange, Calif., on May 26, 2020. In the fullness of time, an interment service will be held at Ninety Six Cemetery in La Cygne, Kan. Verena will be buried alongside her parents and overlooking La Cygne Lake, which now covers the site of her grandparents' family farm.
OBITUARIES

Linn County News Published Nov. 29, 2023 Larry Wayne Miller, age 65 of Pleasanton, Kan., passed away, Sunday, Nov. 26, 2023, in Fort Scott, Kan. A visitation will be held from 5 to 7 p.m., Thursday, Nov. 30, 2023, at the Schneider Funeral Home and Crematory,... [More]

Linn County News Published Nov. 22, 2023 Vernon Earl McGee, 78, resident of Wichita, Kan., passed away at St. Francis Via Christi Hospital on Tuesday, Nov. 7, 2023. He was born at home in Goodrich, Kan., on Oct. 7, 1945, to Earl J. McGee and Jennie Irene (Adams)... [More]

Linn County News Published Nov. 15, 2023 Vicki A. Capp, age 69 of Mapleton, Kan., passed away on Monday, Nov. 6, 2023, at the Olathe Hospice House. She was born the daughter of Frank E. and Claudeane (Shaw) Craig on Aug. 8, 1954, at Fort Lewis, Wash. ... [More]
More Obituaries
View All Obituaries
NEWS

During the Nov. 27 meeting of the Linn County Commissioners, County Counselor Gary Thompson requested a 15-minute executive session for legal matters to review the resolution he had drafted, in response to and to set in place, the moratorium that was decided on by a 2-1 vote... [More]

At the direction of its board of education, Unified School District 362 administration will be seeking information from school districts now utilizing a four-day school week. Hearing at the board's regular monthly meeting Nov. 21 that most districts using the four-day... [More]

Joey McLiney with McLiney and Co., a division of SAMCO Capital, spoke to commissioners on Monday, Nov. 27, noting they are ready to go public on the sale of the bond refinance that was previously approved by commissioners. McLiney noted that they had been waiting to do so in... [More]
More News
SPORTS

The high school football season has concluded and it is time for this year's All County high school football team. This year there were plenty of good players to choose from as all three local teams, Pleasanton, Jayhawk Linn, and Prairie View, had winning seasons. ... [More]

The start of the competitive basketball season is still more than a week away for the three Linn County schools, but across the Missouri state line, the Miami girls' squad has already equaled its on-court victory total from last year. Rebuffing a Hermitage second-half... [More]
More Sports
OBITUARIES POLICY
• May be mailed, e-mailed, faxed or hand delivered.
• Must be received by 9 a.m. on Tuesday morning in order to appear in that week's edition.
• Obituaries submitted by funeral homes will be billed to the funeral home.
• Full obituaries submitted by individuals are required to be paid in advance.
• Cost: $40 for 300 words or less. Each additional word over 300, 10¢. Photograph $5.
Call Barbara at 913-352-6235 or e-mail linncountynewsreporter@gmail.com
View Legals for Free