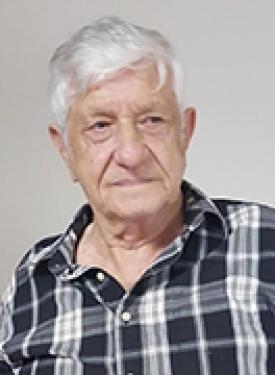 Linn County News
Published April 29, 2020
Albert Joseph "Joe" Elliott, age 83, Mound City, Kan., passed away on Wednesday, April 22, 2020. He was born at his grandmother's home in rural Miami County, Kan., the son of Merritt Joseph and Frances Alberta Young Elliott. He graduated from Paola High School in the Class of 1956. He took training at trade school for refrigeration and automatic transmissions. He worked as a psychiatric aid at the Osawatomie State Hospital, grocery store manager, meat cutter and finally as a maintenance supervisor at Prescott Country View. Joe was united in marriage to Eunice Michael on July 17, 1978. She preceded him in death on October 6, 2011. He was a member of the Church of Jesus Christ of Latter Day Saints, Mound City Branch. He enjoyed sky diving, square dancing and ice and roller skating. He was also preceded in death by his parents and a grandson, Aaron Alexander. Joe is survived by two sons, Kevin Alexander and Jim Alexander (Gloria); three daughters, Vickie Robinson (John), Kim Alexander, and Tina Maxwell (Tom); a sister, Pat Stites (Marion); ten grandchildren and three great-grandchildren.
Live streaming of private family services will begin at 10 a.m. Monday, April 27, 2020. Burial will be in the Miami Presbyterian Cemetery. Contributions are suggested to Care to Share, or Latter Day Saints Mound City Branch, Welfare Fund, c/o Schneider Funeral Home, P.O. Box J, Mound City, Kan., 66056. Online condolences can be left at www.schneiderfunerals.com.
Arrangements: Schneider Funeral Home and Crematory, Mound City Chapel.
OBITUARIES

Linn County News Published June 23, 2021 Adeline Joy Weien, infant daughter of Cody Weien and Jennifer Younger of La Cygne, Kan., passed away on Sunday June 13, 2021. She was born on Dec. 30, 2020, in Overland Park, Kan. She was preceded in death... [More]

Linn County News Published June 16, 2021 Robert Dale Hopkins, age 71, Prescott, Kan., passed away on Saturday, May 22, 2021. Graveside service will be held at 1 p.m., Saturday, June 19, 2021 at the Prescott Cemetery. Contributions are suggested to Disabled... [More]

Linn County News Published June 16, 2021 David R. Jackson, age 81, of rural La Cygne, Kan., passed away suddenly at his home Thursday, June 10, 2021. He had been in ill health the past few months. David was born Aug. 11, 1939, in La Cygne... [More]
More Obituaries
View All Obituaries
NEWS

Friday, June 11 started off like a typical late spring day but once afternoon hit, it was no typical day. Blue Mound experienced what locals estimated to be 80 to 90 mph straight-line winds, four to six inches of rain in 20 minutes and the ensuing damage created from the quick... [More]

Linn County Commissioner Rick James announced during the meeting of the county commissioners on Monday, June 14 that he had spoken with Larry Goldberg of the Goldberg Group in regards to the $196,000 change order that had been discussed at several meetings. Change Order No.... [More]

Parker city leaders are scheduled to decide at next month's 7 p.m. July 8 meeting their plan for chip seal maintenance of city streets. At their monthly meeting last Thursday, Mayor Cody Adams said two factors need to be decided prior to next month's meeting, the... [More]
More News
SPORTS

Once again the Linn County high schools had a good track season and each school sent multiple athletes to the State track meet in Wichita. In this article we will look at some of the top high school track athletes from Pleasanton, Prairie View and Jayhawk-Linn. Isaiah Bates... [More]

In Linn County high school sports there are several teams that stand out. The track and wrestling teams usually send multiple people to State. Both Prairie View softball and Jayhawk softball have been very good the past few seasons, and the football teams have had some good years,... [More]
More Sports