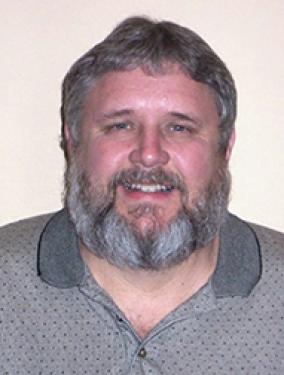 Linn County News
Published Nov. 10, 2021
Alvin ("Al") Raymond Thompson, 60, of La Cygne, Kan., passed away July 25, 2021, at St. Luke's South Hospital in Overland Park, Kan.
Al was born Nov. 22, 1960, to Harold and Mary Thompson at Olathe Community Hospital.
Al recalled from his childhood many trips to Goodland, Kan., on the train to stay the summer with his grandparents and relatives on the farm. He enjoyed being there and remembered it fondly.
Al attended Olathe High School, back when there was only one high school. He worked as a mechanic and did real estate maintenance for several years. He attended DeVry Institute of Technology and received an associate's degree in electronics and worked in the medical equipment field for many years. Al always liked new challenges and decided to go into real estate and worked as an agent for Crown Realty for the last 15 years. He enjoyed working for Crown, his co-workers and people he met as he did business. Al was a people person, and it fit him well.
Al and Kathy Knecht met in 1981. They were introduced by mutual friends. It was love at first sight, and they were married Jan. 22, 1982. They were together for 39 years. It was always "You and Me, Kid." They lived a loving, committed relationship, respected each other, with an importance of shared faith and sincere love of family, friends and community.
Al was fun-loving and appreciated for his kind and generous ways. Helping others brought joy to his life. He loved classic cars and attended shows. He tinkered in the garage and enjoyed building things around the house. He really enjoyed his time with friends and family at the lake, sharing a story, having a drink and listening to music.
Preceding Al in death are his father and mother, Harold and Mary Thompson; his sister, Julie Thompson; his brother, Danny Thompson; father-in-law George Knecht; brother-in-law Greg Knecht; and brother-in-law Bill Clark.
Surviving are his wife, Kathy, of the home; and his five sons, Brandon Thompson of Olathe, Justin Thompson of Eldridge, Mo., Jason Thompson and wife Samantha of Pleasant Hill, Mo., Jacob Thompson of Olathe and Jordan Thompson of Olathe. He is also survived by his mother-in-law, Lorraine "Kitty" Knecht, of Paola; his sister, Linda (Bill) Clark, of Flemington, Mo.; sister Judy and husband Wayne DuVall of Marysville, Tenn.; sister-in-Law Gayleen (Danny) Thompson of Osawatomie; sister Bonnie and her husband Jim Forth of Olathe; and brother-in-law Mike Knecht and his wife Cheryl of Joplin, Mo. Al was close to his many nieces and nephews and talked with them often. He was a great listener and reassuring soul for many. He leaves behind his beloved dog Shadow and two cats Momma and Joker.
A Celebration of Life will be held from 5:30-8:30 p.m. Friday, Nov. 12, 2021, at Town Square Event Design at 15 W. Wea, Paola, Kan. A mass will be held at 11 a.m. Saturday, Nov. 13, 2021, at Holy Trinity Catholic Church, 501 E Chippewa St., Paola. Graveside service will be directly after mass at Holy Cross Catholic Cemetery in Paola. Please respect others by wearing masks and social distancing when possible.
In lieu of flowers, please consider a donation to Lakemary Center, Holy Trinity Church of Paola or the charity of your choice in his memory c/o Dengel & Son Mortuary-Crematory, 305 N. Pearl St., Paola, Kan. 66071.
OBITUARIES

Linn County News Published September 20, 2023 Daniel Glen Needham took the long way home on Sept. 6, 2023, after fighting a long battle against cancer. We are sure he had to stop along the way and check out all the new fishing holes and visit with everyone he met... [More]

Linn County News Published September 20, 2023 Phyllis Irene Best, age 75, Grain Valley, Mo., passed away Thursday, Sept. 14, 2023. A graveside funeral service will be held 11 a.m. Wednesday, Sept. 20, 2023, at the Curry Cemetery. Visitation will be... [More]

Linn County News Published September 20, 2023 Jean Frances Patterson (nee Ward) 86, of St. Louis, Mo., passed away Monday Sept. 11, 2023 in Mercy Hospital. She was a resident of St. Louis for 60 years but remained loyal to her native Kansas where she was born... [More]
More Obituaries
View All Obituaries
NEWS

A full room greeted seven of nine members of the Linn County Planning and Zoning Commission last Tuesday at their normally scheduled meeting. The crowd attended in response to apparent contracts being circulated through locations in the county asking landowners to lease property... [More]

Field questions from local residents on regulations Following an executive session for legal matters, County Counselor Gary Thompson explained to the commissioners and those attending the meeting that he had reached out to three different attorneys who have extensive... [More]

Parker city leaders have given its police force the go-ahead to purchase two body camera/taser systems. The 3-0 vote, with Kandice Higgins and Jerry Summers not present, came during last Thursday's monthly council meeting but only after city leaders agreed that this year's... [More]
More News
SPORTS

The Jayhawk Linn football team is now 3-0 after a 56-0 thrashing of Uniontown on the evening of Sept. 15. It was all Jayhawk in their home opener as the Hawks dominated in all three phases of the game. The first offensive play from scrimmage resulted in points as Jayhawk quarterback... [More]

The Pleasanton volleyball team was certainly busy this past week as the team hosted Rich Hill on Sept. 11, hosted a Three Rivers League quad on Sept. 12, and traveled to Humboldt for a tournament on Sept. 16. The Lady Jays played a best out of five matchup against Rich Hill... [More]
More Sports
OBITUARIES POLICY
• May be mailed, e-mailed, faxed or hand delivered.
• Must be received by 9 a.m. on Tuesday morning in order to appear in that week's edition.
• Obituaries submitted by funeral homes will be billed to the funeral home.
• Full obituaries submitted by individuals are required to be paid in advance.
• Cost: $40 for 300 words or less. Each additional word over 300, 10¢. Photograph $5.
Call Barbara at 913-352-6235 or e-mail linncountynewsreporter@gmail.com