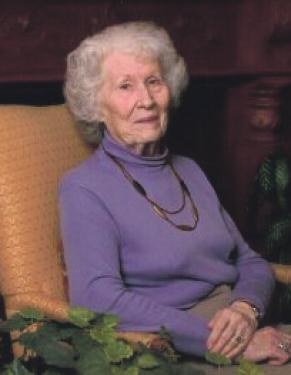 Linn County News
Published Feb. 16, 2022
It is with much sorrow that the family of Anadel Gable shares the news of her passing. Anadel Edmiston Gable, a longtime resident of Pleasanton, Kan., passed away peacefully on Feb. 7, 2022, at Highland Meadows Health and Rehab Center in Rockwall, Texas. She was born in Walker, Mo., on Nov. 5, 1931. She was married to Frank Gable, who passed away in 2001, for more than 40 years. She lived in Pleasanton for more than 50 years.
Anadel was an active member of many organizations over the years, including Cub Scouts, PTA, card clubs and church. Though this brought her much joy, she reveled most in visiting with family and others she deeply loved. She took much pride in rearing her two boys and lavishing love on her grandchildren and could frequently be found at the local coffee shop, huddled with her dearest friends. Later in life, she suffered from the effects of dementia and moved to Texas, but even when she could not remember family names and other details, she longed to be home in Pleasanton with her beloved friends.
Anadel is survived by her children, Mac and wife Amy, of Heath, Texas, and F.P. and wife Stephanie, of Magnolia, Texas; six grandchildren, Daniel, Paige, Payton, Christian, Jillian and Jaden; and eight great-grandchildren.
Celebration of Anadel's life will be held at a graveside service for family and friends at Pleasanton Cemetery at 1:30 p.m. Friday, Feb. 25, 2022. A gathering of family and friends will be held beginning at 6 p.m. Thursday evening, Feb. 24, at the Pleasanton Community Center. Online condolences can be left at www.schneiderfunerals.com.
Instead of flowers the family requests gifts to the Alzheimer's Association (https://act.alz.org/donate).
OBITUARIES

Linn County News Published December 7, 2022 Anna Mae Carrel, 98, Nevada, Mo., passed away on Sunday, Dec. 4, 2022, at Menorah Medical Center in Overland Park, Kan. Anna was born Nov. 4, 1924, in Mound City, Kan., to Fred M. and Mary C. (Hollister) Smith. She was united in... [More]

Linn County News Published December 7, 2022 Kathryn Elaine "Kathy" Newcome passed away Thursday Dec. 1, 2022. Funeral service will be 2 p.m. Monday, Dec. 5, 2022, at the Schneider Funeral Home and Crematory, Pleasanton Chapel. Burial in the Richland Cemetery. Visitation will... [More]

Linn County News Published December 7, 2022 Linda S. Rios, age 63, of Mound City, Kan., passed away in Olathe, Kan., on Nov. 14, 2022. There are no services scheduled. Online condolences may be left at www.schneiderfuneral.com.
More Obituaries
View All Obituaries
NEWS

In a sentencing hearing set for Friday, Dec. 2, Robert Woody III appeared in Linn County District Court in front of Judge Andrea Purvis, but instead of sentencing being handed down, the defense requested a continuance. Defense counsel Craig Cole noted his client had just brought... [More]

Discussions at Monday's Linn County Commissioner's meeting turned to the landfill issue and the fact that, as it currently sits, the landfill is only a year and half out from closing. During Monday's discussions, Linn County Public Works Administrator Shaun... [More]

Charges amended to one count of leaving the scene of an accident James Rocky Allen appeared in Linn County District Court on Tuesday, Nov. 29 for what was slated to be a preliminary hearing in case LN-2020-CR-000240 in which he was charged with second degree murder;... [More]
More News
SPORTS

The Prairie View wrestling team traveled to Pleasant Hill on Dec. 2 and 3 to compete in the Steve Leslie Invitational. The boys' team had three wrestlers place in the top four while the girls' team had two wrestlers place in the top four. Kimmy Eastwood wrestled... [More]

Pleasanton basketball teams began their season Friday with a split varsity decision at Prairie Village-Kansas City Christian (KCC), the girls winning 39-19 while the boys took a 60-31 loss. Both teams now have two games upcoming at this week's early-season round-robin... [More]
More Sports

OBITUARIES POLICY
• May be mailed, e-mailed, faxed or hand delivered.
• Must be received by 9 a.m. on Tuesday morning in order to appear in that week's edition.
• Full obituaries submitted by individuals are required to be paid in advance.
• Obituaries submitted by funeral homes will be billed to the funeral home.
• Cost: $30 for 300 words or less. Each additional word over 300, 10¢. Photograph $5.
Call Barbara at 913-352-6235 or e-mail linncountynewsreporter@gmail.com