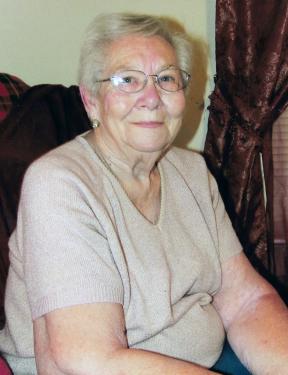 Angilee L. Dennis
09-29-1931 to 09-26-2019
Linn County News
Published Oct. 2, 2019
Angilee L. Dennis, age 87, La Cygne, Kan., passed away on Thursday, Sept. 26, 2019. She was born in Norwood, Mo., on Sept. 29, 1931, the daughter of Elzie and Sylvia Owens Smith. She graduated from high school in Mountain Grove, Mo.
On June 16, 1951, she married her childhood friend, Leon Dennis. Leon passed away on March 7, 2011, missing their 60th wedding anniversary by a little over three months.
She was also preceded in death by a brother, Elgene Smith.
Angilee retired from Turner School District in 1992. She was a cook and manager of the cafeteria for 27 years. She attended Calvary Baptist Church and volunteered with Harvesters.
Angilee is survived by a daughter, Charlotte Becker and husband John; two sons, Edwin Dennis and Terry Dennis and wife Shirley; six grandchildren; 13 great grandchildren; and four great, great grandchildren.
Funeral service was scheduled at 11 a.m. Tuesday, Oct. 1, 2019, at the Calvary Baptist Church, La Cygne, with burial in the Oak Lawn Cemetery. Visitation was scheduled from 5-7 p.m. Monday, Sept. 30, at the Schneider Funeral Home and Crematory, La Cygne Chapel.
Contributions are suggested to Calvary Baptist Church c/o Schneider Funeral Home. Online condolences can be left at www.schneiderfunerals.com.
OBITUARIES

Linn County News Published Nov. 24, 2021 Kristina Diane Roth, age 43, of Hesston, Kan., entered her heavenly home on Sunday, Nov. 21, 2021. Kris was born March 11, 1978, the daughter of Robert (Bob) and Diane Burnett in Garnett, Kan., and lived with her family in... [More]

Linn County News Published Nov. 24, 2021 Neta Lee Leonard, age 69, of Pleasanton, Kan., passed away Friday, Nov. 19, 2021. She was born on July 2, 1952, at Lincoln, Kan., the daughter of Dee and Delores Hall Montgomery. Neta was a nurse over the years. She enjoyed doing genealogy,... [More]

Linn County News Published Nov. 24, 2021 George Herbert Eaton, age 83, La Cygne, Kan., passed away Thursday, Nov. 18, 2021. He was born on April 18, 1938, in El Reno, Okla. He graduated from El Reno High School and attended Johnson County Community College obtaining certification... [More]
More Obituaries
View All Obituaries
NEWS

The sweet smell and feel of a hometown feed store was apparent at the new location of Miller Feed & Farm inside of Stainbrook's Auto, Farm & Home in La Cygne. Shoppers who need feed for their dogs and cats, goats, horses, cattle and more will find a large selection... [More]

There are some people that seem like they've always lived in a community, and Cary and Debbie Coffey are two of those people. But, they've only been in Pleasanton since June 2016, and now they're headed to Virginia in June 2022. "A year ago, the Lord... [More]

An almost six-month process of grant writing, planning and now construction is providing the Pleasanton Lincoln Library a new telehealth room for both job seekers and those wishing to visit with their doctor via computer. Pleasanton Librarian Wendy Morlan said that the grant... [More]
More News
SPORTS

The 2021 high school football season has concluded, and the three Linn County high school football teams had multiple players make their respective All League football teams. The Prairie View Buffalos had multiple players on this year's All-Pioneer League team. Colton... [More]

The 2021 volleyball season has concluded, and so it is time for the Linn County News' All County Volleyball teams. All the girls on the Prairie View, Jayhawk and Pleasanton volleyball teams played their best, but some players stood out in their excellence. These All County... [More]
More Sports

OBITUARIES POLICY
• May be mailed, e-mailed, faxed or hand delivered.
• Must be received by 9 a.m. on Tuesday morning in order to appear in that week's edition.
• Full obituaries submitted by individuals are required to be paid in advance.
• Obituaries submitted by funeral homes will be billed to the funeral home.
• Cost: $30 for 300 words or less. Each additional word over 300, 10¢. Photograph $5.
Call Barbara at 913-352-6235 or e-mail reporter@linncountynews.net