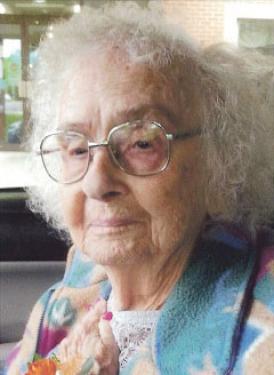 Linn County News
Published December 7, 2022
Anna Mae Carrel, 98, Nevada, Mo., passed away on Sunday, Dec. 4, 2022, at Menorah Medical Center in Overland Park, Kan. Anna was born Nov. 4, 1924, in Mound City, Kan., to Fred M. and Mary C. (Hollister) Smith. She was united in marriage to Charles E. Trosper on Jan. 14, 1946, and he preceded her in death on Jan. 27, 1968. She married Vernon Carrel in 1973 and he preceded her in death on Oct. 31, 1993.
Anna was raised in the Mound City, Kan., area and attended school there. She lived most of her adult life in Nevada. Anna worked as a seamstress at Nelly Don in Nevada for seven years. She enjoyed making quilts, woodworking, embroidery, and gardening.
Survivors include two daughters, Maude Thorne (Bill), Lone Jack, Mo., and Gloria Cole, Nevada, Mo.; nine grandchildren; 12 great-grandchildren; six great-great-grandchildren; one sister, Betty Fyock, Olathe, Kan.; numerous nieces and nephews.
In addition to both of her husbands, she was preceded in death by her parents; a son, Eddie Trosper; one brother, Robert Smith; and one sister, Josephine Johnson.
Funeral services will be held at 10 a.m. on Friday, Dec. 9, 2022, at Ferry Funeral Home in Nevada with Melanie Elsky officiating. Interment will follow in Oak Hill Cemetery in Butler, Mo.
The family will receive friends from 9-10 a.m. prior to the service at the funeral home. Memorial contributions are suggested in her memory to the American Cancer Society or the American Heart Association in care of Ferry Funeral Home.
You may view obituary and send condolences online at www.ferryfuneralhome.com.
OBITUARIES

Linn County News Published May 24, 2023 Gene Raymond Mitchell, 84 years, passed away on November 24, 2022 in his home Grand Rapids, Mich. He was born in Kansas City, Kan., the third child of Otto and Ruby Mitchell. Preceded in death by his parents and brother,... [More]

Linn County News Published May 17, 2023 Richard Scott Secrest, age 93 of Nevada, Mo., formerly of Pleasanton, Kan., passed away on Tuesday, May 16, 2023. He was born the son of Ancil and Beulah (Jackson) Secrest on May 29, 1929, at Edgerton, Kan. Richard married... [More]

Linn County News Published May 17, 2023 Donald Raymond Wier, age 82, of Denton, Texas, passed away on May 11, 2023. The second child of Lloyd Elmer and Thelma Olan (Meek) Wier, Don was born on July 9, 1940, in Fort Scott, Kan., a farm kid who excelled in... [More]
More Obituaries
View All Obituaries
NEWS

A health and cancer screening event is planned for 11 a.m. to 2 p.m. on June 3 at the Pleasanton United Methodist Church, 751 Main Street. This event will have prostrate and skin cancer screenings, take-home colorectal cancer screening kits, blood pressure readings, tobacco... [More]

This year's Thunder on the Street event, set for June 3 on Main Street in Pleasanton, promises several activities for all ages. The wall of death is back this year, only under a new company - Ives Brothers Wall of Death and promises tons of gravity defying entertainment.... [More]

Saturday, May 27 Linn Valley Memorial Day ceremony at the memorial at 10 a.m. Prescott Cemetery Memorial Day ceremony at 10:30 a.m.; a potluck lunch will follow at the Community Building in Prescott with the city providing the meat, drinks and table service.... [More]
More News
SPORTS

The Prairie View track team traveled to Wichita May 26-27 to compete in the 3A State track championship and brought home some hardware to say the least. The girls' team earned the school's first State track championship as they scored 41.5 points to win the 3A girls'... [More]

The Jayhawk-Linn track team traveled to Wichita on May 26-27 to compete in the 2A State track championship. The Hawks were well represented this year as they sent a total of 13, seven girls and six boys, to State. The boys' team earned multiple medals at the meet. Gus... [More]
More Sports

OBITUARIES POLICY
• May be mailed, e-mailed, faxed or hand delivered.
• Must be received by 9 a.m. on Tuesday morning in order to appear in that week's edition.
• Full obituaries submitted by individuals are required to be paid in advance.
• Obituaries submitted by funeral homes will be billed to the funeral home.
• Cost: $30 for 300 words or less. Each additional word over 300, 10¢. Photograph $5.
Call Barbara at 913-352-6235 or e-mail linncountynewsreporter@gmail.com