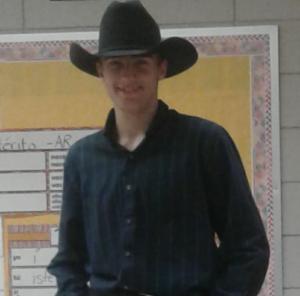 Anthony "Tony" Hubert Taylor
01-23- 2002 to 7-13-2019
Linn County News
Published July 17, 2019
Anthony (Tony) Hubert Taylor went to be with the Lord Saturday July 13, 2019, at Ascension Via Christi Hospital. Tony was born Jan. 23, 2002, to Russell Taylor and Sue Cress. He was the youngest of three children.
Tony attended Pittsburg schools and was about to start his senior year this fall. He enjoyed working for Chatters and was looking forward to church camp with his friends from South Broadway Baptist Church. Tony was an honor roll student with a heart for kids. He worked hard and aspired to be a cardiologist so he could help other kids like him. He enjoyed playing with his nieces and nephews and would go out of his way to make time for them.
He is preceded in death by his paternal grandfather, Hubert Adam Taylor Jr., of Pleasanton; and his maternal grandmother, Dorothy Marie Asmus, of Marion.
His memory lives on in his father, Russell Taylor; mother Sue Cress; stepfather Brandon Cress; grandmothers Sharon Akins, Jackie Taylor and Janet Cress; sisters Brittany Smith, Lauren Henson and Montana Cress; and brother Hunter Cress, as well as several aunts, uncles, nieces, nephews and cousins. Tony was much loved and will be greatly missed by all who knew him.
Funeral services will be held at South Broadway Baptist Church, 1322 S. Broadway, Pittsburg, Kan., at 11a.m. Thursday, July 18. Counselors from PHS will be available at the church for anyone wishing to participate in an open mic night at 6:30 p.m. Wednesday, July 17.
We will be starting a Tony Taylor Memorial Scholarship Fund to be maintained by the church. Please send any donations to South Broadway Baptist Church and reference Tony Taylor Scholarship Fund in the memo. We appreciate all the love, hugs, prayers and support. Tony would be humbled and grateful to see all the lives he has impacted.
OBITUARIES

Linn County News Published July 6, 2022 Leslie (Les) Eugene Krull, 85, of Berryton, died Wednesday, June 29, 2022, at Prairie Winds Senior Living, in Berryton, Kan. He was born June 9, 1937, to Eugene and Roberta "Pauline" (Townsley) Krull at home in Mound City,... [More]

Linn County News Published July 6, 2022 Patrick Wayne Marmon, age 79, Paola, Kan., passed away Wednesday, June 8, 2022. He was born in La Cygne, Kan., on Aug. 26, 1942, the son of Harry and Mamie Wilderson Marmon. He graduated from La Cygne Rural High School in the... [More]

Linn County News Published June 29, 2022 Ruth E. Robinson, 100, of Ottawa, formerly of Blue Mound, went to be with the Lord on Saturday, June 25, 2022. Ruth was born on Jan. 17, 1922, to Oscar and Lula (Wray) Dodson at Blanchard, Ok. When she was very young her family moved... [More]
More Obituaries
View All Obituaries
NEWS

The City of Mound City is holding a grand opening for the new Splash Park this Saturday, July 9. The Splash Park is located just north of the sports complex on Nickell Road and offers kids of all ages a place to cool off and have some fun. There will be food, Dippin'... [More]

The community of La Cygne will hold their Swanfest and Blast in the Park celebration on Saturday July 9, from 6-9 p.m. in the City Park on south end of town. The event will feature food trucks, craft vendors, a cake walk hosted by the Park Board, along with kids' activities... [More]

COLUMBIA, Mo. – The MFA Oil Foundation has awarded a grant to the Friends of the Library District 2 of Linn County – La Cygne to assist with purchasing reusable lunch containers. The MFA Oil Foundation provides support to nonprofit organizations that are working to... [More]
More News
SPORTS

The weather is hot right now but find a spot with some good shade or a nice breeze, and the fishing can be, too. Here are some of the recent fishing reports from KDWP in Linn County. All the reports were last updated on June 27. La Cygne Lake Fishing at La Cygne Lake looks... [More]

Jayhawk has new classification change for 2022 football BY ADAM HOLT LINN COUNTY NEWS holtadam82@yahoo.com High school football season will be here soon and as for one of Linn County's high school football teams there will be a change to classification. Jayhawk-Linn... [More]
More Sports

OBITUARIES POLICY
• May be mailed, e-mailed, faxed or hand delivered.
• Must be received by 9 a.m. on Tuesday morning in order to appear in that week's edition.
• Full obituaries submitted by individuals are required to be paid in advance.
• Obituaries submitted by funeral homes will be billed to the funeral home.
• Cost: $30 for 300 words or less. Each additional word over 300, 10¢. Photograph $5.
Call Barbara at 913-352-6235 or e-mail linncountynewsreporter@gmail.com