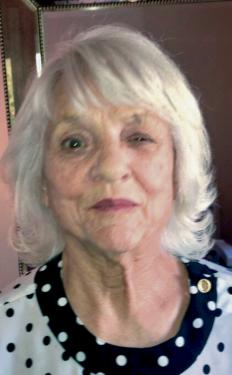 Our beloved mother, grandmother and great-grandmother Betty Jo Walters Cody Dutcher, age 83, passed away on Wednesday, Jan. 11, 2017, in Los Angeles, Calif., from complications due to Lewy Body Dementia. Betty was a long-time resident of Linn County.
Betty was the seventh of nine children born to John and Bessie Mae Walters. Betty was born in a tent on the land her parents sharecropped in Bethel, Kan.
Betty attended Argentine Middle School but left when she was 14 years old for a better life. She worked at an ice cream parlor where she earned $17 a week, and rented an apartment across the street for $10 a week.
When Betty was 18 she was set up on a blind date picnic in Swope Park. She married her date, James Delroy Cody, later that year on June 21, 1951. Together they moved to California where James was stationed in the Air Force. They had three children, Marilyn, James and Dianna.
Betty later married Norris Dewitt Dutcher III on July 17, 1967. They had two daughters, Norra and Donna.
Betty was a hard worker with an entrepreneurial spirit. She achieved her childhood dream of becoming a telephone operator before she married. After she married, she focused on raising her children, being in service to others, and working for herself. She had several successful businesses – first preparing income taxes, then owning and operating an antique store, a convenience and liquor store, and a residential care facility for the elderly. She took the most pride in her job as a school bus driver, which she did late in life. She weathered Kansas winters and made sure her many children made it to school safely. Betty earned her GED, an A.A. degree in early childhood education, a CNA license, and completed H&R Block training.
Betty fell in love with Alaska and visited many times. She loved cross country road trips while listening to Elvis' gospel music, Ray Charles and Herb Alpert and stopping at every flea market and truck stop along the way. She also loved playing cards and hosting dinners. Most of all she loved being with her family. She was a warm, nurturing mother who deeply loved her children and grandchildren as best she could. Betty never recalled her parents saying "I love you," but she made it a point to tell her children she loved them every day she was with them. She wanted nothing but a better life for her children filled with love and opportunity.
In 2005, Betty left these words for her children and grandchildren:
When you're lonely, I wish you love.
When you're down, I wish you joy.
When you're troubled, I wish you peace.
When things are complicated, I wish you simple beauty.
When things look empty, I wish you hope.
It is not easy to apologize for a wrong,
To begin all over again,
To forgive and forget,
To control a bad temper,
To keep a high standard,
To remember that the sun will shine
– But it is worthwhile.
Betty is survived by her five children, daughter Marilyn (Cody) Prater, son James Cody and wife Debbie, daughter Dianna (DeDe) (Cody) Anderson and husband Rick, daughter Norra (Dutcher) Basore and husband Brian, and daughter Donna Dutcher; five grandchildren, Ryan Andersen and wife Shelly, Jason Andersen, Brandon Cody and wife Hilary Bruckert, Nicolas Basore and girlfriend Caroline Hayes, and Rachel Basore; and three great-grandchildren, Evelyn and Maverick Andersen and Brandon Cody Jr. Betty is also survived by her brother Donald Walters and wife Cheryl; sister Alida (Tammy) Renz and husband Clyde; and a large extended family.
A memorial service will be scheduled. Inquiries may be addressed to Donna Dutcher, donna_dutcher@cacd.uscourts.gov.
OBITUARIES

Linn County News Published Nov. 29, 2023 Larry Wayne Miller, age 65 of Pleasanton, Kan., passed away, Sunday, Nov. 26, 2023, in Fort Scott, Kan. A visitation will be held from 5 to 7 p.m., Thursday, Nov. 30, 2023, at the Schneider Funeral Home and Crematory,... [More]

Linn County News Published Nov. 22, 2023 Vernon Earl McGee, 78, resident of Wichita, Kan., passed away at St. Francis Via Christi Hospital on Tuesday, Nov. 7, 2023. He was born at home in Goodrich, Kan., on Oct. 7, 1945, to Earl J. McGee and Jennie Irene (Adams)... [More]

Linn County News Published Nov. 15, 2023 Vicki A. Capp, age 69 of Mapleton, Kan., passed away on Monday, Nov. 6, 2023, at the Olathe Hospice House. She was born the daughter of Frank E. and Claudeane (Shaw) Craig on Aug. 8, 1954, at Fort Lewis, Wash. ... [More]
More Obituaries
View All Obituaries
NEWS

During the Nov. 27 meeting of the Linn County Commissioners, County Counselor Gary Thompson requested a 15-minute executive session for legal matters to review the resolution he had drafted, in response to and to set in place, the moratorium that was decided on by a 2-1 vote... [More]

At the direction of its board of education, Unified School District 362 administration will be seeking information from school districts now utilizing a four-day school week. Hearing at the board's regular monthly meeting Nov. 21 that most districts using the four-day... [More]

Joey McLiney with McLiney and Co., a division of SAMCO Capital, spoke to commissioners on Monday, Nov. 27, noting they are ready to go public on the sale of the bond refinance that was previously approved by commissioners. McLiney noted that they had been waiting to do so in... [More]
More News
SPORTS

The high school football season has concluded and it is time for this year's All County high school football team. This year there were plenty of good players to choose from as all three local teams, Pleasanton, Jayhawk Linn, and Prairie View, had winning seasons. ... [More]

The start of the competitive basketball season is still more than a week away for the three Linn County schools, but across the Missouri state line, the Miami girls' squad has already equaled its on-court victory total from last year. Rebuffing a Hermitage second-half... [More]
More Sports
OBITUARIES POLICY
• May be mailed, e-mailed, faxed or hand delivered.
• Must be received by 9 a.m. on Tuesday morning in order to appear in that week's edition.
• Obituaries submitted by funeral homes will be billed to the funeral home.
• Full obituaries submitted by individuals are required to be paid in advance.
• Cost: $40 for 300 words or less. Each additional word over 300, 10¢. Photograph $5.
Call Barbara at 913-352-6235 or e-mail linncountynewsreporter@gmail.com
View Legals for Free