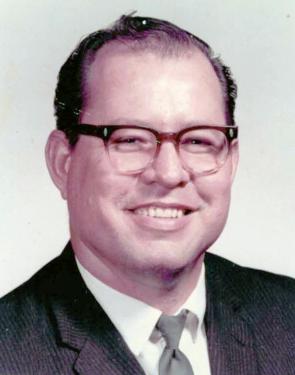 Linn County News
Published April 3, 2019
Bobby Dean Roberts, age 88, Prescott, Kan., passed away on Sunday, March 31, 2019, at St. Joseph Medical Center, Kansas City, Mo. He was born at Prescott on Oct. 12, 1929, the son of Ferdinand A. and Hazel B. Mealman Roberts.
He graduated from Prescott High School, attended Fort Scott Community College and received a Bachelor's Degree from Pittsburg State University. He proudly served his country in the United States Army. He worked as a teacher and a coach.
Bobby married Margaret Josie Allen. She preceded him in death in October of 2006. He was also preceded in death by his parents; and a brother, Kenneth Roberts.
He was a member of the American Legion Post No. 248. He was a talented artist. He enjoyed collecting stamps, coins, guns and Indian artifacts.
Bobby is survived by two sons, Ronald Roberts and wife Susan, and Lynn Roberts; and a daughter, Vicky Woolston and husband Robert.
Graveside funeral service will be 1 p.m. Friday, April 5, 2019, at the Prescott Cemetery. Visitation will be held from 5-7 p.m. Thursday at the Schneider Funeral Home and Crematory, Pleasanton Chapel.
Contributions are suggested to Prescott Cemetery Association. Online condolences can be left at www.schneiderfunerals.com.
OBITUARIES

Linn County News Published Sept. 28, 2022 James Randel "Randy" Leach, age 58, Mound City, Kan., passed away Sunday, Sept. 25, 2022. He was born in Iola, Kan., on Jan. 15, 1964, the son of James Paul and Sharon Leigh(Henson) Leach. He attended grade school... [More]

Linn County News Published Sept. 28, 2022 Kristina Dawn Weers-Colin, 42, of Parker, Kan., passed away Thursday, Sept. 22, 2022, at Advent Health Medical Center, Shawnee, Kan. Graveside services will be held at 11 a.m., Thursday, Sept. 29, 2022, at Bucyrus Cemetery, Bucyrus,... [More]

Linn County News Published Sept. 28, 2022 Norma Jane Johnson Surbaugh, age 80, of La Cygne, Kan., passed away on Monday, Sept., 26, 2022, in Louisburg, Kan. She was born the only child of Norman Everett and Alberta Frances Reed Johnson on Jan. 19, 1942, at the Trinity... [More]
More Obituaries
View All Obituaries
NEWS

The Linn Valley Council was given a few options to think about for their new water system Monday night. Engineer from BG Consultants Paul Owings said there were a couple aspects of the water project they needed to think about including transmission and distribution lines. He... [More]

Ola May Earnest to be Grand Marshal Pleasanton's annual celebration of the heritage of their city is set for this coming weekend with one evening and two full days of activities. The annual event kicks off on Friday night with a street dance on Main Street... [More]

Annexation for purposes of patrol, drug deterrence Following a public hearing on Monday, Sept. 26, during their regular council meeting and after hearing from two city residents, the Pleasanton council voted 3-1 to approve the annexation of a one and half mile section... [More]
More News
SPORTS

The Prairie View cross country team hosted the annual Ramsey Invitational on Sept. 22. The Buffalos ran well at the meet and especially the varsity girls' team as they placed first. Bree Allen continues to win varsity girls' cross country races. Here she placed... [More]

The Jayhawk-Linn celebrated Homecoming on Sept. 23 by playing district opponent Northern Heights. The Hawks had no problems with Northern Heights as Jayhawk won 64-8. Almost all the Jayhawk scoring was done in the first quarter. Gus Grote scored on the first play of... [More]
More Sports

OBITUARIES POLICY
• May be mailed, e-mailed, faxed or hand delivered.
• Must be received by 9 a.m. on Tuesday morning in order to appear in that week's edition.
• Full obituaries submitted by individuals are required to be paid in advance.
• Obituaries submitted by funeral homes will be billed to the funeral home.
• Cost: $30 for 300 words or less. Each additional word over 300, 10¢. Photograph $5.
Call Barbara at 913-352-6235 or e-mail linncountynewsreporter@gmail.com