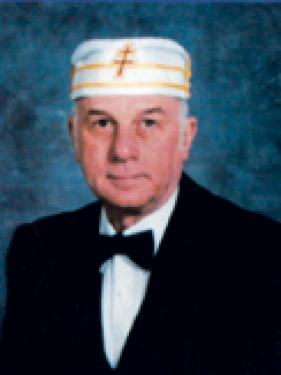 Bobby Joe Demott, 90, of Knoxville, Tenn., born Nov. 6, 1924, died peacefully on March 5, 2015, with his family by his side. Bob was a loving son, brother, husband, father and grandfather, dedicated teacher and researcher, veteran, and loyal servant who valued fellowship and active participation in his community. Bob was born in Linn County, Kan., the fourth child of the late Joe and Ruth Demott. He spent his childhood in Blue Mound, Kan., where he attended elementary and high school, graduating in 1943.
Bob's service in the United States Navy from 1943 to 1946 included more than two years in the South Pacific for which he received two battle stars. He earned a Bachelor's Degree from Kansas State University in 1949, a Master of Science Degree from the University of Idaho in 1951 and a Doctor of Philosophy Degree from Michigan State University in 1954. Bob taught at Colorado State University, Fort Collins, for three years and at the University of Tennessee, Knoxville, for 33 years until his retirement in 1990.
He published prolifically in scientific journals and authored a textbook on his area of expertise: Milk Processing and Food Composition. Bob received national attention for his development of a process to remove radioactive materials from milk. He was a member of several scientific and professional societies, was elected a fellow in the American Society for the Advancement of Science, and was listed in the American Men and Women of Science.
Bob was a loyal and dedicated Mason who published many articles in national Masonic magazines and authored a book on Freemasonry. He held offices in the Knoxville Scottish Rite Bodies, served as editor of a monthly newsletter, librarian, and as Historian of the Grand Lodge of Tennessee. Bob was made a 33rd Degree Mason in 1985. Bob was a Boy Scout leader, served on the Mayor's Committee on Civil Defense, and was a member of the Sons of the Revolution. He served as president of the Kentucky-Alabama-Tennessee Association of High Twelve Clubs, president of the local chapter of National Sojourners, and commander of the Heroes of '76. Bob was an active member of the United Methodist Church where he served in many capacities including Sunday school teacher, church school superintendent and as a member of the Governing Board.
Of his many accomplishments in life, Bob was most proud of his large, blended family. He was happiest when surrounded by all the generations during the many gatherings held at the home that he shared with his wife of 36 years, the former Beatrice Smith.
Bob is survived by his wife Bea and her children Judy (Kenny) Mayfield, Donna Atchley, and Steve (Angie) Kidwell; seven grandchildren; and six great-grandchildren.
Bob will be sadly missed by his four siblings, Elberta Evans, Gladys Milsap, Howard (Ernestine) Demott, and Daisy Burrus; and many nieces and nephews.
Bob will be remembered by and held dear in the hearts of his five children, Douglas (Sheila), Jeanette, David, Dennis (Kerry), and Daniel (Libby) Demott; seven grandchildren; and nine great-grandchildren.
Memorial donations may be made to the charity of your choice. Condolences may be offered at www.highlandmemorialknoxville.com.
OBITUARIES

Linn County News Published Aug. 10, 2022 Larry Sumners, age 68, of Centerville, Kan., passed away on Monday, Aug. 1, 2022, at the Overland Park Regional Medical Center in Overland Park, Kan. Laurence A. Sumners was born on Aug. 16, 1953, at McPherson,... [More]

Linn County News Published Aug. 10, 2022 It is with great sadness to announce the passing of Michael Ekkehard Reinsch, a beloved brother, father, uncle and grandfather. Michael passed away on Wednesday, June 22, 2022, at Augusta University Medical Center. Michael... [More]

Linn County News Published Aug. 10, 2022 Rosetta May Beard, age 99, La Cygne, Kan., passed away Wednesday, Aug. 3, 2022. Graveside funeral service will be 10 a.m. Monday, Aug. 8, at the Oak Lawn Cemetery, La Cygne, Kan. Memorial contributions are suggested... [More]
More Obituaries
View All Obituaries
NEWS

Following the governor's recent approval of legislation created to show when taxing entities are increasing mill levies, additional costs to taxpayers are coming to the forefront, despite some holding taxes to the same level using revenue neutral rates. Kansaspolicy.org... [More]

Following opening statements at Monday's Pleasanton City Council meeting, public speaker Mike Higgins took the podium and told the council that he was talking to former Olive's Hope building owner Brandon McGinnis concerning the sale of the building to a family that... [More]

Two of the county departments geared toward public safety are now under new direction. Missy Lancaster took over the Linn County Health Department as well as the position of Public Health Officer in November of last year and has made a few changes to the department since... [More]
More News
SPORTS

Linn County has a new competitive softball team, Total Effect Softball, which will be based out of Mound City. Jayhawk-Linn head softball coach Kris Holt started the team and will be the head coach of Total Effect. Holt had multiple reasons on why he wanted to start a competitive... [More]

Fishing has slowed down since the last reports on June 27, but fish are still being caught and can be even better in the coming weeks with some cooler weather and more rain. All the reports were last updated on July 18. La Cygne Lake Catfish, largemouth and crappie are the... [More]
More Sports

OBITUARIES POLICY
• May be mailed, e-mailed, faxed or hand delivered.
• Must be received by 9 a.m. on Tuesday morning in order to appear in that week's edition.
• Full obituaries submitted by individuals are required to be paid in advance.
• Obituaries submitted by funeral homes will be billed to the funeral home.
• Cost: $30 for 300 words or less. Each additional word over 300, 10¢. Photograph $5.
Call Barbara at 913-352-6235 or e-mail linncountynewsreporter@gmail.com