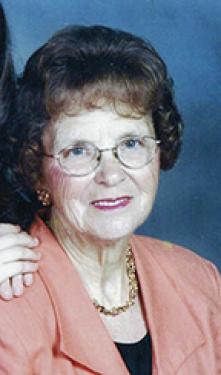 Catherine Maxine Maris, 87, of La Cygne, Kan., passed away on Wednesday, June 1, 2016, at Medicalodge Nursing Home in Butler, Mo. Born Dec. 3, 1928, in Paola, Kan., and raised in Jingo, Kan., she was a daughter of the late Harold Eugene Mendenhall and Ruby Francis Driskell-Mendenhall.
Maris graduated in 1946 from La Cygne Rural High School. She attended Ursuline Academy where she received her teaching certificate and continued her education at Baker University. She later on received her master's in teaching from Pittsburg State University.
She worked in multiple one-room schoolhouses starting in 1946 at Sunny Ridge. She continued her teaching career at 96, Prairie Home and Fontana Elementary School, and retired with 31 years of service in teaching at La Cygne Elementary School in 1994. She took a break from teaching from 1962 to 1977 to raise her children and help out with the daily activities of her and her husband's Grade A dairy farm.
Maxine was a member of the Eastern Star, Linn County Republican Women, E.H.U. and P.E.O. She was a 4-H leader and was involved in multiple community activities including planning for the annual La Cygne Fiesta and Christmas caroling around the town each December. She was an avid bridge player and loved to golf, attend Kansas City Chiefs football games and support her grandchildren in multiple 4-H and FFA activities. She was also a devoted member of the La Cygne United Methodist Church and La Cygne United Methodist Women.
Maris was married to the late Ashley J. Maris on Aug. 3, 1952. She had two children, the late Sheryl Rae Maris and Mark Ashley Maris of Gardner, Kan. Also surviving are grandchildren, Michael Maris of Gardner, Kirsty Hartley of Salina, Kan., Taylor Morrison, great-granddaughter Bexleigh Morrison of Hume, Mo., and Dacota Maris of Butler, Mo. She is also survived by one sister, Illene Kettler of Paola, Kan.; and one brother, Eugene Mendenhall of Linn Valley, Kan.
Services were held Monday June 6, 2016, at the La Cygne United Methodist Church with the Rev. Don Gaffney officiating. Interment was in the Oak Lawn Cemetery.
The family suggests memorials be made to La Cygne United Methodist Church Memorial, Linn County 4-H Council or the Prairie FFA Association.
Arrangements: Schneider Funeral Home and Crematory, La Cygne Chapel.
OBITUARIES

Linn County News Published Sept. 22, 2021 Wilhelmina "Billie" Rose Suddock, age 90, of Wichita, Kan., died Thursday, Sept. 16, 2021. In lieu of flowers, the family requests donations to the Home Health & Hospice of Kansas. Rosary... [More]

Published in the Linn County News Sept. 22, 2021 Virgil Elmer Spencer, age 82, Mound City, Kansas passed away Friday, Sept.17, 2021. He was born on August 8, 1939 in rural Mound City, Kan. the son of Elmer Allen and Thelma Barker Spencer. ... [More]

Troy E. Mitchell, age 87, of Pleasanton, Kan. passed away in Overland Park, Kan.on Friday, Sept. 17, 2021. Troy was born the son of Jesse James and Naomi Folsom Mitchell on June 23, 1934 in Kansas City, Kan. He married Ruby Venable on October 4, 1951... [More]
More Obituaries
View All Obituaries
NEWS

For immediate release: September 22, 2021 On September 21, 2021, The Linn County Sheriff's Office was given information that a student at Pleasanton USD #344 was bringing a knife to school. Information led Deputies to believe that the student may want to harm others.... [More]

By JACKIE TAYLOR Linn County News jackielcn@linncountynews.net After Linn County Sheriff Kevin Friend spoke on School Resource Officer (SRO) activity, County Commissioner Jim Johnson commented at their Monday meeting that the commissioners needed to clear... [More]

By JACKIE TAYLOR Linn County News jackielcn@linncountynews.net Continuing their discussion concerning annexation at their Monday meeting, the City Council spoke of Pleasanton resident Kimberly Campbell's request for voluntary annexation... [More]
More News
SPORTS

LINN COUNTY NEWS NEWSPAPERSRME@yahoo.com After losing their first three games, including by 30-6 at Uniontown last Friday, Pleasanton's Blu-Jays will be looking to score first when they host Troy at 7 p.m. this Friday in a non-district matchup. "We... [More]

LINN COUNTY NEWS holtadam82@yahoo.com The Prairie View football team continues to perform at a high level as they hosted Parsons on Sept. 17. The Buffalos took control of the game early on both sides of the ball, which led to an eventual 38-14 victory.... [More]
More Sports
OBITUARIES POLICY
• May be mailed, e-mailed, faxed or hand delivered.
• Must be received by 9 a.m. on Tuesday morning in order to appear in that week's edition.
• Full obituaries submitted by individuals are required to be paid in advance.
• Obituaries submitted by funeral homes will be billed to the funeral home.
• Cost: $30 for 300 words or less. Each additional word over 300, 10¢. Photograph $5.
Call Barbara at 913-352-6235 or e-mail reporter@linncountynews.net