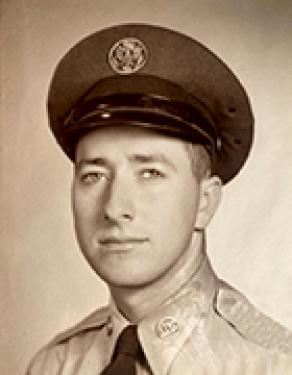 Linn County News
Published April 14, 2021
Cecil L. Fish, 89, Ottawa, Kan., and former longtime Labette County resident, passed away Thursday, April 8, 2021, at his home.
Cecil was born the third child to Cecil Paige and Edna (Nickoley) Fish on Dec. 7, 1931, in Pawhuska, Okla. He grew up in Mound Valley, Kan., attended school there and graduated in 1949. In 1951 he graduated from Coffeyville Community College.
He joined the U.S. Air Force in 1952 and served four years. During his service he attended various electronics schools in Belleville, Ill., and was eventually assigned to Haneda Air Force Base in Tokyo, Japan, as an airborne radio mechanic. During his service in Japan, he traveled to numerous locations in the Far East including Korea, Okinawa, Guam, the Philippine Islands, Formosa (Taiwan) and Siam (Thailand). Upon returning to the United States, he was assigned to the strategic air command at Carswell Air Force Base in Fort Worth, Texas, and was later transferred on temporary assignment to the Nouasseur Air Force Base near Casablanca in North Africa. During his tour in North Africa, he very much enjoyed his visits to Spain and the Rock of Gibraltar. After his discharge from the USAF in 1956, he returned to southeast Kansas and entered Kansas State Teachers College (KSTC) in Pittsburg, Kan. During this time, he met his future wife, Bonnie May Greenlee, at a Veterans of Foreign Wars (VFW) dance in Oswego, Kan. He asked her to marry him on their first date. She thought he was bluffing! They married May 1, 1957.
After a semester at KSTC he accepted a position as communications craftsman with the American Telephone and Telegraph Co. (AT&T) in June of 1956. He worked in Wichita, Kan., for approximately six years. During this time he and Bonnie welcomed the birth of daughters Kelly in 1958, Joni in 1959 and Dixie in 1962.
In 1962, Cecil was promoted to operations supervisor at La Cygne, Kan., and the family moved to Pleasanton. He received additional promotions with AT&T, and the family moved from Pleasanton, to Kansas City, back to Pleasanton, to Hiawatha, and back to Kansas City. He retired in 1984 after almost 30 years with the company.
In retirement, he and Bonnie returned to southeast Kansas building homes first near Big Hill Lake and later in Altamont. He continued working as personnel manager and purchasing agent for Gragg Cabinet Co. in Cherryvale and later served for eight years as a Labette County Commissioner, followed by five years as an Altamont City Commissioner. In 2006, Cecil and Bonnie moved to Baldwin City, Kan., to be closer to family, and in 2017 they moved to Ottawa and built a home there.
Cecil is preceded in death by his parents; and sisters, Wilma, Norma and Donna. He is survived by his wife, Bonnie, of the home; daughters, Kelly Fish-Greenlee (Phil Crabb), Joni Fish-Gertz (Bruce Gertz) and Dixie Fish-Richard (Gerald Richard); four grandchildren, Katie, Leland, Micah and Jonah; and seven great-grandchildren.
A short interment service for extended family will be held Friday morning, April 16, 2021, followed by a public Celebration of Life event at the Dennis Community Center. Lunch and libation will be served at 1 p.m. Family and friends are all encouraged to attend and share their favorite experiences with, and stories about, our beloved Cecil. The family looks forward to engaging in a light-hearted celebration of Cecil. Masks are required.
Memorial contributions may be made to Ives Chapel, United Methodist Church, Baldwin City, Kan.; Mound Valley Christian Church, Mound Valley, Kan.; or Bible Holiness Church, Oswego, Kan. These may be left at or mailed to Forbes-Hoffman Funeral Home, P.O. Box 374, Parsons, KS 67357. Online condolences may be left at www.forbeshoffman.com.
OBITUARIES

Linn County News Published December 7, 2022 Anna Mae Carrel, 98, Nevada, Mo., passed away on Sunday, Dec. 4, 2022, at Menorah Medical Center in Overland Park, Kan. Anna was born Nov. 4, 1924, in Mound City, Kan., to Fred M. and Mary C. (Hollister) Smith. She was united in... [More]

Linn County News Published December 7, 2022 Kathryn Elaine "Kathy" Newcome passed away Thursday Dec. 1, 2022. Funeral service will be 2 p.m. Monday, Dec. 5, 2022, at the Schneider Funeral Home and Crematory, Pleasanton Chapel. Burial in the Richland Cemetery. Visitation will... [More]

Linn County News Published December 7, 2022 Linda S. Rios, age 63, of Mound City, Kan., passed away in Olathe, Kan., on Nov. 14, 2022. There are no services scheduled. Online condolences may be left at www.schneiderfuneral.com.
More Obituaries
View All Obituaries
NEWS

In a sentencing hearing set for Friday, Dec. 2, Robert Woody III appeared in Linn County District Court in front of Judge Andrea Purvis, but instead of sentencing being handed down, the defense requested a continuance. Defense counsel Craig Cole noted his client had just brought... [More]

Discussions at Monday's Linn County Commissioner's meeting turned to the landfill issue and the fact that, as it currently sits, the landfill is only a year and half out from closing. During Monday's discussions, Linn County Public Works Administrator Shaun... [More]

Charges amended to one count of leaving the scene of an accident James Rocky Allen appeared in Linn County District Court on Tuesday, Nov. 29 for what was slated to be a preliminary hearing in case LN-2020-CR-000240 in which he was charged with second degree murder;... [More]
More News
SPORTS

The Prairie View wrestling team traveled to Pleasant Hill on Dec. 2 and 3 to compete in the Steve Leslie Invitational. The boys' team had three wrestlers place in the top four while the girls' team had two wrestlers place in the top four. Kimmy Eastwood wrestled... [More]

Pleasanton basketball teams began their season Friday with a split varsity decision at Prairie Village-Kansas City Christian (KCC), the girls winning 39-19 while the boys took a 60-31 loss. Both teams now have two games upcoming at this week's early-season round-robin... [More]
More Sports

OBITUARIES POLICY
• May be mailed, e-mailed, faxed or hand delivered.
• Must be received by 9 a.m. on Tuesday morning in order to appear in that week's edition.
• Full obituaries submitted by individuals are required to be paid in advance.
• Obituaries submitted by funeral homes will be billed to the funeral home.
• Cost: $30 for 300 words or less. Each additional word over 300, 10¢. Photograph $5.
Call Barbara at 913-352-6235 or e-mail linncountynewsreporter@gmail.com