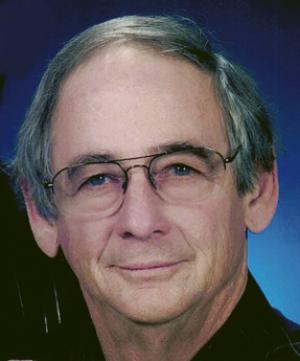 Charles A. "Charlie" Conley, age 69, Pleasanton, Kan., passed away on Monday, Nov. 21, 2016, at the Prescott Country View.
He was born in Fort Scott, Kan., on Oct. 20, 1947, the son of Earl E. and Anna Mae Stoeckle Conley.
He was a graduate of Pleasanton High School. He served his country in the United States Army during the Vietnam War and was stationed in Germany.
Charlie then went to work as a sprinkler fitter. During his working career he had many business interests which included: Conley Sprinkler, Conley Sales, and farming and ranching.
He was a member of the Sacred Heart Catholic Church in Mound City, Linn County Economic Development Committee, Kansas Calvary, Prescott State Bank Board, Sprinkler Fitters Union Local No. 669 and the National Fire Protection Association.
Charlie enjoyed K.U. basketball, playing cards and taking trips to the casino. He enjoyed many things but he had a true love for his family and other children. He always had the time to visit or help someone in need.
He was preceded in death by his parents. Charlie is survived by his wife Linda; two sons, Charlie Conley Jr. and wife Candie, and Brandon Conley and wife Wendy; daughter Tina Wiebelhaus and husband Mike; stepson Frank Meister and wife Catherine; two brothers, Kenny Conley and wife Linda, and Stephen Conley and wife Malinda; eight grandchildren; four great-grandchildren; and two step grandchildren.
Mass of Christian Burial was held Tuesday, Nov. 29, 2016, at Sacred Heart Catholic Church. Burial was in Sacred Heart Cemetery. Rosary was prayed Monday, Nov. 28, at the Schneider Funeral Home Pleasanton Chapel with visitation following.
The family suggests contributions to the Alzheimers or Diabetes foundations. Online condolences for the family may be left at www.schneiderfunerals.com.
OBITUARIES

Linn County News Published March 29, 2023 Larry Ray Oliver, age 69, Pleasanton, Kan., passed away on Wednesday, March 22, 2023. Funeral service will be at 6 p.m. on Saturday, March 25, 2023, at the Schneider Funeral Home and Crematory, Pleasanton Chapel. Visitation... [More]

Linn County News Published March 22, 2023 Bud Lindsay, age 88 of Prescott, Kan., passed away peacefully at his home Wednesday, March 15, 2023. He was born the son of Esler Roy and Bessie Clara (Deckard) Lindsay at Lebanon, Mo. Bud loved racing, working on old... [More]

Linn County News Published March 22, 2023 Vance Laverne Bruner, age 63, Mound City, Kan., passed away Friday, March 17, 2023, at his home. Memorial service will be held 2 p.m. Friday, March 24, 2023, at the Schneider Funeral Home and Crematory, Mound... [More]
More Obituaries
View All Obituaries
NEWS

MIAMI & LINN COUNTY – On Wednesday morning, the Kansas Bureau of Investigation (KBI), the Miami County Sheriff's Office, the Linn County Sheriff's Office, the Osawatomie Police Department, and the Pleasanton Police Department arrested six individuals... [More]

After meetings discussing the Linn County Comprehensive Plan and where the county should be as to allowing wind turbines, the Linn County P&Z said no 5-3 to allowing any turbines in the county. P&Z Commission Chair Richard Morrell brought the subject up after several... [More]

The Linn County Planning & Zoning Commission met Tuesday evening with the first speaker on the agenda recognized from Heartland Rural Electric Cooperative (REC). Tony Washington introduced himself and said Heartland REC is interested in building a solar field in Linn County;... [More]
More News
SPORTS

The season for the Linn County high school boys' basketball teams is over and it's time for this year's All County Boys' Basketball team. This year, there is a first and second team with five players on each team from the three local high schools, Prairie... [More]

The season for the Linn County high school girls' basketball teams is over and it's time for this year's All County Girls' Basketball team. This year, there is a first and second team with five players on each team from the three local high schools,... [More]
More Sports

OBITUARIES POLICY
• May be mailed, e-mailed, faxed or hand delivered.
• Must be received by 9 a.m. on Tuesday morning in order to appear in that week's edition.
• Full obituaries submitted by individuals are required to be paid in advance.
• Obituaries submitted by funeral homes will be billed to the funeral home.
• Cost: $30 for 300 words or less. Each additional word over 300, 10¢. Photograph $5.
Call Barbara at 913-352-6235 or e-mail linncountynewsreporter@gmail.com