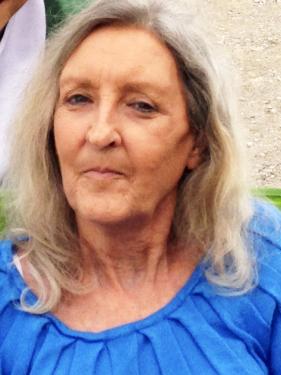 Linn County News
Published Feb. 7, 2018
Cleta Fern Stump, age 67, Mound City, Kan., passed away on Tuesday, Jan. 30, 2018, at her home. Cleta was born Sept. 16, 1950, at Fort Scott, Kan., to Clyde and Alice (Jackman) DeMott.
She attended Mound City High School.
On June 16, 1967, she married Otis Ray Wisdom. They had three children, Louri, Kristina and Daniel, before divorcing.
On Feb. 2, 1985, Cleta married Thomas Stump. For 33 years he had loved and cared for her. He loved her children and grandchildren as if they were his own. They returned his love, as he has been such a great part of their lives. This mutual love and respect will continue even after her passing.
Over the years Cleta had enjoyed many things including quilting, crocheting and baking. She made delicious goodies everyone loved including brownies, cookies, cakes and her, and everyone else's, favorite, chocolate-covered candy balls! Cleta inherited her love of riding horses and being a country girl from her father. She also loved taking off down the road on her trike with her husband and feeling the wind in her hair!
She loved animals unconditionally. At her passing she had two dogs, Lucy and Wally, and four parrots, Charlie, Crackers, Peppers and Toby, who were all like her children and brought her so much love and joy.
However, it was her children and grandchildren to whom she had undying devotion and unconditional love. There is not one thing that she wouldn't have done for any of them. She just truly loved being with them, having fun, laughing, joking or getting them all together to go out to eat or go shopping.
Cleta was preceded in death by her parents; and two aunts, Cecilia DeMott and Cleta Dixon.
Survivors include her husband Thomas Stump of the home; three children, Louri Darringer of Mound City, and Kristina Wright and husband Steve, and Daniel Wisdom and girlfriend Jessica, all of Amoret, Mo.; three brothers, Delton DeMott of Wichita, Winford DeMott of Fort Scott and Roger DeMott of La Cygne; five grandchildren, Nicolas Shasteen, Devyn Henkle, Stevie Wright, Sam Darringer and Maureen Pardee; and two great grandchildren, Arriana Jo and Clara Valentine Pardee.
The funeral was Saturday, Feb. 3, 2018, at Schneider Funeral Home and Crematory, Mound City Chapel. Burial followed in Woodland Cemetery.
The family suggests contributions to Mercy Hospice or Wayside Waifs in care of the funeral home, P.O. Box J, Mound City, Kan. 66056. Friends and family may leave online condolences at www.schneiderfunerals.com.
OBITUARIES

Linn County News Published May 24, 2023 Gene Raymond Mitchell, 84 years, passed away on November 24, 2022 in his home Grand Rapids, Mich. He was born in Kansas City, Kan., the third child of Otto and Ruby Mitchell. Preceded in death by his parents and brother,... [More]

Linn County News Published May 17, 2023 Richard Scott Secrest, age 93 of Nevada, Mo., formerly of Pleasanton, Kan., passed away on Tuesday, May 16, 2023. He was born the son of Ancil and Beulah (Jackson) Secrest on May 29, 1929, at Edgerton, Kan. Richard married... [More]

Linn County News Published May 17, 2023 Donald Raymond Wier, age 82, of Denton, Texas, passed away on May 11, 2023. The second child of Lloyd Elmer and Thelma Olan (Meek) Wier, Don was born on July 9, 1940, in Fort Scott, Kan., a farm kid who excelled in... [More]
More Obituaries
View All Obituaries
NEWS

A health and cancer screening event is planned for 11 a.m. to 2 p.m. on June 3 at the Pleasanton United Methodist Church, 751 Main Street. This event will have prostrate and skin cancer screenings, take-home colorectal cancer screening kits, blood pressure readings, tobacco... [More]

This year's Thunder on the Street event, set for June 3 on Main Street in Pleasanton, promises several activities for all ages. The wall of death is back this year, only under a new company - Ives Brothers Wall of Death and promises tons of gravity defying entertainment.... [More]

Saturday, May 27 Linn Valley Memorial Day ceremony at the memorial at 10 a.m. Prescott Cemetery Memorial Day ceremony at 10:30 a.m.; a potluck lunch will follow at the Community Building in Prescott with the city providing the meat, drinks and table service.... [More]
More News
SPORTS

The Prairie View track team traveled to Wichita May 26-27 to compete in the 3A State track championship and brought home some hardware to say the least. The girls' team earned the school's first State track championship as they scored 41.5 points to win the 3A girls'... [More]

The Jayhawk-Linn track team traveled to Wichita on May 26-27 to compete in the 2A State track championship. The Hawks were well represented this year as they sent a total of 13, seven girls and six boys, to State. The boys' team earned multiple medals at the meet. Gus... [More]
More Sports

OBITUARIES POLICY
• May be mailed, e-mailed, faxed or hand delivered.
• Must be received by 9 a.m. on Tuesday morning in order to appear in that week's edition.
• Full obituaries submitted by individuals are required to be paid in advance.
• Obituaries submitted by funeral homes will be billed to the funeral home.
• Cost: $30 for 300 words or less. Each additional word over 300, 10¢. Photograph $5.
Call Barbara at 913-352-6235 or e-mail linncountynewsreporter@gmail.com