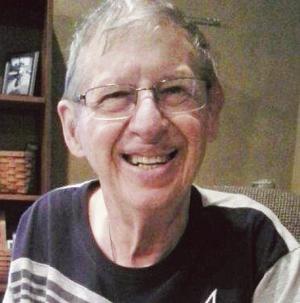 Dale's life began on Aug. 26, 1951, in Kansas City, Kan., son of Fred Martin and Martha Kathryn Armbruster DeHoff Jr. They lived in La Cygne, Kan., where he grew up and attended public school.
Dale loved the Dallas Cowboys, concerts and sticking around to get the star musician's autograph. He collected records, posters, magazines, newspaper articles and pop cans. You could also see him walking through town looking for loose change.
Dale's loving family includes his brother and his wife, Dr. Fred and Gayle DeHoff of Louisburg, Kan.; sister and her husband, Kathi and Manuel Munoz of El Dorado, Kan.; nieces and nephews Brandy Kalinka, Kristin (Jeremiah) Ross, Manolito (Abby) Munoz, and Marco, Joshua and Marcelino Munoz; great nieces and nephews Lindy, Ellie, Jimmy and Harrison Kalinka, Sam Hunsperger, Molly, Macy and Skyler Munoz, and Kaleb and Jaxtin Ross.
He was preceded in death by his parents.
Dale passed away with his family by his side on Wednesday, March 29, 2017, having reached the age of 65 years old.
His funeral service was held on Monday, April 3, at Carlson Colonial Funeral Home with nephew Manolito Munoz officiating. He was then laid to rest, next to his mother and father at the Louisburg Cemetery in Louisburg.
Memorial contributions in his name may be directed to Paradigm Services from "Donations by Dale" for the needs and benefits of their clients. Please sign his online guest book and leave a memory of Dale at www.carlsonkirbymorris.com.
OBITUARIES

Linn County News Published July 6, 2022 Leslie (Les) Eugene Krull, 85, of Berryton, died Wednesday, June 29, 2022, at Prairie Winds Senior Living, in Berryton, Kan. He was born June 9, 1937, to Eugene and Roberta "Pauline" (Townsley) Krull at home in Mound City,... [More]

Linn County News Published July 6, 2022 Patrick Wayne Marmon, age 79, Paola, Kan., passed away Wednesday, June 8, 2022. He was born in La Cygne, Kan., on Aug. 26, 1942, the son of Harry and Mamie Wilderson Marmon. He graduated from La Cygne Rural High School in the... [More]

Linn County News Published June 29, 2022 Ruth E. Robinson, 100, of Ottawa, formerly of Blue Mound, went to be with the Lord on Saturday, June 25, 2022. Ruth was born on Jan. 17, 1922, to Oscar and Lula (Wray) Dodson at Blanchard, Ok. When she was very young her family moved... [More]
More Obituaries
View All Obituaries
NEWS

The City of Mound City is holding a grand opening for the new Splash Park this Saturday, July 9. The Splash Park is located just north of the sports complex on Nickell Road and offers kids of all ages a place to cool off and have some fun. There will be food, Dippin'... [More]

The community of La Cygne will hold their Swanfest and Blast in the Park celebration on Saturday July 9, from 6-9 p.m. in the City Park on south end of town. The event will feature food trucks, craft vendors, a cake walk hosted by the Park Board, along with kids' activities... [More]

COLUMBIA, Mo. – The MFA Oil Foundation has awarded a grant to the Friends of the Library District 2 of Linn County – La Cygne to assist with purchasing reusable lunch containers. The MFA Oil Foundation provides support to nonprofit organizations that are working to... [More]
More News
SPORTS

The weather is hot right now but find a spot with some good shade or a nice breeze, and the fishing can be, too. Here are some of the recent fishing reports from KDWP in Linn County. All the reports were last updated on June 27. La Cygne Lake Fishing at La Cygne Lake looks... [More]

Jayhawk has new classification change for 2022 football BY ADAM HOLT LINN COUNTY NEWS holtadam82@yahoo.com High school football season will be here soon and as for one of Linn County's high school football teams there will be a change to classification. Jayhawk-Linn... [More]
More Sports

OBITUARIES POLICY
• May be mailed, e-mailed, faxed or hand delivered.
• Must be received by 9 a.m. on Tuesday morning in order to appear in that week's edition.
• Full obituaries submitted by individuals are required to be paid in advance.
• Obituaries submitted by funeral homes will be billed to the funeral home.
• Cost: $30 for 300 words or less. Each additional word over 300, 10¢. Photograph $5.
Call Barbara at 913-352-6235 or e-mail linncountynewsreporter@gmail.com