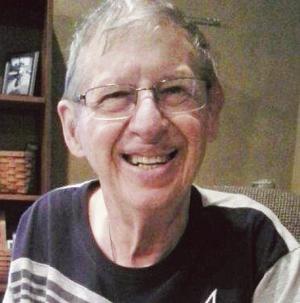 Dale's life began on Aug. 26, 1951, in Kansas City, Kan., son of Fred Martin and Martha Kathryn Armbruster DeHoff Jr. They lived in La Cygne, Kan., where he grew up and attended public school.
Dale loved the Dallas Cowboys, concerts and sticking around to get the star musician's autograph. He collected records, posters, magazines, newspaper articles and pop cans. You could also see him walking through town looking for loose change.
Dale's loving family includes his brother and his wife, Dr. Fred and Gayle DeHoff of Louisburg, Kan.; sister and her husband, Kathi and Manuel Munoz of El Dorado, Kan.; nieces and nephews Brandy Kalinka, Kristin (Jeremiah) Ross, Manolito (Abby) Munoz, and Marco, Joshua and Marcelino Munoz; great nieces and nephews Lindy, Ellie, Jimmy and Harrison Kalinka, Sam Hunsperger, Molly, Macy and Skyler Munoz, and Kaleb and Jaxtin Ross.
He was preceded in death by his parents.
Dale passed away with his family by his side on Wednesday, March 29, 2017, having reached the age of 65 years old.
His funeral service was held on Monday, April 3, at Carlson Colonial Funeral Home with nephew Manolito Munoz officiating. He was then laid to rest, next to his mother and father at the Louisburg Cemetery in Louisburg.
Memorial contributions in his name may be directed to Paradigm Services from "Donations by Dale" for the needs and benefits of their clients. Please sign his online guest book and leave a memory of Dale at www.carlsonkirbymorris.com.
OBITUARIES

Linn County News Published December 7, 2022 Anna Mae Carrel, 98, Nevada, Mo., passed away on Sunday, Dec. 4, 2022, at Menorah Medical Center in Overland Park, Kan. Anna was born Nov. 4, 1924, in Mound City, Kan., to Fred M. and Mary C. (Hollister) Smith. She was united in... [More]

Linn County News Published December 7, 2022 Kathryn Elaine "Kathy" Newcome passed away Thursday Dec. 1, 2022. Funeral service will be 2 p.m. Monday, Dec. 5, 2022, at the Schneider Funeral Home and Crematory, Pleasanton Chapel. Burial in the Richland Cemetery. Visitation will... [More]

Linn County News Published December 7, 2022 Linda S. Rios, age 63, of Mound City, Kan., passed away in Olathe, Kan., on Nov. 14, 2022. There are no services scheduled. Online condolences may be left at www.schneiderfuneral.com.
More Obituaries
View All Obituaries
NEWS

NOTICE: There will be a blood drive at the Catholic Hall in Mound City from 1 to 5 p.m. on Tuesday, Dec. 13

In a sentencing hearing set for Friday, Dec. 2, Robert Woody III appeared in Linn County District Court in front of Judge Andrea Purvis, but instead of sentencing being handed down, the defense requested a continuance. Defense counsel Craig Cole noted his client had just brought... [More]

Discussions at Monday's Linn County Commissioner's meeting turned to the landfill issue and the fact that, as it currently sits, the landfill is only a year and half out from closing. During Monday's discussions, Linn County Public Works Administrator Shaun... [More]
More News
SPORTS

The Prairie View wrestling team traveled to Pleasant Hill on Dec. 2 and 3 to compete in the Steve Leslie Invitational. The boys' team had three wrestlers place in the top four while the girls' team had two wrestlers place in the top four. Kimmy Eastwood wrestled... [More]

Pleasanton basketball teams began their season Friday with a split varsity decision at Prairie Village-Kansas City Christian (KCC), the girls winning 39-19 while the boys took a 60-31 loss. Both teams now have two games upcoming at this week's early-season round-robin... [More]
More Sports

OBITUARIES POLICY
• May be mailed, e-mailed, faxed or hand delivered.
• Must be received by 9 a.m. on Tuesday morning in order to appear in that week's edition.
• Full obituaries submitted by individuals are required to be paid in advance.
• Obituaries submitted by funeral homes will be billed to the funeral home.
• Cost: $30 for 300 words or less. Each additional word over 300, 10¢. Photograph $5.
Call Barbara at 913-352-6235 or e-mail linncountynewsreporter@gmail.com