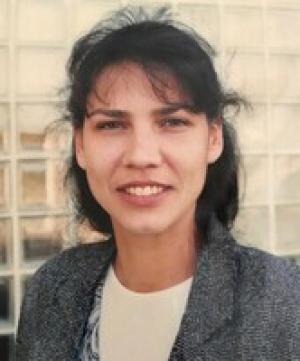 Linn County News
Published July 15, 2020
Dawn Marie Steinkohl, 53, died June 20, 2020, in Mound City, Kan. She was born in Sault Ste. Marie, Mich., on May 8, 1967. She belonged to St. Isaac Jogues Church of Sault Ste. Marie as a child and served as an alter girl. She was a member of Mound City Christian Church and Sacred Heart Catholic Church of Mound City. Dawn loved the Lord and led many people to Jesus. She was a proud member of the Sault Ste. Marie Tribe of Chippewa Indians. She will be dearly missed by her family and friends.
She attended Soo Township and Jefferson Elementary Schools, Sault Area High School, and Lake Superior State University. Dawn was an artist and musician. She played saxophone for many years in the school band and for her church when younger. Dawn was known for her artwork. Her beaded dreamcatchers won many first-place awards at art shows and hang in museums and art galleries. She was featured in the Detroit Free Press for her beautiful artwork. She took best of show for her fancy shawl.
Dawn was a pharmacy tech at Sault Tribe Health Center for some time, but after 9-11, she wanted to do something for her country. She served as an Immigration Inspector for the Department of Justice, and then transitioned to CBP Officer for the Department of Homeland Security in Sault Ste. Marie, Mich., and Kansas City, Mo., before retiring.
Dawn was happiest baking. She made many cookies and baked goods for her many family, friends, and neighbors. Her dream was to open a bakery. She loved fishing. Much of her free time was spent volunteering where needed.
She is survived by her children, Robin (Alisha Bailey) Cook and Victoria (James) McCabe. Dawn was overjoyed to have two beautiful granddaughters, Audrey Anna Cook and Hazel Evelyn Cook.
She was the beloved daughter of her mother, Barbara Dietz of Sault Ste. Marie, her father, Paul Steinkohl of Israel and stepfathers A.J. Rogers and Fredrick Tazelaar. She is also survived by her siblings, Paul Steinkohl, Michael Tazelaar, Sherrie (Allen) Lucas, Roger Steinkohl, Anthony Rogers, Barbara Rogers and Jay Tazelaar, all of Sault Ste. Marie, and Michael Steinkohl of North Carolina; aunts and uncles, Hon. Elisabeth (Harvey Bell) Dietz of Sault Ste. Marie; Leah (Tom) VanAman of Ohio, Anita Steinkohl of Israel, Howard Steinkohl of New Jersey and Richard Steinkohl of Florida; her many nieces, nephews, great-nephews and great-nieces, cousins and dear friends she met on her travels; and her precious dog, Poco.
She was preceded in death by her grandparents, Orval and Delphine Dietz, and aunts and uncles, Elvin "Sonny" (Margaret) Dietz, Elizabeth (Alford) Clark, Mary (Forrest) Poole, Orval Dietz, Rita (Bill) Dale and William Dietz.
A memorial service will be held at 11 a.m. on Saturday, July 11, 2020, at C.S. Mulder Funeral Home. Friends may gather at the funeral home from 10 a.m. until the time of the service. Following the memorial service, will be a remembrance luncheon at Best Western, second floor conference room. Burial will be at Riverside Cemetery at 10:30 a.m. Monday morning, July 13.
Please send flowers in lieu of donations. If you would like to donate please perform an act of kindness for a community member.
OBITUARIES

Linn County News Published December 7, 2022 Anna Mae Carrel, 98, Nevada, Mo., passed away on Sunday, Dec. 4, 2022, at Menorah Medical Center in Overland Park, Kan. Anna was born Nov. 4, 1924, in Mound City, Kan., to Fred M. and Mary C. (Hollister) Smith. She was united in... [More]

Linn County News Published December 7, 2022 Kathryn Elaine "Kathy" Newcome passed away Thursday Dec. 1, 2022. Funeral service will be 2 p.m. Monday, Dec. 5, 2022, at the Schneider Funeral Home and Crematory, Pleasanton Chapel. Burial in the Richland Cemetery. Visitation will... [More]

Linn County News Published December 7, 2022 Linda S. Rios, age 63, of Mound City, Kan., passed away in Olathe, Kan., on Nov. 14, 2022. There are no services scheduled. Online condolences may be left at www.schneiderfuneral.com.
More Obituaries
View All Obituaries
NEWS

Request options be brought to next meeting During the meeting on Monday, Nov. 28, Linn County Commissioners heard from Landfill Manager Al Doan regarding multiple issues with the Solid Waste Department ranging from the current contract with Arcadia for hauling from... [More]

The Pleasanton City Council reviewed and approved a new trespass policy as provided by City Attorney Burton Harding during the Nov. 28 meeting. The policy sets out parameters for what is considered to be trespassing, as well as appropriate reactions. It notes specifically... [More]

Market Street is a proposed path between La Cygne coal, Wolf Creek nuclear plants Representatives from a Kansas City engineering firm last week presented plans for an Evergy underground conduit-cased fiber optics cable preliminarily proposed to run through La Cygne.... [More]
More News
SPORTS

The 2022 high school football season concluded and it is time for the annual All Linn County football team. The team is decided by stats and watching the boys play. I also try to make the number of boys between schools as even as I can. This season was tough in deciding as... [More]

Ten days prior to their Linn County state border counterparts (including Valentine's Day opponent Pleasanton), Hume began another promising basketball season Nov. 22 with a split decision at Appleton City. The Lady Hornets outscored their hosts in the first three quarters,... [More]
More Sports

OBITUARIES POLICY
• May be mailed, e-mailed, faxed or hand delivered.
• Must be received by 9 a.m. on Tuesday morning in order to appear in that week's edition.
• Full obituaries submitted by individuals are required to be paid in advance.
• Obituaries submitted by funeral homes will be billed to the funeral home.
• Cost: $30 for 300 words or less. Each additional word over 300, 10¢. Photograph $5.
Call Barbara at 913-352-6235 or e-mail linncountynewsreporter@gmail.com