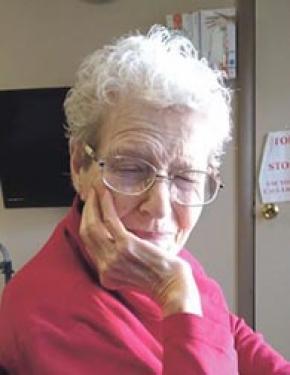 Linn County News
Published Sept. 8, 2021
Doris Louise (Jacobs) Hargrove passed away on Sept. 4, 2021, from causes incident to age. Born to Lonnie Herchel Jacobs and Clara Ettie Choate, Doris grew up running barefoot through the hills and climbing the trees of rural Oklahoma with her siblings.
She fell in love with Robert Lee Hargrove (Bob) and moved to Kansas City where they married on Oct. 29, 1948. They were sealed together for time and all eternity in the Dallas Temple on Oct. 25, 1995. They raised their five children in Mission, Kan., where the kids learned the value of hard work the old-fashioned way in their dad's butcher shop.
Doris was a dedicated wife and mother. In 1957, she joined the Church of Jesus Christ of Latter-day Saints, changing the course of her family's path forever. Her example of dedication to the gospel will remain in their hearts as an example of righteousness.
After a formal retirement, Bob and Doris built a beautiful home atop a hill overlooking a lake in Pleasanton, Kan. This is where her heart is still. Doris was known for her skills in gardening and food preservation, even having an article written about her incredible food storage. She was a talented artist who filled her home with delightful oil paintings. Doris was a member of PEO. Doris was incredibly generous with her worldly possessions and selflessly passed along treasures as her family admired them.
She loved and blessed the lives of her 18 grandchildren. They will remember her for always having soda to drink, the complete freedom she gave them, her fudge and pecan-topped sheet cakes, her industry, taking a quick rest on a freshly-made bed, her powder puffs on her makeup table, joining her bending in the garden to harvest fresh vegetables, coming with them down to the dock to swim in the lake, always cooking and baking in the kitchen, frying freshly-caught fish for grandpa, feeding all of the barn cats, driving them "into town" and to the dump for a trash run, and for playing a mean hand of Rook. She delighted in her family, and they all felt divinely loved.
Doris is survived by daughters Jeanne Moerer, of Iola, Kan., Rebecca Hinds, of St. Johns, Ariz., and Debby (David) Monk, of Mesa, Ariz.; son Jim, of Iola, Kan.; sister Gloria McCoin, of Vinita, Okla.; 18 grandchildren; and 56 great-grandchildren.
Doris and her family are so grateful for the kind care given by Windsor Place in Iola.
A private family service will be held at the Mt. Carmel Cemetery, Pleasanton. If you wish to make a contribution in memory of Doris, please make it to a charity of your choice. Online condolences can be left at www.schneiderfunerals.com.
OBITUARIES

Published in the Linn County News Karen Joyce Hughes Kidwell, 73, of Linn Valley, Kan. passed away September 10th at her home. She was born Sept. 9, 1948 in Kansas City, Kan. She was a graduate of Shawnee Mission North High School, Bethany Hospital... [More]

Linn County News Published Sept. 15, 2021 Leota Vondell Burris, age 85, Mound City, Kan., passed away on Thursday, Sept. 9, 2021. She was born in Marceline, Mo., on Aug. 30, 1936, the daughter of Thomas B. and Estel A. Watson Adams. She... [More]

Linn County News Published Sept. 15, 2021 Janet (Brown) Maschino, 64, of rural Pleasanton and Parsons, passed away peacefully at 3:13 a.m. Thursday, Sept. 9, 2021, at her daughter's home in Erie. Janet's story starts on March... [More]
More Obituaries
View All Obituaries
NEWS

By JACKIE TAYLOR Linn County News jackielcn@linncountynews.net Consumers beware as President Biden's $3.5 trillion spending package advances through Congress as much of the cost will come from new oversight on personal checking accounts. The oversight... [More]

Former Cox Motor Co. building, potential site for school By JACKIE TAYLOR Linn County News jackielcn@linncountynews.net Entering executive session for data relating to partnerships, the Pleasanton City Council spent 50 minutes discussing a partnership... [More]

A hearing at Linn County District Court for 2019-CR-000210, State of Kansas versus Lonnie Shane Martin, was held Friday afternoon for a no go preliminary where Assistant County Attorney Justin Meeks informed District Judge Terri Johnson that the state was withdrawing... [More]
More News
SPORTS

It's been a bumpy start to the 2021 season for Jayhawk-Linn's football team. A roster with 19 underclassmen (freshmen and sophomores) among its 32 members missed both their Aug. 27 home jamboree with Pleasanton and Erie because of COVID-19 and its scheduled... [More]

BY ADAM HOLT LINN COUNTY NEWS holtadam82@yahoo.com The Prairie View cross country teams traveled to Fort Scott on Sept. 9 to compete in the Fort Scott Invitational. The Buffalos again performed well as the varsity girls won as a team. Head Coach Marcie Caldwell... [More]
More Sports
OBITUARIES POLICY
• May be mailed, e-mailed, faxed or hand delivered.
• Must be received by 9 a.m. on Tuesday morning in order to appear in that week's edition.
• Full obituaries submitted by individuals are required to be paid in advance.
• Obituaries submitted by funeral homes will be billed to the funeral home.
• Cost: $30 for 300 words or less. Each additional word over 300, 10¢. Photograph $5.
Call Barbara at 913-352-6235 or e-mail reporter@linncountynews.net