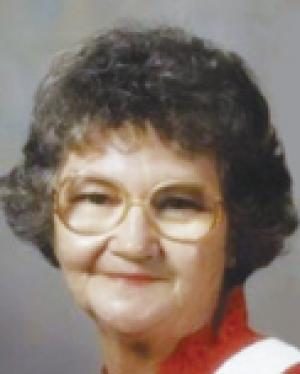 Dorotha M. Glidden, 86, a former resident of Ft. Scott, Kansas, and more recently of Gladewater, Texas, passed away Monday, Oct. 13, 2014, at her home in Gladewater. Dorotha was born Oct. 18, 1927, in Blue Mound, Kan. to Clarence Arthur Townsley and Corda Edith Jackson Townsley. She worked as a Nurse's Aide and was married to LeRoy Earl Glidden until he passed in September 2001.
Dorotha is survived by her companion, Wiley Styers of White Oak; sons, Terry Leigh Glidden of Latham, Kan., Michael Wayne Glidden of Altoona, Kan. and William "Pat" Glidden of Eldorado, Kan.; daughters, Sandra Kay O'Donnell of Gladewater, Texas, Debra Diane McDaniel of Interlachen, Fla., Denise Louise Carter of Gilmer, Texas, Tracy Lynn Fasanello of Gladewater, Texas, Tina Marie Richardson of Longview, Texas; brother, Clarence Townsley of Blue Mound, Kan.; sister, Joan Scott of Independence, Kan. as well as 17 grandchildren, 42 great-grandchildren and three great-great-grandchildren.
She was preceded in death by her parents, husband, and two grandsons, Craig Allen O'Donnell, Ronald Joe Burch Jr.; two brothers, Frank and Lindell Townsley; four sisters, Betty Brillhart, Alma Florence "Toots" Gay, Vyrla Dean Miller, and Nellie Newman.
A graveside service will be held at 2 p.m. Saturday, Nov. 8 at the Fairview Cemetery east of Mildred, Kan. Services are under the direction of the Cheney Witt Chapel. Memorials are suggested to the St. Jude Children's Hospital and may be left in care of the Cheney Witt Chapel, 201 S. Main, P.O. Box 347, Ft. Scott, KS 66701.
OBITUARIES

Linn County News Published Aug. 10, 2022 Larry Sumners, age 68, of Centerville, Kan., passed away on Monday, Aug. 1, 2022, at the Overland Park Regional Medical Center in Overland Park, Kan. Laurence A. Sumners was born on Aug. 16, 1953, at McPherson,... [More]

Linn County News Published Aug. 10, 2022 It is with great sadness to announce the passing of Michael Ekkehard Reinsch, a beloved brother, father, uncle and grandfather. Michael passed away on Wednesday, June 22, 2022, at Augusta University Medical Center. Michael... [More]

Linn County News Published Aug. 10, 2022 Rosetta May Beard, age 99, La Cygne, Kan., passed away Wednesday, Aug. 3, 2022. Graveside funeral service will be 10 a.m. Monday, Aug. 8, at the Oak Lawn Cemetery, La Cygne, Kan. Memorial contributions are suggested... [More]
More Obituaries
View All Obituaries
NEWS

Following the governor's recent approval of legislation created to show when taxing entities are increasing mill levies, additional costs to taxpayers are coming to the forefront, despite some holding taxes to the same level using revenue neutral rates. Kansaspolicy.org... [More]

Following opening statements at Monday's Pleasanton City Council meeting, public speaker Mike Higgins took the podium and told the council that he was talking to former Olive's Hope building owner Brandon McGinnis concerning the sale of the building to a family that... [More]

Two of the county departments geared toward public safety are now under new direction. Missy Lancaster took over the Linn County Health Department as well as the position of Public Health Officer in November of last year and has made a few changes to the department since... [More]
More News
SPORTS

Linn County has a new competitive softball team, Total Effect Softball, which will be based out of Mound City. Jayhawk-Linn head softball coach Kris Holt started the team and will be the head coach of Total Effect. Holt had multiple reasons on why he wanted to start a competitive... [More]

Fishing has slowed down since the last reports on June 27, but fish are still being caught and can be even better in the coming weeks with some cooler weather and more rain. All the reports were last updated on July 18. La Cygne Lake Catfish, largemouth and crappie are the... [More]
More Sports

OBITUARIES POLICY
• May be mailed, e-mailed, faxed or hand delivered.
• Must be received by 9 a.m. on Tuesday morning in order to appear in that week's edition.
• Full obituaries submitted by individuals are required to be paid in advance.
• Obituaries submitted by funeral homes will be billed to the funeral home.
• Cost: $30 for 300 words or less. Each additional word over 300, 10¢. Photograph $5.
Call Barbara at 913-352-6235 or e-mail linncountynewsreporter@gmail.com