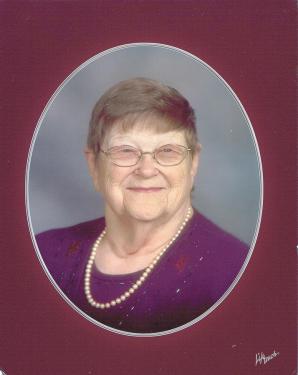 Linn County News
Published July 27, 2022
Dorothy R. Kolle, 93, Salina, died Monday July 18, 2022.
She was born Dec. 10, 1928, to J. Gustav and Eva (Martin) Schubert. She grew up on a farm in rural Ramona.
Dorothy married Paul Deines Aug. 3, 1947. To this union, they were blessed with six children, making their home over the years in Ramona, Hillsboro and Lyons, Kan.
Paul lost his battle with cancer March 21, 1963. Dorothy obtained her nursing degree and worked at St. Luke Hospital, Marion, Kan., as an LPN.
Dorothy married H.D. Hayward on Jan. 4, 1974, making their home in Marion. He preceded her in death Nov. 7, 1985. She met Elvin Kolle through a mutual friend, they married April 21, 1990. They moved to Linn County in 1994 living there until his death on Feb. 26, 2003.
Dorothy relocated to Salina where she was active in RSVP Chorus, volunteering, and various areas at Christ the King Lutheran Church over the years.
She is preceded in death by her parents; a sister, Carol Johnson; two sons, Brad Deines and Larry Deines; and one daughter, Cindy Dunning; two grandchildren, Nathan and Shelby; and one great-grandchild, Elise Noer.
She is survived by sons, Steve Deines (Sandra) of Pierce City, Mo., and Bill Deines of Topeka, Kan.; daughter, Paula Berg (Jerrold) of Salina, Kan.; daughters-in-law; Jeanie Deines of Kokomo, Ind., and Sherry Deines of Douglas, Wy.; son-in-law, Steve Dunning of Assaria, Kan.; 15 grandchildren; 23 great-grandchildren; and one great-great-grandchild.
Visitation will be from 1 to 8 p.m., Thursday, July 21, at Carlson - Geisendorf Funeral Home and Crematory with family present from 5 to 7 p.m.
Funeral Service will be held at 10 a.m., Friday, July 22, at Christ the King Lutheran Church in Salina, Kansas with Rev. Aaron Wagner officiating.
Burial will be at 1:30 p.m., Friday, July 22, at the St. Paul Lutheran Cemetery, Ramona, Kan.
Memorials may be made to Christ the King LWML, in care of Carlson-Geisendorf Funeral Home and Crematory, 500 S. Ohio St., Salina, KS 67401.
To send an online condolence, visit www.carlsonfh.net or on Facebook.
OBITUARIES

Linn County News Published May 24, 2023 Gene Raymond Mitchell, 84 years, passed away on November 24, 2022 in his home Grand Rapids, Mich. He was born in Kansas City, Kan., the third child of Otto and Ruby Mitchell. Preceded in death by his parents and brother,... [More]

Linn County News Published May 17, 2023 Richard Scott Secrest, age 93 of Nevada, Mo., formerly of Pleasanton, Kan., passed away on Tuesday, May 16, 2023. He was born the son of Ancil and Beulah (Jackson) Secrest on May 29, 1929, at Edgerton, Kan. Richard married... [More]

Linn County News Published May 17, 2023 Donald Raymond Wier, age 82, of Denton, Texas, passed away on May 11, 2023. The second child of Lloyd Elmer and Thelma Olan (Meek) Wier, Don was born on July 9, 1940, in Fort Scott, Kan., a farm kid who excelled in... [More]
More Obituaries
View All Obituaries
NEWS

A health and cancer screening event is planned for 11 a.m. to 2 p.m. on June 3 at the Pleasanton United Methodist Church, 751 Main Street. This event will have prostrate and skin cancer screenings, take-home colorectal cancer screening kits, blood pressure readings, tobacco... [More]

This year's Thunder on the Street event, set for June 3 on Main Street in Pleasanton, promises several activities for all ages. The wall of death is back this year, only under a new company - Ives Brothers Wall of Death and promises tons of gravity defying entertainment.... [More]

Saturday, May 27 Linn Valley Memorial Day ceremony at the memorial at 10 a.m. Prescott Cemetery Memorial Day ceremony at 10:30 a.m.; a potluck lunch will follow at the Community Building in Prescott with the city providing the meat, drinks and table service.... [More]
More News
SPORTS

The Prairie View track team traveled to Wichita May 26-27 to compete in the 3A State track championship and brought home some hardware to say the least. The girls' team earned the school's first State track championship as they scored 41.5 points to win the 3A girls'... [More]

The Jayhawk-Linn track team traveled to Wichita on May 26-27 to compete in the 2A State track championship. The Hawks were well represented this year as they sent a total of 13, seven girls and six boys, to State. The boys' team earned multiple medals at the meet. Gus... [More]
More Sports

OBITUARIES POLICY
• May be mailed, e-mailed, faxed or hand delivered.
• Must be received by 9 a.m. on Tuesday morning in order to appear in that week's edition.
• Full obituaries submitted by individuals are required to be paid in advance.
• Obituaries submitted by funeral homes will be billed to the funeral home.
• Cost: $30 for 300 words or less. Each additional word over 300, 10¢. Photograph $5.
Call Barbara at 913-352-6235 or e-mail linncountynewsreporter@gmail.com