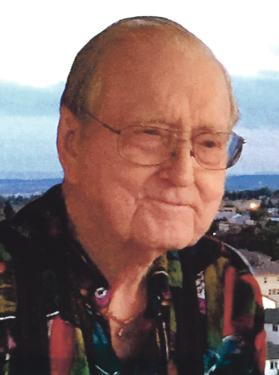 Linn County News
Published Jan. 12, 2022
Earl A. Lash, 96, passed away at home in Colorado Springs, Colo., on Jan. 1, 2022, to join his Family in Heaven. Earl was born Dec. 14, 1925, on the family farm in Republic County, Kan., the son of Bernie L. and Caro May Goppert Lash (died 1928) and Florence.
Earl graduated from Norway High School. He was a farmer, served in the U.S. Navy, a banker and an investor. He was united in marriage to Rosalee Daggs in 1951. Earl bought the 1st National Bank in Pleasanton, Kan., in 1955. He and his family successfully ran the bank, and it grew to be the largest bank in the county when he sold it.
Earl was an active member of the community. He was a 32nd degree Mason, belonged to the Christian Church and supported the Rotary Club and Chamber of Commerce.
During his retirement, he moved to Overland Park, Kan., and earned an associate degree from JCCC. He concentrated on his investments. He made several philanthropic donations to churches in Pleasanton and the Highland Baptist Church near Norway, Kan.
He traveled, lived in California twice, Concordia Kan., to care for Florence, and finally settled in Colorado Springs.
Earl's final year was supported with loving care from family, friends and an excellent team of caregivers, which allowed him to remain in his home. He loved looking from his balcony across the Garden of the Gods to the top of Pikes Peak.
He is finally at Peace …
He was preceded in death by his parents, Bernie L., Caro May (Goppert) and Florence Lash; and his sisters, Eldred Lash, Eva Atkinson, Irene Swenson and Donna Morris.
He is survived by his sister, Bernice Ramsbottom; three sons, James, Daniel and David Lash; six grandchildren, Chris, Jakob, Zackery, Nick, Jason, and Ryan; 10 great-grandchildren; and many cousins, nieces and nephews. He also maintained a long-term relationship with Ann Clark.
In lieu of flowers please make donations to your favorite charity or the VA or Hospice.
Funeral services will be held at 2 p.m. Saturday, Jan. 15, 2022, at the Bachelor-Surber Funeral Home, Belleville, Kan.
The family will greet friends from 1 p.m. until service time on Saturday and after the service until 3 p.m.
Military rites will be conducted by the U. S. Navy Honor Guard.
Interment will follow the services at Pleasant Ridge Cemetery, rural Norway, Kan.
A memorial service will be held later in the spring of 2022 at the Highland Baptist Church at the Republic County Historical Society Museum, Belleville.
Online condolences at: www.bachelor-surber.com
Services are under the direction of the Bachelor-Surber Funeral Home, 1322 19th St., Belleville.
OBITUARIES

Linn County News Published Jan. 26, 2022 Douglas Leonard Whitcraft, son of the late Donald Francis Sr. and Bernice Rose (Benson) Whitcraft, was born on Dec. 5, 1958, in Cleveland, Mo., and began his eternal journey with his Lord and Savior, Jesus Christ, on... [More]

Linn County News Published Jan. 26, 2022 Sandra Louise "Sandy" Hagman, age 80, Mound City, Kan., passed away Friday, Jan. 21, 2022. Funeral service will be 2 p.m. Wednesday, Jan. 26, 2022, at the Schneider Funeral Home and Crematory, Mound City... [More]

Linn County News Published Jan. 26, 2022 Kathryn N. Kite McGee, age 92, Centerville, Kan., passed away, Jan. 18, 2022, at the Residential Living Center in Garnett, Kan. Kathryn was born, June 7, 1928, the daughter of Chester and Velma (Lee) Kite,... [More]
More Obituaries
View All Obituaries
NEWS

Property involved is at Industrial Park La Cygne has annexed 12.5 acres of Linn County property. At their regular meeting last Wednesday, Jan. 19, the city's council voted 4-0, with Thomas Capp not present, to adopt Ordinance No. 1498 that makes the Industrial... [More]

Question comes with recusal of council member on wife's contract The first meeting of the year was held On Jan. 3 with three Pleasanton council members present: Joe Whitaker, Jake Mattingley and Melanie Staton. As recorded in notes from that meeting in the Jan.... [More]

Defendant may be on 160 acres, but no driving A Parker man charged with the second-degree vehicular murder of his mother will be allowed to access a 160-acre contiguous square residential plot in Franklin County as part of a bond condition. At a state's motion... [More]
More News
SPORTS

The Pleasanton basketball teams hosted their Midseason Tournament this past week as six teams competed: Pleasanton, Jayhawk, Osawatomie, Oswego, Northeast (Topeka) and Heritage Christian. The Jays started on Jan. 17 against Jayhawk. The girls won their game 47-17 while the... [More]

Prairie View's boys' and girls' basketball teams traveled to Uniontown this past week to compete in the Kenny Holt Memorial Tournament. The tournament featured four teams, Uniontown, Prairie View, Kansas City Christian (KCC) and Altoona Midway. Both the boys'... [More]
More Sports

OBITUARIES POLICY
• May be mailed, e-mailed, faxed or hand delivered.
• Must be received by 9 a.m. on Tuesday morning in order to appear in that week's edition.
• Full obituaries submitted by individuals are required to be paid in advance.
• Obituaries submitted by funeral homes will be billed to the funeral home.
• Cost: $30 for 300 words or less. Each additional word over 300, 10¢. Photograph $5.
Call Barbara at 913-352-6235 or e-mail linncountynewsreporter@gmail.com