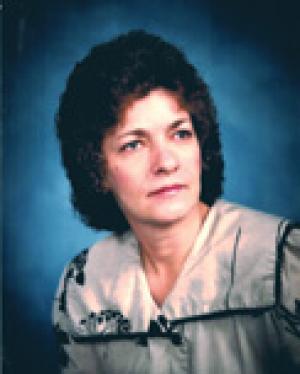 Elda Kay Holsman, 67, of Pleasanton, Kan., died at 11:16 a.m. on Thursday, July 24, 2014, at KU Med Center after a courageous battle with cancer. Elda was born Dec. 6, 1946, in Amoret, Mo., to Kenneth Roland and Ruth Gail (Barton) Dudley.
She graduated from Miami High School and received her nurse aide training.
On Dec. 27, 1964, she married Raymond E. Holsman in Butler, Mo. They had two daughters and when her girls were young she spent many hours leading Brownies, Girl Scouts, 4-H and Pleasanton Jayettes. She truly enjoyed the many miles she traveled taking her girls and other children to church camp and softball games.
Elda was a member of the Amoret Christian Church and a very active member of the PTO when her girls were young.
When the girls reached junior high, she began working outside the home as a cook and CNA at Pleasant View Manor and then as a CNA at Prescott Country View from which she retired. However the "job" Elda enjoyed the most was being a grandma to her grandchildren and great-grandchildren for whom she made beautiful baby blankets. She also enjoyed genealogy, crocheting, sewing, garage sale shopping and spending time with her family.
Elda was preceded in death by her mother, Ruth Dudley; her father, Roland Dudley; stepfather, David Hess; sister, Twila Finfrock; brother, Kenneth Dudley; and stepbrother, David "Burl" Hess.
Survivors include her husband, Raymond Holsman of the home; two daughters, Kathy Secrest and husband Jesse of Pleasanton and Heidi Martinez and husband Joe of San Antonio, Texas; three sisters, Glenda Dudley and soon-to-be husband George Ahrens of Boone, Iowa, her twin sister, Velda Holsman and husband James of Pleasanton, and Brenda Newson and husband John of Haughton, La.; two brothers, Roland Dean Dudley and wife Kathy of Waxhaw, N.C,. and William Merle Dudley and wife Ganelle of Springdale, Ark.; three stepbrothers, Ronnie Hess and wife Wanda of Grandview, Mo., Darrell Hess and wife Linda of Hume, Mo., and Kermit Hess and wife Orlene of Belton, Mo.; 10 grandchildren, Kelsey, Kaitlyn, Shawn, Jacob, Mason, Morgan, Erika, Autumn, Hunter and Caleb; and two great-grandchildren, Hudson and Emmi. Elda was looking forward to a new great-grandbaby in January; and a host of nieces and nephews who meant so much to her as well.
A Memorial Service was held Saturday, July 26, 2014, at Schneider Funeral Home and Crematory, Pleasanton Chapel. The family suggests contributions to First Christian Church of Pleasanton Local Missions Fund. Online condolences may be left at www.schneiderfunerals.com.
OBITUARIES

Linn County News Published December 6, 2023 Robert W. VanWinkle, age 83, La Cygne, Kan., passed away Friday, Dec. 1, 2023. A service to celebrate Bob's life will be announced at a later date. Online condolences can be left at www.schneiderfunerals.com. ... [More]

Linn County News Published December 6, 2023 Jolene Moriconi, 87, of Lawrence, Kan., formerly of Paola, Kan., and Frontenac, Kan., passed away on Thursday, Nov. 30, 2023, at home surrounded by family. She was born May 24, 1936, in Frontenac, Kan., the daughter of... [More]

Linn County News Published Dec. 6, 2023 Perle David Patrick Jr., age 67, Osawatomie, Kan., passed away Sunday, Dec. 3, 2023. Funeral service will be held 2 p.m. Friday, Dec. 8, 2023, at the Schneider Funeral Home and Crematory, La Cygne Chapel. Burial... [More]
More Obituaries
View All Obituaries
NEWS

During the weekly meeting of the Linn County Commissioners on Monday, Dec. 4, Rich Morrell and Charlene Sims with the Linn County Planning Commission each addressed the commissioners in regard to the moratorium and the request to create a committee to work on Section 14. ... [More]

Linn County Clerk David Lamb presented the commissioners with documents to be signed by the commission chair during their weekly meeting on Monday, Dec. 4, in regard to the bond sale last Wednesday to refinance a portion of the original bond for the jail project. Lamb... [More]

Linn County Public Works Director Shaun West noted he had reached out to the fiber installers south of the power plant in reference to questions the commissioners had concerning undone road work. West stated he learned the connection comes into the project from the west and moves... [More]
More News
SPORTS

The Pleasanton basketball team hosted their home opener against Kansas City Christian (KCC) on Dec. 1. The Jays split the varsity games with the girls falling in their game 20-29 and the boys winning big in their game, 78-44. The girls' game started well as the Lady... [More]

Sophomore Brea Dawson scored 12 of her game-high 18 points in the fourth quarter, paving the way for Jayhawk Linn's girls to claim a 43-38 season-opening win at Cass-Midway, Mo., Friday night. Despite a game-high 23 points from junior Braeden Nation, the 'Hawk boys... [More]
More Sports
OBITUARIES POLICY
• May be mailed, e-mailed, faxed or hand delivered.
• Must be received by 9 a.m. on Tuesday morning in order to appear in that week's edition.
• Obituaries submitted by funeral homes will be billed to the funeral home.
• Full obituaries submitted by individuals are required to be paid in advance.
• Cost: $40 for 300 words or less. Each additional word over 300, 10¢. Photograph $5.
Call Barbara at 913-352-6235 or e-mail linncountynewsreporter@gmail.com
View Legals for Free