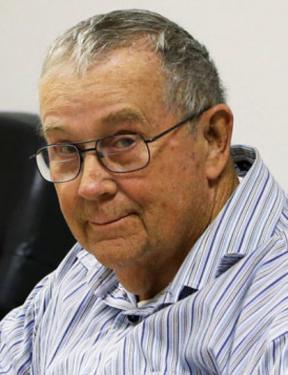 Linn County News
Published Aug. 8, 2018
Eldred S. Whitley, age 79, Pleasanton, Kan., passed away on Tuesday, Aug. 7, 2018. He was born on May 10, 1939, in Carrollton, Mo., the son of Joseph and Hazel Brock Whitley. He graduated from Olathe High School.
He married Carol Adams on July 2, 1961.
Eldred served his country in the United States Air Force. After being honorably discharged, he was employed as a mechanic or truck driver at various businesses for most of his working career. He also owned his own trash business.
He was a member of the Pleasanton Assembly of God and had served as a deacon. He was mayor of the city of Pleasanton for two plus terms.
He was preceded in death by his parents; and a granddaughter, Tiera.
Eldred is survived by his wife Carol; two sons, Jeff Whitley and wife Cindy, and Jerry Whitley and wife Mary; a daughter, Julie Eichenberger and husband Ed; a brother, Howard Whitley; five grandchildren, Joe, Shelby, Johnathon, Daniel and Justin; and four great grandchildren, Destinee, Natalee, Haiden and Catalina.
Funeral service will be held 2 p.m. Friday, Aug. 10, 2018, at the Pleasanton Assembly of God Church. Burial will be in the Fairview Cemetery. Visitation will be held from 6-8 p.m. Thursday, Aug. 9, at the Schneider Funeral Home and Crematory, Pleasanton Chapel.
The family suggests contributions to the University of Kansas Heart Institute. Online condolences can be left at www.schneiderfunerals.com.
OBITUARIES

Linn County News Published Oct. 11, 2023 Victor Gene, "Vic" Clark, age 85, Mound City, Kan., passed away Monday, Oct. 2, 2023. Graveside service will be 10 am Friday, Oct. 6, 2023, at the Woodland Cemetery in Mound City, Kan. Memorial contributions are suggested... [More]

Linn County News Published Oct. 4, 2023 Vanetta Carol (Hardy) Sabine passed away peacefully at Freeman Hospital in Joplin, Mo., at 5:42 a.m. on Friday, Sept. 29, 2023. She was born June 27, 1944, in Garnett, Kan., to William Orland and Ella Bernice "Margaret"... [More]

Linn County News Published September 20, 2023 Daniel Glen Needham took the long way home on Sept. 6, 2023, after fighting a long battle against cancer. We are sure he had to stop along the way and check out all the new fishing holes and visit with everyone he met... [More]
More Obituaries
View All Obituaries
NEWS

Information was recently disseminated via Facebook concerning potential ground leases that may come before the Linn County Planning and Zoning Commission; the information was part of an online petition to try to stop solar fields. With that, solar companies answered several questions... [More]

Letter from KDWP discussed during meeting During the public comment segment of the commissioner's weekly meeting on Monday, several people in the audience again spoke regarding the current zoning regulations for commercial solar farms. Public comment... [More]

Move solves one of three financial issues Monday night's Unified School District 362 approval at a special meeting of the sale of a vocational-education construction house in La Cygne has solved what appeared to be an impending financial concern. However, two... [More]
More News
SPORTS

The Prairie View football team hosted Burlington on Sept. 22 for their Homecoming game. Homecoming is so much better with a win and the Buffalos provided that as they fought their way to a 44-19 victory. One of the things that won this game for the Buffalos were big runs by... [More]

The Pleasanton cross country team traveled to Prairie View to compete in the Humboldt Invitational on Sept. 19 and then the Ramsey Invitational at Prairie View on Sept. 21. Both junior high and high school runners competed for the Jays at the Humboldt Invitational. Kei-Mahni... [More]
More Sports
OBITUARIES POLICY
• May be mailed, e-mailed, faxed or hand delivered.
• Must be received by 9 a.m. on Tuesday morning in order to appear in that week's edition.
• Obituaries submitted by funeral homes will be billed to the funeral home.
• Full obituaries submitted by individuals are required to be paid in advance.
• Cost: $40 for 300 words or less. Each additional word over 300, 10¢. Photograph $5.
Call Barbara at 913-352-6235 or e-mail linncountynewsreporter@gmail.com
View Legals for Free