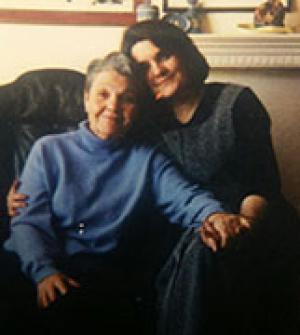 Linn County News
Published June 9, 2021
Eloise Evonne Frisbie Robbins, formerly of Belton, Mo., passed away peacefully Oct. 27, 2020, in Freeman, Mo., at the home she shared with her daughter Jessie and son-in-law Terry Carter.
Eloise Robbins was a month shy of her 90th birthday, Nov. 24.
Born in Gallup, N.M., in 1930, "Ellie" was the first child and only daughter of Letha L. Lowe and Arthur Elliott Frisbie. After the arrival of two brothers, Lowe and Lynn, the family relocated back home to Kansas in the Mound City/Pleasanton area. A teaching/coaching opportunity for her father took the family to Fort Scott, Kan., where Eloise welcomed her youngest brother Steve, graduated from high school, and attended Fort Scott Junior College. From there Eloise attended Emporia State Teachers College where she almost got a degree. Instead, she married James Howard Robbins on Aug. 10, 1952. Years later she obtained her teaching degree from Pittsburg State University and a master's degree from Webster College. She'd later tell her daughters, "First you get your degree. Then you get married."
Eloise spent much of her adult life as a working mother raising five children and teaching upper elementary school in Suffield, Ohio, and Belton, Mo., at Cambridge Elementary. She shared with her kids (both her own and the ones in her classroom) her love of music – Eloise was an avid opera fan, going to the Metropolitan Opera in New York as often as she could – and of history. In 1978, Eloise was presented the Edgar Langsdorf Award for Excellence in Writing by the Kansas Historical Society for her scholarly research and writing on the original military post road between Fort Leavenworth and Fort Scott, 1978summer_robbins.pdf (kshs.org). Among her other interests included mystery writing and reading, needlework, gardening and travel. By the time she was 70, she'd traveled the world extensively, making trips to every continent, including Antarctica. In her later years, she mostly enjoyed being "Greatma" to her 19 great-grandchildren. She had three girls named after her.
Eloise was active in attending church at St. Peter's Episcopal in Harrisonville, Mo., and St. Anne's Episcopal in Lee's Summit, Mo., until her health prevented it. Her philanthropic interests included The Carter Center, The Salvation Army, and The Trading Post Museum.
Eloise was preceded in death by her parents, Letha and A.E. Frisbie; Jim, her husband of almost 50 years; two of her brothers, Lowe and Lynn Frisbie; and two sons-in-law, Bob Herndon and Ali Asif. She is survived by her youngest brother, Steve Frisbie; sisters-in-law Louise (Lowe), Faye (Lynn) and Carolyn (Steve) Frisbie; son James David Robbins (Karen); daughters Jessie Carter (Terry), Chris Herndon (Bob), Kate Asif (Ali) and Eloise Knowlton (Barry); 13 grandchildren; 19 great-grandchildren; much loved nieces and nephews and their families; and family friends, numerous colleagues and a multitude of students.
Eloise was loved. She will be missed.
Funeral services will be held beginning at 10 a.m. Friday, June 18, 2021, at St. Anne's Episcopal Church, Lee's Summit (live-streaming and/or replay of service at www.saintannesls.org). Burial will directly follow at Trading Post Cemetery, Linn County, Kan.
OBITUARIES

Linn County News Published June 23, 2021 Adeline Joy Weien, infant daughter of Cody Weien and Jennifer Younger of La Cygne, Kan., passed away on Sunday June 13, 2021. She was born on Dec. 30, 2020, in Overland Park, Kan. She was preceded in death... [More]

Linn County News Published June 16, 2021 Robert Dale Hopkins, age 71, Prescott, Kan., passed away on Saturday, May 22, 2021. Graveside service will be held at 1 p.m., Saturday, June 19, 2021 at the Prescott Cemetery. Contributions are suggested to Disabled... [More]

Linn County News Published June 16, 2021 David R. Jackson, age 81, of rural La Cygne, Kan., passed away suddenly at his home Thursday, June 10, 2021. He had been in ill health the past few months. David was born Aug. 11, 1939, in La Cygne... [More]
More Obituaries
View All Obituaries
NEWS

Friday, June 11 started off like a typical late spring day but once afternoon hit, it was no typical day. Blue Mound experienced what locals estimated to be 80 to 90 mph straight-line winds, four to six inches of rain in 20 minutes and the ensuing damage created from the quick... [More]

Linn County Commissioner Rick James announced during the meeting of the county commissioners on Monday, June 14 that he had spoken with Larry Goldberg of the Goldberg Group in regards to the $196,000 change order that had been discussed at several meetings. Change Order No.... [More]

Parker city leaders are scheduled to decide at next month's 7 p.m. July 8 meeting their plan for chip seal maintenance of city streets. At their monthly meeting last Thursday, Mayor Cody Adams said two factors need to be decided prior to next month's meeting, the... [More]
More News
SPORTS

Once again the Linn County high schools had a good track season and each school sent multiple athletes to the State track meet in Wichita. In this article we will look at some of the top high school track athletes from Pleasanton, Prairie View and Jayhawk-Linn. Isaiah Bates... [More]

In Linn County high school sports there are several teams that stand out. The track and wrestling teams usually send multiple people to State. Both Prairie View softball and Jayhawk softball have been very good the past few seasons, and the football teams have had some good years,... [More]
More Sports