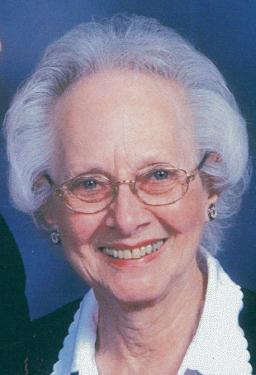 Linn County News
Published May 10, 2017
Elsie Leona Wilson, age 94 of Garnett, Kan., formerly of Osawatomie and Parker, Kan., died May 3, 2017, at Parkview Heights Nursing Home in Garnett. Elsie was born Feb. 26, 1923, in rural Beagle, Kan. She was the third of five children born to August Frank and Flossie Mae (Matney) Loch.
She grew up in the Beagle and Parker area. She attended school at Beagle Grade School, Mound Creek Country School and Buzzard Roost Country School. Elsie graduated from Osawatomie High School with the class of 1941.
After high school, Elsie worked at the Forum in Kansas City where she met James Hermal Wilson. The couple was united in marriage on Oct. 7, 1943, in Kansas City, Mo.
Jim was in the United States Army and was stationed in Washington. Jim was honorably discharged and they moved back to Beagle. With Jim, together they had four children, Carolyn Lee, Rita Anne, Jim Jr. and Marsha Gae. The family moved to Parker in 1952. After 47 years, Jim and Elsie moved to Garnett until 2010 when they made their final move to Vintage Park of Osawatomie. Jim passed away in 2012.
Elsie worked as a homemaker when her children were younger, and then in 1969 she started working for the Parker Elementary. She was the custodian for 17 years until retiring in 1985. Elsie was very instrumental in starting Tri-Ko, Inc., and Lakemary Center. She was a lifetime member of the Beta Sigma Phi, Iota Iota chapter in Parker. She attended the Beagle and Parker United Methodist Church and was a member of the United Methodist Women.
Elsie was very artistic. She took painting classes after she retired. She also learned to quilt and do counted cross stitch. Elsie was a very good cook. She could cook dinner for large numbers of people with little resources. Her family's favorite was her fried chicken, and she always made rolls for the church dinners.
She was preceded in death by her husband of 68 years, Jim Sr.; parents; daughters Rita Anne Wilson and Marsha Gae Wilson; and sisters Helen Mae McBride, Norma Jean Stephens and Agnes Katherine Dalton.
Survivors include her children, Carolyn (Charlie) Dunlop of Parker and Jim Jr. (Linda) Wilson of Grove, Okla.; five grandchildren, Douglas (Pam) Dunlop, Darin (Teah) Dunlop, Dierra (Pete) Willey, Travis (Kate) Wilson and Derick (Michelle) Wilson; 16 great- grandchildren, Taite, Calla, Lincoln, Parker, Isaac, Michael, Jasmyn, Cordell, Blaine, August, Jacob, Charity, Breckyn Malin, Taylea, Nellie and Rhett Willey; one great-great-granddaughter, Willow; 0ne sister, Sharon (Harold) Stites of Tucson, Ariz.; along with other family and friends.
Service was Saturday, May 6, 2017, at First United Methodist Church, Parker. Burial was at Highland (Parker) Cemetery.
Memorials are suggested for Parker First United Methodist Church. Send c/o Eddy-Birchard Funeral Home, P.O. Box 430, Osawatomie, KS 66064.
OBITUARIES

Linn County News Published March 29, 2023 Debra Dale Wolf, age 68, Linn Valley, Kan., passed away Wednesday, March 22, 2023. Graveside funeral service will be held 2 p.m. Wednesday, March 29, 2023, at the Trading Post Cemetery. Memorial contributions... [More]

Linn County News Published March 29, 2023 Jessica Erin Cox, beloved daughter, and granddaughter, passed away at her home in Lawrence, Kan., March 20, 2023. Jessica was born Nov. 15, 1979, at the University of Kansas Medical Center. She was a graduate of Shawnee... [More]

Linn County News Published March 29, 2023 Larry Ray Oliver, age 69, Pleasanton, Kan., passed away on Wednesday, March 22, 2023. Funeral service will be at 6 p.m. on Saturday, March 25, 2023, at the Schneider Funeral Home and Crematory, Pleasanton Chapel. Visitation... [More]
More Obituaries
View All Obituaries
NEWS

Marais des Cygnes National Wildlife Refuge is celebrating National Walking Day on Wednesday, April 5th by inviting the public to come out and walk with a ranger for a preview of our new trail. The Visitor Center and new exhibits will be open form 4-6 PM and... [More]

MIAMI & LINN COUNTY – On Wednesday morning, the Kansas Bureau of Investigation (KBI), the Miami County Sheriff's Office, the Linn County Sheriff's Office, the Osawatomie Police Department, and the Pleasanton Police Department arrested six individuals... [More]

After meetings discussing the Linn County Comprehensive Plan and where the county should be as to allowing wind turbines, the Linn County P&Z said no 5-3 to allowing any turbines in the county. P&Z Commission Chair Richard Morrell brought the subject up after several... [More]
More News
SPORTS

The season for the Linn County high school boys' basketball teams is over and it's time for this year's All County Boys' Basketball team. This year, there is a first and second team with five players on each team from the three local high schools, Prairie... [More]

The season for the Linn County high school girls' basketball teams is over and it's time for this year's All County Girls' Basketball team. This year, there is a first and second team with five players on each team from the three local high schools,... [More]
More Sports

OBITUARIES POLICY
• May be mailed, e-mailed, faxed or hand delivered.
• Must be received by 9 a.m. on Tuesday morning in order to appear in that week's edition.
• Full obituaries submitted by individuals are required to be paid in advance.
• Obituaries submitted by funeral homes will be billed to the funeral home.
• Cost: $30 for 300 words or less. Each additional word over 300, 10¢. Photograph $5.
Call Barbara at 913-352-6235 or e-mail linncountynewsreporter@gmail.com