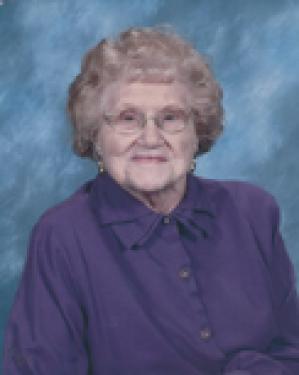 Evelyn Isabelle (Moslander) Winburn was born Aug. 10, 1920, to Guy and Sadie (Kinney) Moslander in Pleasanton, Kan. She graduated from Pleasanton High School in 1939 and married Ralph Frank Winburn on Dec. 20, 1941. They were married for just over 51 years before Ralph was called home to heaven on April 23, 1993. Isabelle remained a widow for 22 years before she, too, was called to her Lord on March 02, 2015, at the age of 94.
Isabelle was a devoted wife, mother, grandmother, and great-grandmother. She served in her community in many ways for many years, including Brownie and Girl Scout leader and volunteer on PTA/school committees. She volunteered right up into her 70s and 80s for Meals on Wheels, helping to prepare "meals for those old people" (which did not include her!). She served in her local church, Parkwood Christian Church (now New Heights Christian Church) as a Sunday school teacher, nursery worker, women's circle leader, elder's wife, seniors' ministry leader (teenagers) and so many other avenues of service.
She had the gift of gracious hospitality and often had guests in her home. She loved to cook and was very talented in the kitchen (her pies were great fundraisers for charities) and she helped to host many various events with style and grace.
Isabelle is survived by their four children, Ralph Leon (and Alice) Winburn and their children, Mark (and Jena) Winburn; Michael (and Debbie) Winburn and their two sons, Jason Winburn and Matthew Winburn; Richard (and Toy) Winburn and his son Scott (Jane) Winburn; Cheryl (and Tim) Doggett and their children Chelsie (and Erik) Neufeld and Luke (and Erika) Doggett; and five grandchildren.
She was preceded in death by her husband, Ralph; her sister, Mary (Moslander) McGinnis; and her brother, Ernest Moslander. Other family members and many good friends are in Heaven to welcome her home. There are celebrations in Heaven when another child is called home!
A Memorial Service will be held March 28, 2015, at New Heights Christian Church in Bridgeton, Mo. The visitation with family is to begin at 5:30 p.m., followed by the service at 7 p.m. All are welcome to attend.
OBITUARIES

Linn County News Published Aug. 10, 2022 Larry Sumners, age 68, of Centerville, Kan., passed away on Monday, Aug. 1, 2022, at the Overland Park Regional Medical Center in Overland Park, Kan. Laurence A. Sumners was born on Aug. 16, 1953, at McPherson,... [More]

Linn County News Published Aug. 10, 2022 It is with great sadness to announce the passing of Michael Ekkehard Reinsch, a beloved brother, father, uncle and grandfather. Michael passed away on Wednesday, June 22, 2022, at Augusta University Medical Center. Michael... [More]

Linn County News Published Aug. 10, 2022 Rosetta May Beard, age 99, La Cygne, Kan., passed away Wednesday, Aug. 3, 2022. Graveside funeral service will be 10 a.m. Monday, Aug. 8, at the Oak Lawn Cemetery, La Cygne, Kan. Memorial contributions are suggested... [More]
More Obituaries
View All Obituaries
NEWS

Following the governor's recent approval of legislation created to show when taxing entities are increasing mill levies, additional costs to taxpayers are coming to the forefront, despite some holding taxes to the same level using revenue neutral rates. Kansaspolicy.org... [More]

Following opening statements at Monday's Pleasanton City Council meeting, public speaker Mike Higgins took the podium and told the council that he was talking to former Olive's Hope building owner Brandon McGinnis concerning the sale of the building to a family that... [More]

Two of the county departments geared toward public safety are now under new direction. Missy Lancaster took over the Linn County Health Department as well as the position of Public Health Officer in November of last year and has made a few changes to the department since... [More]
More News
SPORTS

Linn County has a new competitive softball team, Total Effect Softball, which will be based out of Mound City. Jayhawk-Linn head softball coach Kris Holt started the team and will be the head coach of Total Effect. Holt had multiple reasons on why he wanted to start a competitive... [More]

Fishing has slowed down since the last reports on June 27, but fish are still being caught and can be even better in the coming weeks with some cooler weather and more rain. All the reports were last updated on July 18. La Cygne Lake Catfish, largemouth and crappie are the... [More]
More Sports

OBITUARIES POLICY
• May be mailed, e-mailed, faxed or hand delivered.
• Must be received by 9 a.m. on Tuesday morning in order to appear in that week's edition.
• Full obituaries submitted by individuals are required to be paid in advance.
• Obituaries submitted by funeral homes will be billed to the funeral home.
• Cost: $30 for 300 words or less. Each additional word over 300, 10¢. Photograph $5.
Call Barbara at 913-352-6235 or e-mail linncountynewsreporter@gmail.com