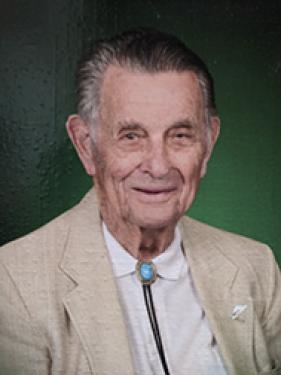 Linn County News
Published Feb. 17, 2021
Floyd Arthur Holmes (or Arthur Floyd Holmes, it was never clear which) passed away peacefully at his residence at Grandwood Assisted Living in Grove, Okla., on Feb. 13, 2021, exactly one month after celebrating his 105th birthday. Floyd to family, and "F.A." or simply "Holmes" to his friends, was born on the family farm near Prescott, Kan., the third child of Arthur and Florence Holmes.
He was preceded in death by his wife of 55 years, Carroll; and his two older siblings, Hazel Grigsby and John Holmes, and two younger siblings, Ned Holmes and Mildred Holmes, who died in childhood. He is survived by his youngest sister Florine O'Rourke of Lawrence, Kan.; six nephews; two nieces; and many grand-nieces and nephews and their descendants.
Floyd was remarkable in many ways, not least by his energy, sense of humor and amazing memory. Well past his centennial year he could still name all the U.S. state capitols, all the counties in Kansas, California, Washington, Oregon, Utah and most in Oklahoma, the names of almost all the members of the sports teams he competed against as a student athlete in rural Kansas, and the names of all the members of the minor league baseball teams he followed during his career in Utah, Washington, Ohio, Indiana and California. As though to emphasize his remarkable mental acuity, he spontaneously recited, verbatim, the poem "When the Last Picture of the Earth Is Painted" by Rudyard Kipling for the assembled friends and family at his 102nd birthday celebration. He noted to all that he learned the poem when he heard it read at a graduation in 1931. It was not the only poem he still remembered and could recite when the mood struck. He used to be fond of saying that he spent the first 30 years of his life getting an education, the next 30 working for someone else, and the last 30 playing golf and enjoying himself. Even he did not foresee his longevity, although several family members lived past 100.
After attending a one-room grade school and graduating at 16 from high school in Prescott (Class of '32), Floyd worked at farming and tried his hand at the wheat harvest in western Kansas, but his innate curiosity soon led him to attend Fort Scott Community College and then Kansas State University, where he obtained Bachelor and Master's degrees in entomology. He was proud of the fact that on a class field trip while at K-State he discovered the largest known fossil of a dragon fly. Half of the fossil resides in the collections at K-State and the other half at Harvard's Museum of Natural History. In 2016 he was honored by K-State for his still legendary discovery. He was a proud KSU Wildcat and endowed a scholarship in entomology at K-State for a graduate student working on economic entomology issues that would benefit agriculture.
It was while he was a student at K-State that he met the love of his life, fellow student Carroll Buck. After serving a year in the army during WWII, Floyd returned home on leave and he and Carroll were married in Garnett, Kan., in 1943. He quickly returned to duty and spent most of the rest of his wartime service in the Pacific theatre with the army medical corps.
After discharge from the army following the war, Floyd secured a position with DuPont chemical company as a pesticide specialist. In many ways a dream job, it kept him outside, working with people, and on the move. He and Carroll had posts in Yakima, Wash., Brigham City, Utah, Oberlin, Ohio, South Bend, Ind., and finally and longest, in Los Gatos, Calif. Active, well-known and a leader in his professional role in California, he and Carroll were equally well-known at many of the leading golf courses in California. He was particularly pleased at their recognition for each of them having made a hole-in-one on the same hole at the same course in the same year. And it was not the only hole-in-one for either of them.
Following his retirement from DuPont, he and Carroll elected to relocate closer to family. They built their retirement home in Buffalo Shores on Grand Lake near Grove, Okla., so, as Floyd said, they could golf and fish at their leisure. They stayed in Buffalo Shores until Carroll's death in 1998. At that time, Floyd moved into Grove. Despite the loss of Carroll, Floyd's enjoyment of travel did not diminish, and for a number of years his traveling companion was his sister-in-law, Eileen Funk, who had lost her husband some years before.
In 2015 Floyd moved to Grandwood Assisted Living in Grove. In 2017 he was very pleased and honored to serve as Grand Marshall of the Grove Christmas Parade, and this year Grove's mayor declared his 105th birthday Floyd A. Holmes Day.0 A fitting tribute to the acknowledged "Oldest Man in Oklahoma."
The family wishes to extend their heartfelt and sincere appreciation for the extended care provided to Floyd by the remarkable staff of Grandwood Assisted Living and by Hospice Compassus during his final days. A family memorial service is planned for the future at the Holmes Cemetery in Linn County, Kan.
OBITUARIES

Published in the Linn County News Karen Joyce Hughes Kidwell, 73, of Linn Valley, Kan. passed away September 10th at her home. She was born Sept. 9, 1948 in Kansas City, Kan. She was a graduate of Shawnee Mission North High School, Bethany Hospital... [More]

Linn County News Published Sept. 15, 2021 Leota Vondell Burris, age 85, Mound City, Kan., passed away on Thursday, Sept. 9, 2021. She was born in Marceline, Mo., on Aug. 30, 1936, the daughter of Thomas B. and Estel A. Watson Adams. She... [More]

Linn County News Published Sept. 15, 2021 Janet (Brown) Maschino, 64, of rural Pleasanton and Parsons, passed away peacefully at 3:13 a.m. Thursday, Sept. 9, 2021, at her daughter's home in Erie. Janet's story starts on March... [More]
More Obituaries
View All Obituaries
NEWS

By JACKIE TAYLOR Linn County News jackielcn@linncountynews.net Consumers beware as President Biden's $3.5 trillion spending package advances through Congress as much of the cost will come from new oversight on personal checking accounts. The oversight... [More]

Former Cox Motor Co. building, potential site for school By JACKIE TAYLOR Linn County News jackielcn@linncountynews.net Entering executive session for data relating to partnerships, the Pleasanton City Council spent 50 minutes discussing a partnership... [More]

A hearing at Linn County District Court for 2019-CR-000210, State of Kansas versus Lonnie Shane Martin, was held Friday afternoon for a no go preliminary where Assistant County Attorney Justin Meeks informed District Judge Terri Johnson that the state was withdrawing... [More]
More News
SPORTS

It's been a bumpy start to the 2021 season for Jayhawk-Linn's football team. A roster with 19 underclassmen (freshmen and sophomores) among its 32 members missed both their Aug. 27 home jamboree with Pleasanton and Erie because of COVID-19 and its scheduled... [More]

BY ADAM HOLT LINN COUNTY NEWS holtadam82@yahoo.com The Prairie View cross country teams traveled to Fort Scott on Sept. 9 to compete in the Fort Scott Invitational. The Buffalos again performed well as the varsity girls won as a team. Head Coach Marcie Caldwell... [More]
More Sports
OBITUARIES POLICY
• May be mailed, e-mailed, faxed or hand delivered.
• Must be received by 9 a.m. on Tuesday morning in order to appear in that week's edition.
• Full obituaries submitted by individuals are required to be paid in advance.
• Obituaries submitted by funeral homes will be billed to the funeral home.
• Cost: $30 for 300 words or less. Each additional word over 300, 10¢. Photograph $5.
Call Barbara at 913-352-6235 or e-mail reporter@linncountynews.net