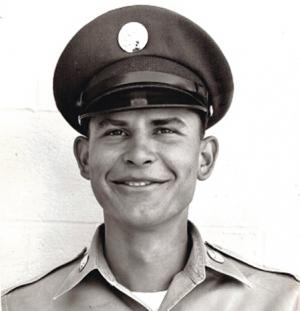 Harold Jay Holmes, age 77, Prescott, Kan., passed away on Monday, March 6, 2017, at the Prescott Country View. He was born on Dec. 15, 1939, at Prescott, the son of Harold S. and Marguerite Coon Holmes. He graduated from Prescott High School in 1957.
Jay served his country in the United States Army from 1963 through 1965 stationed in Germany. Jay lived and farmed in the Prescott area until he moved to Fort Scott in 1998.
He loved to fish, spending lots of time catching big bass at the coal pits near Prescott. He loved music and was a fantastic trumpet player.
He was married to Jane Turpin and was later divorced.
He is survived by a sister, Elma Avery of Fort Scott; a brother, Leon and wife Marilyn of Prescott; and four nieces and four nephews.
He was preceded in death by his parents; a brother, Milton; and a nephew, Jay Lee Cassida.
Graveside service will be held at 2 p.m. Friday, March 10, 2017, at the Holmes Cemetery in Prescott.
The family suggests contributions to Prescott Country View Nursing Home, which may be sent in care of Schneider Funeral Home, P.O. Box 525, Pleasanton, KS 66075. Online condolences may be left at www.schneiderfunerals.com. Arrangements: Schneider Funeral Home and Crematory, Pleasanton Chapel.
OBITUARIES

Linn County News Published Aug. 3, 2022 Patsy Lucille Smith, age 59, Pleasanton, Kan., passed away peacefully in her home, surrounded by family Sunday, July 31, 2022. She was born on June 15, 1963, in Parsons, Kan., the daughter of George William (Bill) and Mary Jo (Jones)... [More]

Linn County News Published August 3, 2022 Fred Ahlemann, age 84, Overland Park, Kan., passed away Friday, July 29, 2022. Funeral service will be held 11 a.m. Saturday, Aug. 13, 2022, at St. Mark's Lutheran Church, Olathe, Kan. Graveside service will be 3 p.m. Saturday,... [More]

Linn County News Published Aug. 3, 2022 Janet L. Toms, age 69, Pleasanton, Kan., passed away Wednesday, July 27, 2022. She was born on May 25, 1953, in Paola, Kan., to Kenneth and Fontella Butler Stainbrook. She graduated from Prairie View High School and... [More]
More Obituaries
View All Obituaries
NEWS

Following the governor's recent approval of legislation created to show when taxing entities are increasing mill levies, additional costs to taxpayers are coming to the forefront, despite some holding taxes to the same level using revenue neutral rates. Kansaspolicy.org... [More]

Following opening statements at Monday's Pleasanton City Council meeting, public speaker Mike Higgins took the podium and told the council that he was talking to former Olive's Hope building owner Brandon McGinnis concerning the sale of the building to a family that... [More]

Two of the county departments geared toward public safety are now under new direction. Missy Lancaster took over the Linn County Health Department as well as the position of Public Health Officer in November of last year and has made a few changes to the department since... [More]
More News
SPORTS

Linn County has a new competitive softball team, Total Effect Softball, which will be based out of Mound City. Jayhawk-Linn head softball coach Kris Holt started the team and will be the head coach of Total Effect. Holt had multiple reasons on why he wanted to start a competitive... [More]

Fishing has slowed down since the last reports on June 27, but fish are still being caught and can be even better in the coming weeks with some cooler weather and more rain. All the reports were last updated on July 18. La Cygne Lake Catfish, largemouth and crappie are the... [More]
More Sports

OBITUARIES POLICY
• May be mailed, e-mailed, faxed or hand delivered.
• Must be received by 9 a.m. on Tuesday morning in order to appear in that week's edition.
• Full obituaries submitted by individuals are required to be paid in advance.
• Obituaries submitted by funeral homes will be billed to the funeral home.
• Cost: $30 for 300 words or less. Each additional word over 300, 10¢. Photograph $5.
Call Barbara at 913-352-6235 or e-mail linncountynewsreporter@gmail.com