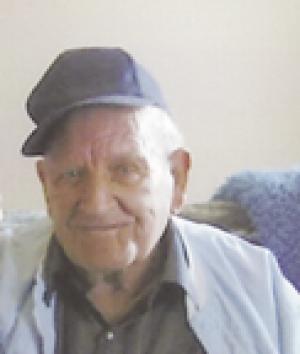 Herschel Leon Vail, 89, passed away Sunday, Dec. 7, 2014. He was born at Boicourt, Kan., on Oct. 31, 1925, the son of Raymond and Leona Dodge Vail.
He married Nancy Wisdom April 25, 1954.
He served his country in the United States Navy during World War II. Herschel owned and operated a trash disposal service and was an ordained minister.
He was preceded in death by three sons, Darrell, Dennis and Chris Vail; one brother, Leland Vail; and one grandchild, Candice.
He is survived by his wife Nancy; two sons, Kenny and Curtis Vail; four daughters, Sharon Tennison, Ruth Quirk, Linda Richey and Vicky Vail; one brother, Herman Vail; three sisters, Vivian Bright, Fern Breashear and Joan Stinnett; 16 grandchildren, 14 great-grandchildren; and one great-great-grandchild.
Memorial service will be held 11 a.m., Wednesday, Dec. 10, 2014, at the Schneider Funeral Home and Crematory, Pleasanton Chapel. Visitation will be held from 10 a.m. to service. Private inurnment will be in the Woodfin Cemetery, Foster, Mo. The family suggests contributions to the Nevada Regional Hospice. Online condolences for the family may be left at www.schneiderfunerals.com. Arrangements: Schneider Funeral Home & Crematory, Pleasanton Chapel.
OBITUARIES

Linn County News Published February 8, 2022 Gene Linder passed away on Jan. 17, 2023. Born April 11, 1931, Gene lived life to the fullest for all his 91 years. Gene's first legacy was that of husband to Virginia - devoted to each other for 70 years... [More]

Linn County News Published February 8, 2023 Sonita Arlone Martin, age 79, Fort Scott, Kan., passed away Thursday, Feb. 2, 2023, at her home. Funeral service will be 2 p.m. Monday, Feb. 6, 2023, at the Schneider Funeral Home and Crematory, Pleasanton... [More]

Linn County News Published January 25, 2023 Randall "Randy" James Rogers, age 72, La Cygne, Kan., passed away Thursday, Jan. 19, 2023. Funeral service will be 1 p.m. Tuesday, Jan. 24, 2023, at the Schneider Funeral Home and Crematory, La Cygne Chapel. Burial... [More]
More Obituaries
View All Obituaries
NEWS

2023 Kansas Birding Big Year Contest PRATT – The 2023 Kansas Birding Big Year Contest, hosted by the Kansas Department of Wildlife and Parks (KDWP), is officially underway! Participation is simple; record the number of unique bird species you see in Kansas from... [More]

Approximately 30 people took advantage of free CPR (cardio-pulmonary resuscitation) classes held last Saturday in both Mound City and La Cygne. The classes were sponsored by Linn County Emergency Management and were free to the public. Each class size was limited to 20 and... [More]

Ali Hamilton, director and curator of the Trading Post Museum, spoke to Linn County Commissioners on Monday, Jan. 30, regarding the renaming of a stretch of U.S. Highway 69 in the honor of a Pleasanton veteran who died at Pearl Harbor. A bill was introduced in the Kansas legislature... [More]
More News
SPORTS

Pleasanton celebrated their courtwarming this past week and they also celebrated their basketball teams as the boys' and girls' varsity teams combined to go 4-0. The Jays played Marmaton Valley on Jan. 24 and then hosted Altoona Midway for their courtwarming on... [More]

Junior Gus Grote continued his double-double onslaught last week as he and his Jayhawk-Linn teammates at home split Three Rivers League decisions. On Jan. 23, the Jayhawks claimed a 46-38 win against Yates Center, a game postponed from Dec. 16, but last Friday, they lost a... [More]
More Sports

OBITUARIES POLICY
• May be mailed, e-mailed, faxed or hand delivered.
• Must be received by 9 a.m. on Tuesday morning in order to appear in that week's edition.
• Full obituaries submitted by individuals are required to be paid in advance.
• Obituaries submitted by funeral homes will be billed to the funeral home.
• Cost: $30 for 300 words or less. Each additional word over 300, 10¢. Photograph $5.
Call Barbara at 913-352-6235 or e-mail linncountynewsreporter@gmail.com