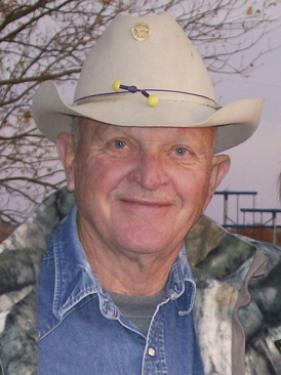 Hubert A. "Harvey" Taylor Jr., age 76, of Pleasanton, Kan., passed away in the home on Thursday, May 21, 2015. He was born at Harrisonville, Mo., the son of Hubert A. Taylor Sr. and Virginia Mae Plumb Taylor.
He graduated from Harrisonville High School in 1956, after which he proudly served his country in the United States Air Force. He was stationed in Little Rock, Ark., where he became a radar technician on B47s. After the Berlin Wall was built and Bay of Pigs occurred, he left the military after six years of service to be with his family in Harrisonville. H.A. was very proud of his military career and many times mentioned how much he enjoyed his time served.
After leaving the military, he worked for a brief time at Bendix Corp. before he was hired at Kansas City Power & Light, where he retired 30 years later as Air Quality Control Supervisor at the La Cygne Generating Station. He had many fond memories of his time at KCP&L and gained many friendships along the way.
During his employment at KCP&L, he continued his involvement in law enforcement. Stories from John Wall's gun store in Blairstown, Mo., kept many a listener at attention or in stitches. Stories included shootouts, human relation events and, most often, a story of his first love – a special firearm.
H.A. worked for the Linn County Sheriff's Department for over 20 years, beginning with Sheriff Jim Mizer, ending when Sheriff Marvin Stites retired in January of 2008 after numerous reelections. H.A. was known throughout the county as a fair, honest – yet tough – law enforcement officer. He was trusted by all on the force as someone who had their back in the roughest of situations.
After his retirement from law enforcement, he began giving concealed carry classes, often showing many in the classes the finer points of firearm safety, home safety and more. He was a powerful advocate of the National Rifle Association and believed strongly in our nation's Second Amendment.
He was married to Jacquelyn Emerson on Sept. 23, 2006, and was a member of the Pleasanton First Christian Church.
He greatly enjoyed the outdoors, hunting, shooting and trapshooting; with that, he was a member of the NRA, NRA Second Amendment Task Force, Kansas Trapshooting Association and the Amateur Trapshooting Association.
He was preceded in death by his parents. He is survived by his wife, Jackie Taylor; sons Chuck Taylor and wife Barbara, Chad Taylor and wife Nicole, and Russell Taylor; daughters Teresa Fry and husband David, and Kathy Gupton and husband Nicholas; stepson Kyle Walker and wife Berenice; sister Janette Clapper; and 17 grandchildren and seven great grandchildren.
Funeral services will be held at 11 a.m. Thursday, May 28, at the Pleasanton First Christian Church. Burial will be in the Fisher Cemetery. Visitation will be from 5-7 p.m. Wednesday, May 27, at the Schneider Funeral Home and Crematory, Pleasanton Chapel. The family suggests contributions to the Harvey Taylor Memorial Fund. Online condolences may be left at www.schneiderfuneral.com. Arrangements: Schneider Funeral Home and Crematory, Pleasanton.
OBITUARIES

Linn County News Published Aug. 10, 2022 Merle A. Beckman, age 86, Mound City, Kan., passed away Wednesday, Aug. 3, 2022. He was born in rural La Cygne, Kan., on Oct. 5, 1935, the son of Charles and Neeva (Neal) Beckman. He graduated from La Cygne Rural High School... [More]

Linn County News Published Aug. 10, 2022 Mary Jo Spencer, age 83, of Mound City, Kan., passed away on Aug. 6, 2022, at Louisburg Healthcare, Louisburg, Kan. She was born Nov. 13, 1938, in Terrell, Texas, to James Downing and Claudie Flower. Mary Jo moved to Lubbock, Texas,... [More]

Linn County News Published Aug. 10, 2022 Larry Sumners, age 68, of Centerville, Kan., passed away on Monday, Aug. 1, 2022, at the Overland Park Regional Medical Center in Overland Park, Kan. Laurence A. Sumners was born on Aug. 16, 1953, at McPherson,... [More]
More Obituaries
View All Obituaries
NEWS

What was a dream a year ago has come to fruition with a ribbon cutting and open house scheduled for Friday, Aug. 12 at 10 a.m. The Southeastern Technical Academy for Rural Students (STARS) is now a reality located in the former Cox Motor Company building at Laurel and 17th Streets... [More]

With the ribbon cutting and open house of the new STARS Technical Academy in Pleasanton slated for Friday, Aug. 12, the staff and instructors at the school opened up recently about their roles and what the program means to them. Phil Mitchell, who will be teaching Construction... [More]

After sending the Linn County Commissioners an email explaining county real estate compliance with state values, the commissioners visited with Linn County Appraiser Kathy Bridges Monday. After initial conversation on the 2021 final ratio study concerning commercial and residential... [More]
More News
SPORTS

The Linn County Fair and Rodeo started this past week with the traditional demolition derby. There were two nights of demo derby action as team derby, modified and figure eight races took place on Aug. 5 while the compact, semi-modified and bone stock took place on the evening... [More]

Linn County has a new competitive softball team, Total Effect Softball, which will be based out of Mound City. Jayhawk-Linn head softball coach Kris Holt started the team and will be the head coach of Total Effect. Holt had multiple reasons on why he wanted to start a competitive... [More]
More Sports

OBITUARIES POLICY
• May be mailed, e-mailed, faxed or hand delivered.
• Must be received by 9 a.m. on Tuesday morning in order to appear in that week's edition.
• Full obituaries submitted by individuals are required to be paid in advance.
• Obituaries submitted by funeral homes will be billed to the funeral home.
• Cost: $30 for 300 words or less. Each additional word over 300, 10¢. Photograph $5.
Call Barbara at 913-352-6235 or e-mail linncountynewsreporter@gmail.com