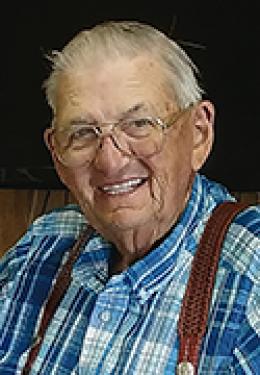 Linn County News
Published Jan. 20, 2021
James "Jim" William Finfrock, age 84, of Paola, Kan., passed away Wednesday, Jan. 13, 2021, at Olathe Medical Center.
Jim was born Dec. 30, 1936, at Centerville, Kan. He was the oldest of four children born to William Fredrick and Olan F. (Baker) Finfrock. He grew up in Centerville.
He was married to Faye Stites on Oct. 17, 1954, at rural Parker, Kan. They made their home in Centerville and became the parents of two children. They moved to LaCygne and lived there several years. Faye preceded Jim in death on June 26, 1982.
On Dec. 6, 2003, he was married to Diane (Lucas) Willis. They made their home in Harveyville, Kan., and later moved to Princeton, Kan. It was in 2017 that they moved to Paola.
Jim owned and operated a filling station in Parker, Kan., when they lived there. He later worked for Union Gas Company in Bonner Springs, Fort Scott, and LaCygne then went to work as a truck driver. His truck driving career began with LaCygne Truckline which Jim later bought. He also worked for Joe Donohue and then the Walmart Ottawa Distribution Center as a truck driver.
Jim loved camping and fishing at Melvern Lake. He enjoyed running trotlines with his son at Sugar Creek. He also enjoyed deer hunting. He had many canine companions throughout his lifetime including Jake, Jadie, and Butch.
He was preceded in death by his parents; his first wife; his brother, Paul; and one great-grandchild Gracein Lickteig.
He is survived by his wife, Diane, of the home; daughter Cindy Lickteig (Leon) of Greeley; son Jimmy Finfrock (Terri) of Kearney, Mo.; two step sons Adam Reeder (Tammy) of Boonton, N.J. and David Willis (Angel Simmons) of Topeka, Kan.; two sisters Nancy Cox of Mound City, Kan. and Sally Morse (Les) of Centerville, Kan.; seven grandchildren; three step grandchildren; 12 great-grandchildren; many other relatives and friends.
A Celebration of Life will be held at a later date. Memorials are to the Foundation for Peripheral Neuropathy and can be sent c/o Dengel and Son Mortuary-Crematory, 305 N. Pearl St., Paola, Kan. 66071.
OBITUARIES

Linn County News Published Dec. 8, 2021 Lawrence "Burt" Burton Holt, 80, of Lenexa, Kan., passed away on Dec. 1, 2021. Burt is survived by his wife, Sandra, and stepson, Curtis (Shelli); son, Dalton (Sherri), grandson, Tyler, and granddaughter,... [More]

Linn County News Published Dec. 8, 2021 Patricia Pauline (Holt) Ratliff, 79, of Cameron, Mo., passed away Nov. 24, 2021. She was born Aug. 3, 1942, in Kansas City, Kan. She married Clifton Ray Ratliff on March 17, 2001, in Turney, Mo. Patricia is... [More]

Linn County News Published Nov. 24, 2021 Kristina Diane Roth, age 43, of Hesston, Kan., entered her heavenly home on Sunday, Nov. 21, 2021. Kris was born March 11, 1978, the daughter of Robert (Bob) and Diane Burnett in Garnett, Kan., and lived with her family in... [More]
More Obituaries
View All Obituaries
NEWS

Going through bills at their Monday County Commission meeting, the commissioners approved two claims in the amount of $14,409.41 and $318,935.17 but questioned a bill in the amount of $7,500 paid last week to Debrick Truck Line of Paola for shipping an MRAP (Mine-Resistant Ambush... [More]

Republican candidate for state treasurer, state Sen. Caryn Tyson of rural Parker has received national recognition as legislator of the year for her leadership and work on Property Tax Transparency, Senate Bill (SB) 13. Tyson researched and led an effort in Kansas to stop automatic... [More]

Former Pleasanton City Council member Ginger Neal-Cox, 203 E. Fourth St., appeared before the Pleasanton Council Monday evening to inform them of an aggressive dog that bit her daughter in November and asked that the aggressive dog ordinance be stiffened. She said that on Nov.... [More]
More News
SPORTS

The Pleasanton basketball teams started their season on Dec. 3 with a home game against Kansas City Christian (KCC). The girls fed off a good defensive performance to win their game 36-18. KCC was too much for the boys, however, as they lost their game 70-35. The girls'... [More]

Jayhawk-Linn basketball teams lost competitive games in their season openers Friday at Cass-Midway, Mo. How each varsity team reached its final verdict, however, came from a different angle. Down by as many as 12 points halfway through the second quarter, the Lady Jayhawks... [More]
More Sports

OBITUARIES POLICY
• May be mailed, e-mailed, faxed or hand delivered.
• Must be received by 9 a.m. on Tuesday morning in order to appear in that week's edition.
• Full obituaries submitted by individuals are required to be paid in advance.
• Obituaries submitted by funeral homes will be billed to the funeral home.
• Cost: $30 for 300 words or less. Each additional word over 300, 10¢. Photograph $5.
Call Barbara at 913-352-6235 or e-mail reporter@linncountynews.net