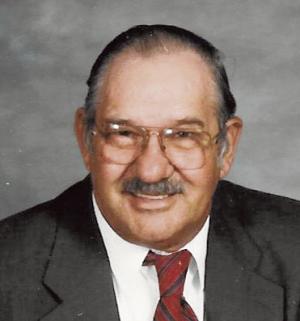 Linn County News
Published June 14, 2017

James Kenneth "Kenny" McClanahan, 83, La Cygne, Kan., passed away on Thursday, June 8, 2017. He was born on March 1, 1934, in La Cygne, the second of eight children born to Elmer and Fern Edwards McClanahan.
Kenny graduated from La Cygne High School in the Class of 1954.
He united in marriage with Arlene Culter on Aug. 29, 1954. Kenny and Arlene made their home in La Cygne. They were together for 62 years and raised five children.
He worked and retired from Farmland Industries.
Kenny was very active in the community, serving on the Park Board, La Cygne City Council, Historical Society and Planning Commission. The community appreciated and recognized his service by making him the 2006 Grand Marshal of the La Cygne Fiesta.
Aside from all his service to the city, what he loved the most was softball. He started coaching his children's teams in the 1970s. After his children were grown, Kenny continued to coach the daughters of the community for several years, winning many tournaments including the state in 1986. While coaching and umpiring, he became the Kansas Amateur Softball Association Deputy District Commissioner for several years. During his retirement, he was instrumental in getting the Prairie View High School softball program approved and started.
Kenny also enjoyed fishing, frogging, boating and camping. He was a quiet man but love d to tell a good story. Many times he would start laughing so hard he would cry before he finished telling it.
He was a longtime member of the B.P.O.E. 921, Osawatomie and the Calvary Baptist Church, La Cygne.
Kenny was preceded in death by his parents; two brothers, Jess and Carl; and two sisters, Cleda Fern and Vickie.
He is survived by his wife and best friend Arlene; three sons and their wives, Kenny and Joyce, Mike and Jody, and Randy and Renee; two daughters, Cheryl and Gary Weis and Tracy and Todd Williams; three sisters, Carol and Joyce Brewer and Linda Dodge; 14 grandchildren; 14 great-grandchildren; and one great-great-grandson.
Graveside service was held Tuesday, June 13, 2017, at the Oak Lawn Cemetery.
The family suggests contributions to the Prairie View Softball Program or Calvary Baptist Church. Online condolences for the family can be left at www.schneiderfunerals.com.
OBITUARIES

Linn County News Published November 23, 2022 Christina A. Creighton Turner, 84, passed away Nov. 19, 2022. She was born Dec. 8, 1937 in Centerville, Kan., to Eva Shafer and Roy Bowman. On Dec. 18, 1955, she married John Creighton; they had four children together before his... [More]

Linn County News Published November 16, 2022 Edgar Wayne Moon, age 82 of La Cygne, Kan., passed away at his home on Saturday, Nov. 12, 2022. He was born the son of Chester and Evelyn (Van Liew) Moon on Aug. 14, 1940, in Lawrence, Kan. Edgar married Betty Talley on... [More]

Linn County News Published November 16, 2022 Timothy Wayne Foxworth, age 62, Mound City, Kan., passed away Thursday, Nov. 10, 2022. A gathering to celebrate Tim's life will be held from 2 to 4 p.m. on Saturday, Nov. 19, 2022, at the Schneider Funeral Home and Crematory,... [More]
More Obituaries
View All Obituaries
NEWS

Market Street is a proposed path between La Cygne coal, Wolf Creek nuclear plants Representatives from a Kansas City engineering firm last week presented plans for an Evergy underground conduit-cased fiber optics cable preliminarily proposed to run through La Cygne.... [More]

The Linn County Commissioners recessed their Nov. 21 meeting and opened a meeting of the Board of Canvassers for the purpose of canvassing the Nov. 8 election. With Commissioner Rick James absent, the commissioners opted to appoint Darin Wilson as the third member of the Board... [More]

WICHITA — PBS Kansas Channel 8 honored four veterans and one business that serves veterans at its 8th Annual Veterans Coming Home Salute on Nov. 5, 2022 at the Wichita Marriott. This event honored Kansas veterans who demonstrated outstanding service to their country, fellow... [More]
More News
SPORTS

The 2022 cross country season has concluded and now it is time to recognize some of the top local runners in the sport this season. The Prairie View girls' cross country team had multiple good runners on it and one great runner. The girls just missed making it to State... [More]

The Pleasanton and Jayhawk-Linn football teams are well represented in the 2022 11-man Three Rivers League All League selections. The Hawks make up 16 selections between first team and honorable mention while the Jays make up 10 selections between first team and honorable mention.... [More]
More Sports

OBITUARIES POLICY
• May be mailed, e-mailed, faxed or hand delivered.
• Must be received by 9 a.m. on Tuesday morning in order to appear in that week's edition.
• Full obituaries submitted by individuals are required to be paid in advance.
• Obituaries submitted by funeral homes will be billed to the funeral home.
• Cost: $30 for 300 words or less. Each additional word over 300, 10¢. Photograph $5.
Call Barbara at 913-352-6235 or e-mail linncountynewsreporter@gmail.com