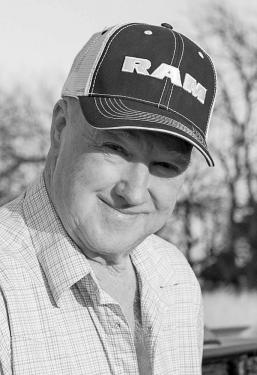 James Walter Meech, age 62, passed away Monday, Sept. 2, 2019, with his wife, kids and close friends near, on his farm home near Fort Scott, Kan., after a battle with Gliosarcoma brain cancer. Jim was born April 18, 1957, in Fort Scott, the son of Dennis Walter and Estella E. (Gier) Meech.
He married Marita Miller on Sept. 8, 1984, in Fort Scott. They have two children, which he was extremely proud of, Elizabeth Marie Meech and John W. (JW) Meech.
As a young adult, Jim worked in the mechanic shop at Midwestern Distribution and Charlie Griffiths Cattle and also hauled cattle for Bob Walrod at Fort Scott Livestock on weekends.
Over the years, he enjoyed pulling his International 1066 farm tractor at local tractor pulls and was proud of his kids competing in pedal tractor pulls when they were young at the local, state, national and international levels. Jim beamed with pride when he talked about his kids' horse and rodeo accomplishments.
Farming was deep in Jim's blood. He was a very successful farmer, as he spent his entire life farming and ranching in Bourbon and Linn counties. Beginning after his graduation in 1975 from Fort Scott High School, Jim worked with his family on Triple M Farms, until his dad's passing in 1992. From 1992-2012, Jim was a partner in Meech Brothers Farms. Since 2013, Jim worked/operated Jim Meech Farms with his wife, Marita.
Jim is survived by his wife, Marita, of the home; a daughter, Elizabeth Meech, Borger, Texas, and son JW Meech, Canyon, Texas; his mother-in-law, Venita Miller, Kincaid, Kan.; paternal aunts, Itha Jean and husband Harold Turntine, and Jewell Ross, Topeka, Kan.; and maternal aunts, Lela Ann Gier, Fort Scott, and Geneva Gier, Girard, Kan. Also surviving are several nieces, nephews and cousins.
He was preceded in death by his father, Dennis W. Meech; his paternal grandparents, Juell Walter Meech and Elsie May Finney Meech, and his uncle, Billy G. Meech; and his maternal grandparents, Oscar and Lizzie Goff Gier, his aunt, Opal Gier, and his uncles, Charles and Merle Gier.
Funeral services will be held 2 p.m. Saturday, Sept. 7, 2019, at the Schneider Funeral Home, Pleasanton, Kan. Burial will be in the Glendale Cemetery near Hammond, Kan. Visitation will be held from 6-8 p.m. Sept. 6, 2019, at the Schneider Funeral Home in Pleasanton.
The family suggests contributions to the Jim Meech Farmers/Ranchers in Health Crisis Fund. Online condolences for the family can be left at www.schneiderfunerals.com . Arrangements: Schneider Funerals, Pleasanton.
OBITUARIES

Linn County News Published December 6, 2023 Robert W. VanWinkle, age 83, La Cygne, Kan., passed away Friday, Dec. 1, 2023. A service to celebrate Bob's life will be announced at a later date. Online condolences can be left at www.schneiderfunerals.com. ... [More]

Linn County News Published December 6, 2023 Jolene Moriconi, 87, of Lawrence, Kan., formerly of Paola, Kan., and Frontenac, Kan., passed away on Thursday, Nov. 30, 2023, at home surrounded by family. She was born May 24, 1936, in Frontenac, Kan., the daughter of... [More]

Linn County News Published Dec. 6, 2023 Perle David Patrick Jr., age 67, Osawatomie, Kan., passed away Sunday, Dec. 3, 2023. Funeral service will be held 2 p.m. Friday, Dec. 8, 2023, at the Schneider Funeral Home and Crematory, La Cygne Chapel. Burial... [More]
More Obituaries
View All Obituaries
NEWS

During the weekly meeting of the Linn County Commissioners on Monday, Dec. 4, Rich Morrell and Charlene Sims with the Linn County Planning Commission each addressed the commissioners in regard to the moratorium and the request to create a committee to work on Section 14. ... [More]

Linn County Clerk David Lamb presented the commissioners with documents to be signed by the commission chair during their weekly meeting on Monday, Dec. 4, in regard to the bond sale last Wednesday to refinance a portion of the original bond for the jail project. Lamb... [More]

Linn County Public Works Director Shaun West noted he had reached out to the fiber installers south of the power plant in reference to questions the commissioners had concerning undone road work. West stated he learned the connection comes into the project from the west and moves... [More]
More News
SPORTS

The Pleasanton basketball team hosted their home opener against Kansas City Christian (KCC) on Dec. 1. The Jays split the varsity games with the girls falling in their game 20-29 and the boys winning big in their game, 78-44. The girls' game started well as the Lady... [More]

Sophomore Brea Dawson scored 12 of her game-high 18 points in the fourth quarter, paving the way for Jayhawk Linn's girls to claim a 43-38 season-opening win at Cass-Midway, Mo., Friday night. Despite a game-high 23 points from junior Braeden Nation, the 'Hawk boys... [More]
More Sports
OBITUARIES POLICY
• May be mailed, e-mailed, faxed or hand delivered.
• Must be received by 9 a.m. on Tuesday morning in order to appear in that week's edition.
• Obituaries submitted by funeral homes will be billed to the funeral home.
• Full obituaries submitted by individuals are required to be paid in advance.
• Cost: $40 for 300 words or less. Each additional word over 300, 10¢. Photograph $5.
Call Barbara at 913-352-6235 or e-mail linncountynewsreporter@gmail.com
View Legals for Free