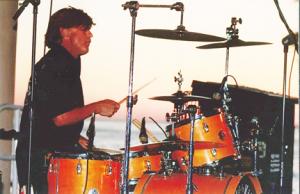 Jared Bliss Warrick, age 46 of Parker, Kan., died Saturday, May 27, 2017, at North Point Skilled Nursing in Paola, Kan.
Jared was born June 30, 1970, in Anchorage, Alaska. He was the youngest of four children born to Herman E. & Charlotte Launita (Maycumber) Warrick.
He grew up and attended school in the Prairie View school district. He graduated with the Prairie View High School Class of 1988.
After high school, Jared went to work in Olathe for a while before moving to Florida to pursue his music career. He moved to the Tampa Bay area and attended Keiser University, majoring in computer science. He graduated with honors on the Dean's List with his associate's degree.
Jared's passion for playing the drums started at 10 years old and it became his whole life. He played the drums for many bands over the years, including Eastland Rage, Blinding Darkness and Jeff Vitolo & the Quarter Mile Rebels. He would play anything, but Rock & Roll and Rockabilly were his favorite genres. He loved to host dinners and cook for people. He was an all-around entertainer.
His hobbies included fishing and playing golf. Jared worked various jobs while not traveling with the various bands. He was a family man and would visit them whenever he could. He always brought his own spice and personality to the family gathering. He attended the First Church of the Nazarene in Anchorage, Alaska, until 1980 when they moved to Parker, and then he attended his Grandma Maycumber's church, Osawatomie Wesleyan Church.
He is preceded in death by his father and infant sister Jennifer Lynn Warrick.
Survivors include his mother Charlotte Warrick of Parker; brother Jason (Laronda) Warrick of Parker and sister Catherine (Robert) Cox of Spring Hill, Kan.; niece Christina (Nick) Wilson of Osawatomie; six great nephews and nieces, Jace, Noah, McKinley, Larson, Katlyn, Karley, Kiersten and Chrisalynn; uncle Harold (Carolyn) Maycumber of Astoria, Ore., and aunt Dolores Sperry of Parker; along with other family and many friends.
Visitation will be 6-8 p.m. Friday, June 2, 2017, and service is 2 p.m. Saturday, June 3 – all at the Eddy-Birchard Funeral Home. Burial will be at Osawatomie Cemetery.
Memorials are to the Jared Warrick Memorial Fund and may be sent c/o Eddy-Birchard Funeral Home, P.O. Box 430, Osawatomie, KS 66064.
OBITUARIES

Linn County News Published September 20, 2023 Daniel Glen Needham took the long way home on Sept. 6, 2023, after fighting a long battle against cancer. We are sure he had to stop along the way and check out all the new fishing holes and visit with everyone he met... [More]

Linn County News Published September 20, 2023 Phyllis Irene Best, age 75, Grain Valley, Mo., passed away Thursday, Sept. 14, 2023. A graveside funeral service will be held 11 a.m. Wednesday, Sept. 20, 2023, at the Curry Cemetery. Visitation will be... [More]

Linn County News Published September 20, 2023 Jean Frances Patterson (nee Ward) 86, of St. Louis, Mo., passed away Monday Sept. 11, 2023 in Mercy Hospital. She was a resident of St. Louis for 60 years but remained loyal to her native Kansas where she was born... [More]
More Obituaries
View All Obituaries
NEWS

Letter from KDWP discussed during meeting During the public comment segment of the commissioner's weekly meeting on Monday, several people in the audience again spoke regarding the current zoning regulations for commercial solar farms. Public comment... [More]

Move solves one of three financial issues Monday night's Unified School District 362 approval at a special meeting of the sale of a vocational-education construction house in La Cygne has solved what appeared to be an impending financial concern. However, two... [More]

Approved pair will buy skid steer, delete proposed RV permit registration Two items thoroughly debated and tabled after a Sept. 6 regular meeting have now been passed by La Cygne city leaders. At their regular meeting last Wednesday, Sept. 20, the council cast a... [More]
More News
SPORTS

The Prairie View football team hosted Burlington on Sept. 22 for their Homecoming game. Homecoming is so much better with a win and the Buffalos provided that as they fought their way to a 44-19 victory. One of the things that won this game for the Buffalos were big runs by... [More]

The Pleasanton cross country team traveled to Prairie View to compete in the Humboldt Invitational on Sept. 19 and then the Ramsey Invitational at Prairie View on Sept. 21. Both junior high and high school runners competed for the Jays at the Humboldt Invitational. Kei-Mahni... [More]
More Sports
OBITUARIES POLICY
• May be mailed, e-mailed, faxed or hand delivered.
• Must be received by 9 a.m. on Tuesday morning in order to appear in that week's edition.
• Obituaries submitted by funeral homes will be billed to the funeral home.
• Full obituaries submitted by individuals are required to be paid in advance.
• Cost: $40 for 300 words or less. Each additional word over 300, 10¢. Photograph $5.
Call Barbara at 913-352-6235 or e-mail linncountynewsreporter@gmail.com