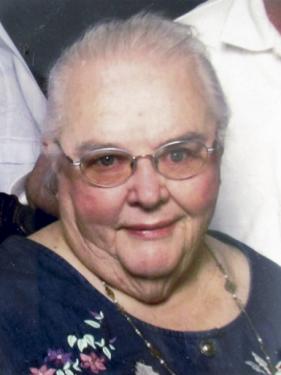 Jimmie Ruth Workman age 82 of Parker, Kan., died Monday, Nov. 7, 2016, at Richmond Health Care Center of Richmond, Kan.
Jimmie was born Oct. 1, 1934, in Van Zandt County, Texas. She was the eldest of two born to James Berriman and Claudia Berl (Flowers) Downing. She grew up in Texas. They moved to Lubbock, Texas, when she was 10.
At the age of 18, Jimmie and Hanford Autrey Workman eloped on April 22, 1952, in Clovis, N.M. After marriage, the couple moved to Arizona. They soon moved back to Lubbock where Jimmie worked for the telephone company. While in Lubbock, Jimmie gave birth to her only child, William Richard, on July 23, 1955. In 1965, the Workman family moved to Kansas City, Kan. When they moved to Kansas, Jimmie went to beauty school and became a cosmetologist. She had her own shop in Kansas City.
In 1970 the family settled in Parker on a farm where they raised pigs. Jimmie went to work for Mi'Lady's Hair Salon in Osawatomie until 1978 when she retired and became a full-time farm hand. Jimmie was a hard-working woman. She worked on the farm countless hours and tended to thousands of pigs over her lifetime on the farm.
Jimmie taught her nieces to knit and helped them sew. In the summer they would plant a garden and then can the vegetables for the winters.
She loved church and attended the First Baptist Church of Parker. She then transferred her membership to the Faith Baptist Church of Osawatomie. Jimmie's favorite thing was to sing.
She is preceded in death by her husband of 60 years, Hanford, and her parents.
She is survived by her son William Richard and wife, Julie Ann, of Parker; one sister, Mary Jo Spencer of Mound City; four grandchildren, Dennis, James, Justin Wayne Workman and wife, Virginia, of Minco, Okla., and Matthew Keith Workman and wife, Courtney Helene, of Carthage, Texas; six great-grandchildren, Jared Brett, Madisan Kelsey, Madeline Helene, Carson Hanford, Charlotte Francis and Henry Thomas Workman; nieces Delica Jo (Bill) LeRoy, Doris Delene Hazen and nephew James Floyd Carter, along with many other nieces, nephews and other family members and friends.
Visitation is 6-8 p.m. Wednesday, Nov. 9, 2016, at the Eddy-Birchard Funeral Home. Service is 2 p.m., Thursday, Nov. 10, at First Baptist Church in Parker. Burial will be at Highland Cemetery, Parker.
Memorials are to the Jimmie Workman Memorial Fund and may be sent in c/o the Eddy-Birchard Funeral Home, P.O. Box 430, Osawatomie, KS 66064.
OBITUARIES

Linn County News Published March 15, 2023 Janice Ann Leasure Woodrum, Chehalis, Wash., formerly of La Cygne, Kan., passed March 5, 2023. Memorial service arrangements will be announced at a later date by the Schneider Funeral Home, La Cygne Chapel. ... [More]

Linn County News Published March 15, 2023 Lewis Michael Wilson, age 70, Pleasanton, Kan., formerly of La Cygne, Kan., passed Sunday March 5, 2022. Memorial service will be 11 a.m. Thursday, March 16, 2023, at the Schneider Funeral Home and Crematory, La Cygne Chapel.... [More]

Linn County News Published March 15, 2023 Janet Dean Robinson Staton, age 84, Cleveland, Mo., passed away Wednesday, March 8, 2023. Funeral service will be held 1 p.m. Monday, March 13, 2023, at the Schneider Funeral Home and Crematory, Pleasanton... [More]
More Obituaries
View All Obituaries
NEWS

During the tail-end discussion amongst commissioners at Monday's meeting regarding wage increases, Commissioner Jason Hightower noted a plan presented by County Clerk David Lamb for a $1 per hour across the board raise rather than a percentage based raise, which some county... [More]

Commissioner Danny McCullough opened a discussion on the Pleasanton Senior Meals site during the March 13 meeting with a slideshow of photos he had taken of various issues in the current site. The photos showed a variety of issues that McCullough said he took from the viewpoint... [More]

Parker city leaders may consider a future action to establish a legal truck route within the city. Tim Griffin, past councilman, broached the topic at last Thursday's monthly council meeting in asking for a follow-up to his truck-route question from the January council... [More]
More News
SPORTS

The Jayhawk Wrestling Club went to the kid's State wrestling tournament this past weekend, March 10-12, in Topeka. The team did very well taking seven wrestlers and five placing in the competition. Maggie Earnest, 8U Girls 70, placed second and scored 20 team points.... [More]

The Linn County Twisters wrestling team took 13 wrestlers to the kid's State wrestling tournament in Topeka March 10-12. The Twisters had five of their 13 wrestlers place in the tournament. Taryn Mills, HS Girls 130, was eliminated after two matches in the tournament.... [More]
More Sports

OBITUARIES POLICY
• May be mailed, e-mailed, faxed or hand delivered.
• Must be received by 9 a.m. on Tuesday morning in order to appear in that week's edition.
• Full obituaries submitted by individuals are required to be paid in advance.
• Obituaries submitted by funeral homes will be billed to the funeral home.
• Cost: $30 for 300 words or less. Each additional word over 300, 10¢. Photograph $5.
Call Barbara at 913-352-6235 or e-mail linncountynewsreporter@gmail.com