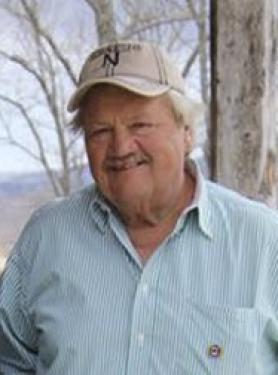 Linn County News
Published March 24, 2021
John Dean "Johnny" Nichols, age 67, La Cygne, Kan., passed away Saturday, March 20, 2021. He was born in Kansas City, Mo., on Sept. 8, 1953, the son of John Edwin and Jewel Dean Price Nichols. He graduated from Prairie View High School in the Class of 1971. He was a member of the State Football Champion Team his senior year. He then attended Northeast Oklahoma Junior College and was a member of the Rodeo Team. After graduation from NEO, he attended Kansas State University. While at K-State he was a member of the Rodeo Team and received his Bachelor's Degree. After graduation from KSU, he began his teaching career and ranched as well. He began at Burlingame, Kan., and then taught at Paola from 1977 until retiring in 2001. After retiring from teaching, he was able to pursue ranching full time.
He was united in marriage to Jaclyn "Jacky" Jackson on Dec. 4, 1982. He was a member of the New Lancaster United Methodist Church. Johnny had many friends and touched a lot of lives. He will be remembered as someone who did not know a stranger.
He was preceded in death by his parents. Johnny is survived by his wife Jacky, son Levi and wife Haley, and sister Nancy Epley.
Funeral service will be 11 a.m. Thursday, March 25, 2021, at Wicked Outfitters, 22802 Valley Road, La Cygne. Visitation will be 4:30-7 p.m. Wednesday, March 24, Wicked Outfitters. In State was to be noon-5 p.m. Tuesday, Schneider Funeral Home, La Cygne Chapel. Burial will be in New Lancaster Cemetery. Contributions are suggested to Prairie View FFA or New Lancaster United Methodist, c/o Schneider Funeral Home, P.O. Box 304, La Cygne, Kan. 66040. Online condolences can be left at www.schneiderfunerals.com.
OBITUARIES

Linn County News Published April 21, 2021 John William Woodburn, 76, died March 7, 2021 in Baxter Regional Medical Center in Mountain Home, Ark. Graveside services will be held on Saturday, April 24, at 2 p.m. at the Pleasanton Cemetery in Pleasanton, Kan.,... [More]

Linn County News Published April 14, 2021 Cecil L. Fish, 89, Ottawa, Kan., and former longtime Labette County resident, passed away Thursday, April 8, 2021, at his home. Cecil was born the third child to Cecil Paige and Edna (Nickoley) Fish on Dec. 7, 1931, in... [More]

Linn County News Published April 14, 2021 William Michael McMillan, age 60, of St. Joseph, Mo., passed away on Thursday, April 8, 2021. He was born on Aug. 24, 1960, in Kansas City, Mo., the son of William McMillan and Virginia Russell McMillan. He... [More]
More Obituaries
View All Obituaries
NEWS

Linn County News Published April 21, 2021 Floyd Arthur Holmes (or Arthur Floyd Holmes, it was never clear which) passed away peacefully at his residence at Grandwood Assisted Living in Grove, Okla., on Feb. 13, 2021, exactly one month after celebrating his... [More]

The Mound City Council met by phone for a special meeting on Tuesday afternoon, April 6, for the purpose of determining whether or not to reopen the discussions on the sale of the city lake. During the course of that meeting, the council voted to go forward with the discussions... [More]

Customers are spared a billing shock La Cygne natural gas customers will not feel the burden of a high February supplier invoice. The unanimous decision by its council followed a 15-minute executive session for legal attorney-client privilege at its regular meeting... [More]
More News
SPORTS

Prairie View got contributions from many sources in their April 6 softball doubleheader sweep of Iola. Wins of 10-3 and 18-8 over the Fillies raised the Lady Buffalos' Pioneer League record to 4-0, 5-0 overall, to begin this week. The team will host a non-league twinbill... [More]

The Jayhawk JV golf team did well last week. On April 5 they traveled to Erie and on April 6 they went to Fort Scott for a tournament hosted by Uniontown. In the Erie tournament they only brought three golfers so they could not place as a team, but at the Uniontown tournament... [More]
More Sports