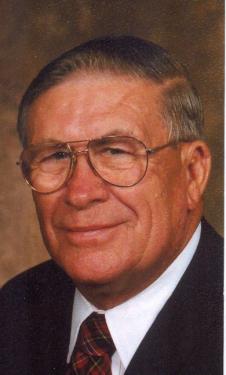 John Louis McLaughlin
08-15-1929 to 07-18-2019
Linn County News
Published July 24, 2019
John Louis McLaughlin, 89, of Carnegie Village in Belton, Mo., passed away peacefully on July 18, 2019. Visitation was scheduled at 1 p.m., followed by Masonic and funeral services at 2 p.m., on Tuesday, July 23, at the Park Lawn Chapel, Hillcrest Road at 83rd Street, Kansas City, Mo. Burial was to follow at Freeman Cemetery, Freeman, Mo. In lieu of flowers, memorials are suggested to the Ararat Shrine Cornerstone Fund, 5100 Ararat Drive, Kansas City, MO 64129.
John was born Aug. 15, 1929, in Platte City, Mo. He served in the Kansas National Guard from 1948 until receiving honorable discharge as sergeant first class on March 3, 1959. He was united in marriage to Elva Frances Trewett on May 7, 1950.
John worked for Montgomery Elevator as a mechanic for 38 years, retiring in 1991. He also served in the Kansas City Police Department Reserve for 30 years, retiring as a captain.
John's Masonic career began in 1972 at Heroine Lodge No. 104, now Ivanhoe Lodge No. 446. He was a very active member of Ararat Shrine, where he was a member of the Motor Corps, Trykes and Transporters. He served as director of the Shrine for many years and was honored as Director Emeritus.
John was preceded in death by his parents, John Louis and Edith Mae (Hogbin) McLaughlin; brothers Dale and Lawrence McLaughlin; sister Patricia Hayes; half brothers Lyle and Wilbur Spriggs; and half sister Marjorie Umphenour.
Survivors include his wife of 69 years, Fran; children Kristie Shrauger (Russell) and John Robert McLaughlin; brother Norman McLaughlin; nine grandchildren; 13 great grandchildren; and numerous nieces, nephews, other family members and many friends.
Arrangements: Park Lawn Funeral Home, 816-523-1234.
OBITUARIES

Linn County News Published July 6, 2022 Leslie (Les) Eugene Krull, 85, of Berryton, died Wednesday, June 29, 2022, at Prairie Winds Senior Living, in Berryton, Kan. He was born June 9, 1937, to Eugene and Roberta "Pauline" (Townsley) Krull at home in Mound City,... [More]

Linn County News Published July 6, 2022 Patrick Wayne Marmon, age 79, Paola, Kan., passed away Wednesday, June 8, 2022. He was born in La Cygne, Kan., on Aug. 26, 1942, the son of Harry and Mamie Wilderson Marmon. He graduated from La Cygne Rural High School in the... [More]

Linn County News Published June 29, 2022 Ruth E. Robinson, 100, of Ottawa, formerly of Blue Mound, went to be with the Lord on Saturday, June 25, 2022. Ruth was born on Jan. 17, 1922, to Oscar and Lula (Wray) Dodson at Blanchard, Ok. When she was very young her family moved... [More]
More Obituaries
View All Obituaries
NEWS

The City of Mound City is holding a grand opening for the new Splash Park this Saturday, July 9. The Splash Park is located just north of the sports complex on Nickell Road and offers kids of all ages a place to cool off and have some fun. There will be food, Dippin'... [More]

The community of La Cygne will hold their Swanfest and Blast in the Park celebration on Saturday July 9, from 6-9 p.m. in the City Park on south end of town. The event will feature food trucks, craft vendors, a cake walk hosted by the Park Board, along with kids' activities... [More]

COLUMBIA, Mo. – The MFA Oil Foundation has awarded a grant to the Friends of the Library District 2 of Linn County – La Cygne to assist with purchasing reusable lunch containers. The MFA Oil Foundation provides support to nonprofit organizations that are working to... [More]
More News
SPORTS

The weather is hot right now but find a spot with some good shade or a nice breeze, and the fishing can be, too. Here are some of the recent fishing reports from KDWP in Linn County. All the reports were last updated on June 27. La Cygne Lake Fishing at La Cygne Lake looks... [More]

Jayhawk has new classification change for 2022 football BY ADAM HOLT LINN COUNTY NEWS holtadam82@yahoo.com High school football season will be here soon and as for one of Linn County's high school football teams there will be a change to classification. Jayhawk-Linn... [More]
More Sports

OBITUARIES POLICY
• May be mailed, e-mailed, faxed or hand delivered.
• Must be received by 9 a.m. on Tuesday morning in order to appear in that week's edition.
• Full obituaries submitted by individuals are required to be paid in advance.
• Obituaries submitted by funeral homes will be billed to the funeral home.
• Cost: $30 for 300 words or less. Each additional word over 300, 10¢. Photograph $5.
Call Barbara at 913-352-6235 or e-mail linncountynewsreporter@gmail.com