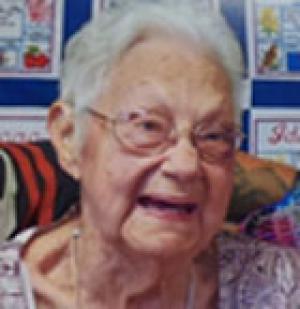 Linn County News
Published April 15, 2020
Juanita Mae Fann, age 90, of Parker, Kan., died Tuesday April 7, 2020 at her home.
Juanita was born Sept. 9, 1929, in Emporia, Kan. She was born to Jesse Clifford and Viola Beatrice (Hammond) Shaver. Juanita grew up in Emporia where she attended school, graduating with the Emporia High School Class of 1948.
During and after high school, Juanita worked for the local Woolworth store. Then in 1948, Juanita and Lewis Dean Parker Sr. were married in Emporia, Kan. Together they had two children , Rita and Lewis Dean, Jr.
After Dean got out of the military, the family moved to Wichita, Kan.,for a short time. They then moved back to Emporia where Juanita went back to work at the Woolworth. She also helped Dean at a gas station.
In 1974, Dean and Juanita moved to Reading, Kan. Juanita was still working at the Woolworth until a tornado caused it to close. She and Dean then purchased a grocery store/restaurant in Reading where she also had her ceramic shop, DJ's Cottage Crafts. They owned and operated the store until 1989. Dean passed away in 1990.
In 1998, Juanita married Morgan Fann in Reading, Kan. They made their home in Reading until 2003 when they moved to Parker, Kan. Juanita continued her ceramics business, DJ's Cottage Crafts, out of her home. Morgan passed in 2008.
Juanita was always busy. Over the years she taught many 4-H kids ceramics. People would bring their kids to her home to do ceramics. If she wasn't busy with her ceramics, Juanita was quilting and baking. She was known for her homemade bread and cinnamon rolls. Juanita was an active member of the Reading and Parker United Methodist Church. She loved working at the food pantry at Parker UMC. Juanita was a Girl Scout Leader for years. She was a member of the Beta Sigma Phi Iota Iota chapter and the Loyal Workers club. Most importantly, Juanita loved her children, grandchildren and great grandchildren.
She was preceded in death by her first husband Dean Parker and her second husband Morgan Fann, her parents, her brother Clifford Jessie Shaver II, her sister Helen Louise Shaver and her half-sister Patricia Shaver and three long haired dachshunds all named Collette.
Survivors include daughter Rita Kerr and husband Al of Parker, Kan.; son Lewis Dean Parker, Jr. and wife Linda of Fort Lupton, Colo.; five grandchildren Jeffery Kerr and wife Roxanne, Bradley Kerr and girlfriend Christy, Evan Sugihara and wife Erica, Adam Sugihara and girlfriend Wendi and Melody Parker. Great-grandchildren Travis Kerr, Amber Arrasmith Kerr and wife Amanda, Ashley Kerr and boyfriend Ryan, Kaylee Parker, Destry Kerr, Weston Kerr, Quinn Sugihara, Lily Sugihara and great-great-grandson Aiden Allan James Kern; nieces and nephews Jesse Clifford Shaver III, Terry Kohler and Robin, Mary Schumacher and Stitch, Wayne Davidson, Jr. and Donna and John Davidson; along with other family and friends.
Graveside services were held for the family on April 10 at the Reading Cemetery, Reading, Kan. Memorials are to the Helping Hands & Heart Food Pantry send c/o Eddy-Birchard Funeral Home P.O. Box 430 Osawatomie, Kan., 66064.
OBITUARIES

Linn County News Published Sept. 28, 2022 James Randel "Randy" Leach, age 58, Mound City, Kan., passed away Sunday, Sept. 25, 2022. He was born in Iola, Kan., on Jan. 15, 1964, the son of James Paul and Sharon Leigh(Henson) Leach. He attended grade school... [More]

Linn County News Published Sept. 28, 2022 Kristina Dawn Weers-Colin, 42, of Parker, Kan., passed away Thursday, Sept. 22, 2022, at Advent Health Medical Center, Shawnee, Kan. Graveside services will be held at 11 a.m., Thursday, Sept. 29, 2022, at Bucyrus Cemetery, Bucyrus,... [More]

Linn County News Published Sept. 28, 2022 Norma Jane Johnson Surbaugh, age 80, of La Cygne, Kan., passed away on Monday, Sept., 26, 2022, in Louisburg, Kan. She was born the only child of Norman Everett and Alberta Frances Reed Johnson on Jan. 19, 1942, at the Trinity... [More]
More Obituaries
View All Obituaries
NEWS

The Linn Valley Council was given a few options to think about for their new water system Monday night. Engineer from BG Consultants Paul Owings said there were a couple aspects of the water project they needed to think about including transmission and distribution lines. He... [More]

Ola May Earnest to be Grand Marshal Pleasanton's annual celebration of the heritage of their city is set for this coming weekend with one evening and two full days of activities. The annual event kicks off on Friday night with a street dance on Main Street... [More]

Annexation for purposes of patrol, drug deterrence Following a public hearing on Monday, Sept. 26, during their regular council meeting and after hearing from two city residents, the Pleasanton council voted 3-1 to approve the annexation of a one and half mile section... [More]
More News
SPORTS

The Prairie View cross country team hosted the annual Ramsey Invitational on Sept. 22. The Buffalos ran well at the meet and especially the varsity girls' team as they placed first. Bree Allen continues to win varsity girls' cross country races. Here she placed... [More]

The Jayhawk-Linn celebrated Homecoming on Sept. 23 by playing district opponent Northern Heights. The Hawks had no problems with Northern Heights as Jayhawk won 64-8. Almost all the Jayhawk scoring was done in the first quarter. Gus Grote scored on the first play of... [More]
More Sports

OBITUARIES POLICY
• May be mailed, e-mailed, faxed or hand delivered.
• Must be received by 9 a.m. on Tuesday morning in order to appear in that week's edition.
• Full obituaries submitted by individuals are required to be paid in advance.
• Obituaries submitted by funeral homes will be billed to the funeral home.
• Cost: $30 for 300 words or less. Each additional word over 300, 10¢. Photograph $5.
Call Barbara at 913-352-6235 or e-mail linncountynewsreporter@gmail.com