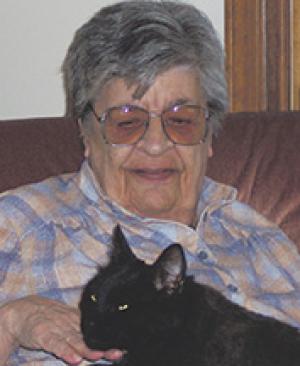 Linn County News
Published Jan. 26, 2022
Kathryn N. Kite McGee, age 92, Centerville, Kan., passed away, Jan. 18, 2022, at the Residential Living Center in Garnett, Kan. Kathryn was born, June 7, 1928, the daughter of Chester and Velma (Lee) Kite, at Garnett, Kan. She married the love of her life, Kenneth McGee in 1954 and to this union three daughters were born. She was a lifelong member of the Methodist Church in Garnett and Centerville. Kathryn was a senior lifeguard and professional swimmer. She swam the length of the North Lake in Garnett which is approximately two miles and has taught babies from two months up to 102 years old to swim. Among some of Kathryn's other interests were playing piano, art, sewing, hooking rugs, jigsaw puzzles, listening to music, watching television with someone all while holding her cat Blackie. Kathryn was a patient, loving and caring person, who would do anything to help her family and friends. She was preceded in death by her parents; a brother, Bob Kite, of Garnett; and a grandson, David Reiter. Kathryn is survived by her husband of 67 years, Kenneth; four daughters, Connie (McGee) and Howard Reiter (Kincaid), Karen Kay (McGee) and Bob Clayton (Olathe), Patricia(McGee) and Randy Latta (Iola), Lillian Kite (Centerville); seven grandchildren, Gary Reiter, Angela Reiter, Dean Friend, James Lloyd, Ryan Latta, Jarred Latta, and Trent Latta; and four great-grandchildren.
Funeral Service will be at 10 a.m., Monday, Jan. 24, 2022, at the Centerville Community Church. Visitation will be from 4-6 p.m., Sunday, Jan. 23, at the Centerville Community Church. Burial will be in the Centerville Cemetery.
Contributions are suggested to the Anderson County Hospital, Residential Living Center Activity Department and may be sent in care of Schneider Funeral Home P.O. Box J Mound City, Kan. Online condolences may be left at www.schneiderfunerals.com.
OBITUARIES

Linn County News Published May 11, 2022 Rosamay Dixon, age 79, Pleasanton, Kan., passed away Monday May 9, 2022. She was born in Kansas City, Kan., on Dec. 9, 1942, the daughter of Robert Lee Miller and Myra Edith Sawyers. She worked in customer service in the retail sector... [More]

Linn County News Published May 11, 2022 Dale L. Castleberry 89 of Garnett, Kan., died April 30, 2022, at St. Luke's Hospital. Services were May 5-6 at Eddy-Birchard Funeral home in Osawatomie. Burial at Osawatomie Cemetery.

Linn County News Published May 4, 2022 Ian Craig Ginther, age 36, Blue Mound, Kan., passed away Tuesday, April 26, 2022. He was born March 1, 1986, in Kansas City, Mo., the son of Fred Ginther and Kimberly McGee. He was preceded in death by his paternal grandmother,... [More]
More Obituaries
View All Obituaries
NEWS

Monday, May 16, the Kansas Department of Transportation (KDOT) will close Somerset Road south of K-68. The closure is expected to take place around 9 a.m. Monday and remain in effect until June 1, weather permitting. A detour will be signed along K-68, Woodland... [More]

Ask that sheriff and superintendents meet and form a plan The Commissioner's meeting room was packed with approximately 40 people comprised of city mayors, council people from countywide and citizens concerned with one of four subjects discussed last week –... [More]

Pleasanton Fire Chief Rob Dent spoke to the council and said they have no available firefighters to shoot off fireworks July 2. His explanation, the same people have been doing it for 22 years and they're tired and want to spend the holiday with family around the barbecue.... [More]
More News
SPORTS

The Prairie View softball team played Osawatomie and Girard this past week. They hosted Osawatomie in a league doubleheader on May 3 and traveled to Girard for a single game on May 6. The Lady Buffs swept Osawatomie, 16-2 and 10-0, and won the single game against Girard, 9-7.... [More]

The Jayhawk track team traveled to Northeast Arma on May 6 to compete in the Northeast Arma Invitational. The meet was originally scheduled for May 5 but was moved to May 6 due to weather. The Hawks did well at the meet as the girls placed second with 85 team points. The boys... [More]
More Sports

OBITUARIES POLICY
• May be mailed, e-mailed, faxed or hand delivered.
• Must be received by 9 a.m. on Tuesday morning in order to appear in that week's edition.
• Full obituaries submitted by individuals are required to be paid in advance.
• Obituaries submitted by funeral homes will be billed to the funeral home.
• Cost: $30 for 300 words or less. Each additional word over 300, 10¢. Photograph $5.
Call Barbara at 913-352-6235 or e-mail linncountynewsreporter@gmail.com