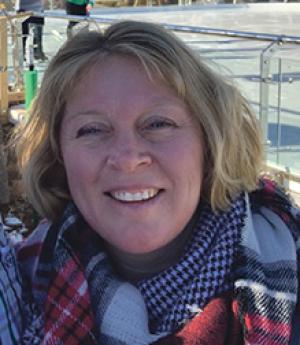 Linn County News
Published Nov. 24, 2021
Kristina Diane Roth, age 43, of Hesston, Kan., entered her heavenly home on Sunday, Nov. 21, 2021.
Kris was born March 11, 1978, the daughter of Robert (Bob) and Diane Burnett in Garnett, Kan., and lived with her family in Princeton, Kan.
Kris attended Prairie View High School, graduating with honors in 1996. She was a member of the Richmond and La Cygne United Methodist churches while growing up.
As a Kansas State University student, Kris was a member of the Kappa Kappa Gamma Sorority and active in the KSU Methodist Campus Ministry Program. On Sept. 28, 1996, she met the love of her life, Derek Roth, on a blind date. On Dec. 18, 1999, Kris and Derek were married at the Paola United Methodist Church. Kris graduated in May 2000 with a B.S. in family and consumer science education.
Derek and Kris made their home in Hesston. Kris used her degree teaching FACS at Hillsboro High School. Kris loved teaching, but once God blessed her with her first son, teaching took a back seat to the job she loved most, being a mother. Benjamin James was born Aug. 12, 2001. Shortly after, Lucas Aaron joined the family on Nov. 5, 2003. A third son, Elijah Nicolas, was born Jan. 23, 2008. The family was complete with the birth of Josiah Christopher on June 10, 2010.
In addition to raising their four boys, Kris was a frequent substitute teacher in the Hesston school district. She enjoyed investing in the youth of her community, as a youth group leader and middle school PTO president. She was an active member of the Women's Civic Club and served on the board of the Hesston Community Foundation and the fellowship committee at Hesston MB. Passionate about serving others, Kris was frequently the first to volunteer for any opportunity to serve her community.
Along with her loving husband Derek of almost 22 years, Kris is survived by her four sons, all of Hesston; her parents, Robert (Bob) and Diane Burnett, La Cygne, Kan.; her brother, Jason (Nichole) Burnett, Olathe, Kan.; and sister Abby (Rob) Hedrick, Overland Park, Kan. She is also survived by her paternal grandmother, Martha Chambers, Osage City, Kan.; and 14 nieces and nephews.
Kris was preceded in death by her maternal grandparents, Robert (Bob) and Dorothy Cooper, Richmond, Kan.; and her paternal grandfather, Otis Burnett, Tracy, Mo.
Funeral services will be held at 10 a.m. Saturday, Nov. 27, 2021, at Hesston Mennonite Brethren Church. Burial will follow at Hesston Cemetery. Visitation will be held from 5-8 p.m. Friday, Nov. 26, at the church, with family greeting friends from 6-8 p.m. In lieu of flowers, memorial contributions may be made to the Kris Roth Memorial Fund with the Hesston Community Foundation, P.O. Box 399, Hesston, Kan. 67062 or online at bit.ly/krisroth-memorialfund.
OBITUARIES

Linn County News Published Nov. 24, 2021 Neta Lee Leonard, age 69, of Pleasanton, Kan., passed away Friday, Nov. 19, 2021. She was born on July 2, 1952, at Lincoln, Kan., the daughter of Dee and Delores Hall Montgomery. Neta was a nurse over the years. She enjoyed doing genealogy,... [More]

Linn County News Published Nov. 24, 2021 George Herbert Eaton, age 83, La Cygne, Kan., passed away Thursday, Nov. 18, 2021. He was born on April 18, 1938, in El Reno, Okla. He graduated from El Reno High School and attended Johnson County Community College obtaining certification... [More]

Linn County News Published Nov. 24, 2021 Leonard Frank Fyock, age 92, formerly of Prescott, Kan., passed away on Saturday, Nov. 20, 2021. He was born on Feb. 2, 1929, in Prescott, the son of Virgil and Bernice Lounsbury Fyock. He graduated from... [More]
More Obituaries
View All Obituaries
NEWS

The sweet smell and feel of a hometown feed store was apparent at the new location of Miller Feed & Farm inside of Stainbrook's Auto, Farm & Home in La Cygne. Shoppers who need feed for their dogs and cats, goats, horses, cattle and more will find a large selection... [More]

There are some people that seem like they've always lived in a community, and Cary and Debbie Coffey are two of those people. But, they've only been in Pleasanton since June 2016, and now they're headed to Virginia in June 2022. "A year ago, the Lord... [More]

An almost six-month process of grant writing, planning and now construction is providing the Pleasanton Lincoln Library a new telehealth room for both job seekers and those wishing to visit with their doctor via computer. Pleasanton Librarian Wendy Morlan said that the grant... [More]
More News
SPORTS

The 2021 high school football season has concluded, and the three Linn County high school football teams had multiple players make their respective All League football teams. The Prairie View Buffalos had multiple players on this year's All-Pioneer League team. Colton... [More]

The 2021 volleyball season has concluded, and so it is time for the Linn County News' All County Volleyball teams. All the girls on the Prairie View, Jayhawk and Pleasanton volleyball teams played their best, but some players stood out in their excellence. These All County... [More]
More Sports

OBITUARIES POLICY
• May be mailed, e-mailed, faxed or hand delivered.
• Must be received by 9 a.m. on Tuesday morning in order to appear in that week's edition.
• Full obituaries submitted by individuals are required to be paid in advance.
• Obituaries submitted by funeral homes will be billed to the funeral home.
• Cost: $30 for 300 words or less. Each additional word over 300, 10¢. Photograph $5.
Call Barbara at 913-352-6235 or e-mail reporter@linncountynews.net