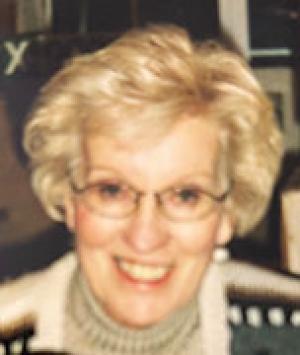 Linn County News
Published Oct. 11, 2023
On the afternoon of May 28, 2023, LaVerne C. Nelson (nee Smith), with her steadfast daughter Renee' by her side, succumbed to the ravages of dementia just a few weeks shy of her 88th birthday. This determined woman from a rural Kansas town had lived a full life, traveling the world and raising four successful children. Her family mourns the loss of their matriarch.
LaVerne was born the second child of Lester and Esther Smith in La Cygne, Kan., a small farming community, on June 13, 1935. She joined an older sister, Marie. Several years later her mother gave birth to a brother, Darrell. Her father worked as a section hand for the BNSF Railroad which ran through the town. LaVerne's mother was a small woman who had been the victim of Polio at an early age but, with the help of a leg brace fitted in Kansas City, was able to carry out the chores required of a wife and mother in rural Kansas. Her Mother's disability was a catalyst for La Verne. She became and remained deeply involved in her community, helping others, volunteering, and pursuing an education. She served as a model to her children until the very end of her life.
LaVerne attended school in La Cygne where she was a good student. She was a cheerleader, played the clarinet in the school band and was in the Junior class play. Her mother played the piano and LaVerne took lessons from an early age. She taught Sunday School where her love of children began. Her mother's disability coupled with the necessary frugality of depression era Kansas, imbued LaVerne with a temperate, determined disposition which served her well throughout her life.
La Verne started dating the handsome Kenny Nelson her sophomore year of high school. When LaVerne's brother developed asthma, her parents determined to leave Kansas for a drier climate. This was in the middle of LaVerne's junior year, and she had a difficult choice to make, leave her schoolmates and move with her family to the Yakima Valley, or stay and live with her now-married older sister. Her sister was strict and stated she would not permit La Verne to date. So LaVerne decided to move. This dramatic move at the end of her junior year proved difficult for LaVerne. Making friends at a much larger school was frightening for a small-town Kansas girl. While La Verne tried to get comfortable with her new life, Kenny Nelson and a buddy drove from Kansas to Oregon to work in the logging industry only to find they were two weeks early. So, Kenny, with a plan in mind, drove to Wapato to visit La Verne. La Verne and Kenny eloped and were married in Sweet Home, Oregon on May 2, 1952. By the end of that year, LaVerne was pregnant with her first child.
When her husband's logging work in Oregon ran out, the couple moved back to Kansas. Rodney was born on Aug. 11, 1953. The family returned to the Yakima Valley in early 1956, and settled in Selah, where LaVerne would raise her children. Her first job was working in the hop fields. Her second child, Val Dean, was born on Dec. 24, 1956. Her husband's work frequently left LaVerne, a very young mother, at home alone with her children, but she was a woman determined to build a better life, so she persevered.
On June 13, 1959, LaVerne received a wonderful birthday present. Her daughter, Rhonda Renee' Nelson was born. They would form a very close relationship that lasted until the very moment of LaVerne's death. Her last child, Gregory Scott, would be born on May 12, 1964.
As LaVerne's oldest children began to enter public school, she went to work to provide additional income for her household. She started working at Blue Ribbon Cannery (subsequently Snokist) where she worked for 18 years. She was raising four children, working at the cannery all day and fixing meals for her children in the evening. Weekends involved laundry, housework, and attending to her children's needs. This would have exhausted most human beings, but LaVerne found the energy to also pursue outside activities for herself and her children. She made certain they were in Red Cross swim lessons, they were signed up for summer reading programs at the Selah Public Library, attended summer band camps, were involved in Camp Fire and Boy Scouts, dance lessons and church activities. La Verne became a Camp Fire Girl Leader for her daughter's group of friends. She ushered these girls from elementary school all the way through high school graduation. In 1961 she became a member of the Selah United Methodist Church where she started teaching Sunday School. She also became a member of the Selah Grange, Selamona and the Selah Rebekah Lodge.
The frugality LaVerne had learned during her youth served her well with her family's limited budget. She even sewed some of her children's clothing. But she always found money for things like band instruments, dance lessons for Renee, summer camps for all the children and the occasional store- bought clothing or uniform.
LaVerne kept a close eye on her children's education and had high expectations of them. They were told even before they started kindergarten that they would one day attend college. Although her marriage to Kenny Nelson would eventually end after 25 years, they formed a strong domestic partnership, giving their children a stable home. LaVerne made sure that they all sat down to the dinners she cooked every night. There were frequent family gatherings, and holidays were always celebrated.
By her late 30's, LaVerne's older children were completing high school, and with her younger children in elementary school, she began to take steps for self-improvement. She received her GED in May 1971 and took classes at Yakima Business School and YVCC. This allowed her to leave her cannery job and go to work for Dowty-Decoto in Yakima. In 1975 she started her career with the United States Forest Service by taking her first job at the Engineers Office in Naches.
She took up jogging and competed in many races. She joined the Sunfair City Chapter of the Sweet Adelines in 1976 where she participated in musicals, parades and traveled to Hawaii and Washington DC for competition.
In 1983 she relocated to Vancouver, WA and continued working for the United States Forest Service.
LaVerne attended night school and eventually obtained a Bachelor of Arts degree in Business Administration. She married a Methodist Minister-turned-educator, Jackson Burke. They were able to take two trips to Continental Europe, a dream LaVerne had since she was a young girl. Tragically, Jack died from a heart attack in 1991.
While in Vancouver, LaVerne completed coursework and became a Master Gardner through Washington State University and became an active member in the Vancouver Garden Club. Her home had a large vegetable and flower garden and she frequently won state competitions for her floral arrangements.
She also was a member of hiking, quilting and book clubs. She continued to compete in foot races, sometimes with her adult children.
In 1997 she retired, ending a 22-year career, of which she was extremely proud. La Verne worked for the Wenatchee-Okanogan , and Gifford Pinchot National Forests in various supervisory roles. She was also a member of the Type 2 Fire Team for several years. Upon retirement she joined the National Organization of Retired Federal Employees, later transferring to the Yakima branch and becoming Vice President. She took piano lessons again, and commented that it was the first time that she had a piano teacher who was younger than her. She took up quilting and made beautiful quilts for all of her children and grandchildren. She met and eventually married her third husband, Ted Dravis. They also traveled.
They went on cruises that took her to Mexico, Hawaii, Puerto Rico, Alaska, and through the Panama Canal. They traveled extensively in their RV and even rode horses on the Oregon Trail. LaVerne also took separate trips to Ireland, England, and Thailand. When jogging became too hard, she started exercising at a gym. This habit continued throughout her entire life. She was still going to the gym five days per week at age 85.
LaVerne also developed strong political views starting with her support of John F. Kennedy in the 1960 presidential race. She was active in Vancouver politics, volunteering her time doorbelling, and making phone calls. She attended two National Democratic Conventions, one in Washington D.C. where she was joined by Renee.
She went on backpack trips with her family. Her favorite was backpacking into the Goat Rocks. She tried cross-country skiing, noting in one Christmas letter that her young grandchildren were much better than her. She climbed Mt. Adams at age 49. She held yearly "summer camps" for her grandchildren at her Vancouver home, which she stated numerous times was the best decision she ever made.
Her family threw her a wonderful 80th Birthday celebration in Yakima. Around this time, her husband's health began to deteriorate, and it was determined that she needed to relocate to Yakima. Although it was difficult for her to give up her wonderful garden and friends in Vancouver, her determination once again shown through upon her relocation. She met old friends at the Selah Methodist Church and began attending there. She found a gym close to her house and continued her regular exercise program. She joined a local garden club.
Throughout her life, she not only volunteered her time, she gave donations to Planned Parenthood, the Democratic Party and the Alzheimer's Organization.
Unfortunately, at around age 85, she developed dementia. She eventually moved to a memory care unit at Highgate. And the decades of sacrifice that she had made for her children was returned in kind. She was the most frequently visited resident at Highgate during her stay there. Her son Val made frequent trips on Saturdays from Seattle to see her. Her son Greg regularly brought her her morning coffee. Rod sat with her through many dinners. And Renee' seemed to always be there as her advocate keeping an eye on her personal and medical needs. These were tender times and her family is thankful LaVerne gave them a chance to say good-bye.
LaVerne was predeceased by both her parents, her sister, her brother, and three husbands. She is survived by Rod Nelson of Yakima (Lani Kai Swanhart), Val Nelson (Madlen Caplow) of Seattle, Renee' Nelson Goodman (Larry Goodman) of Yakima, and Greg Nelson (Elizabeth Tutsch), also of Yakima. She is also survived by four grandsons and two granddaughters as well as four great-grandchildren. The family wishes to extend their special thanks to the staff at Highgate as well as to Belen Jimenez and Dr. Silvia Labes. And LaVerne's three sons wish to publicly announce their appreciation for their sister's care of their mother over these past difficult years.
A funeral service and Celebration of Life will be held at 11 a.m. on Saturday, Oct. 21, at the Selah Methodist Church, 1061 Selah Loop Road, Selah, Wash. The family cordially invites all friends, acquaintances and those who wish to celebrate their mother's life. The family asks that any attendee who has been the recipient of one of LaVerne's quilts bring it to the service, where it will be used to decorate the altar. (All quilts will be returned following the service.) The family will make a donation to the Selah Public Library in LaVerne's name. In lieu of flowers, donations can be made to the Selah Public Library at 106 S. 2nd Street, Selah, Wash. 98942.
OBITUARIES

Linn County News Published December 6, 2023 Robert W. VanWinkle, age 83, La Cygne, Kan., passed away Friday, Dec. 1, 2023. A service to celebrate Bob's life will be announced at a later date. Online condolences can be left at www.schneiderfunerals.com. ... [More]

Linn County News Published December 6, 2023 Jolene Moriconi, 87, of Lawrence, Kan., formerly of Paola, Kan., and Frontenac, Kan., passed away on Thursday, Nov. 30, 2023, at home surrounded by family. She was born May 24, 1936, in Frontenac, Kan., the daughter of... [More]

Linn County News Published Dec. 6, 2023 Perle David Patrick Jr., age 67, Osawatomie, Kan., passed away Sunday, Dec. 3, 2023. Funeral service will be held 2 p.m. Friday, Dec. 8, 2023, at the Schneider Funeral Home and Crematory, La Cygne Chapel. Burial... [More]
More Obituaries
View All Obituaries
NEWS

During the weekly meeting of the Linn County Commissioners on Monday, Dec. 4, Rich Morrell and Charlene Sims with the Linn County Planning Commission each addressed the commissioners in regard to the moratorium and the request to create a committee to work on Section 14. ... [More]

Linn County Clerk David Lamb presented the commissioners with documents to be signed by the commission chair during their weekly meeting on Monday, Dec. 4, in regard to the bond sale last Wednesday to refinance a portion of the original bond for the jail project. Lamb... [More]

Linn County Public Works Director Shaun West noted he had reached out to the fiber installers south of the power plant in reference to questions the commissioners had concerning undone road work. West stated he learned the connection comes into the project from the west and moves... [More]
More News
SPORTS

The Pleasanton basketball team hosted their home opener against Kansas City Christian (KCC) on Dec. 1. The Jays split the varsity games with the girls falling in their game 20-29 and the boys winning big in their game, 78-44. The girls' game started well as the Lady... [More]

Sophomore Brea Dawson scored 12 of her game-high 18 points in the fourth quarter, paving the way for Jayhawk Linn's girls to claim a 43-38 season-opening win at Cass-Midway, Mo., Friday night. Despite a game-high 23 points from junior Braeden Nation, the 'Hawk boys... [More]
More Sports
OBITUARIES POLICY
• May be mailed, e-mailed, faxed or hand delivered.
• Must be received by 9 a.m. on Tuesday morning in order to appear in that week's edition.
• Obituaries submitted by funeral homes will be billed to the funeral home.
• Full obituaries submitted by individuals are required to be paid in advance.
• Cost: $40 for 300 words or less. Each additional word over 300, 10¢. Photograph $5.
Call Barbara at 913-352-6235 or e-mail linncountynewsreporter@gmail.com
View Legals for Free