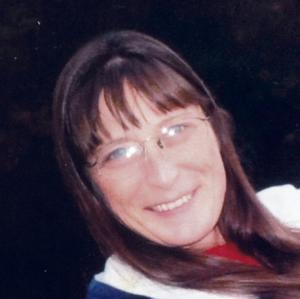 Lavona Marie (Gilkey) Bradley, age 49, passed away unexpectedly at her home in Prescott, Kan., on Oct. 15, 2016. She was born Jan. 29, 1967, in Butler, Mo. Lavona was the youngest of six children born to Bobby Ray Gilkey and Della Marie (Black) Douglas.
Lavona attended school in Rich Hill, Mo., until her junior year. She worked many years at Oak-N-Things in Rich Hill and later at Food Fair in Mound City, Kan. She finished her career as a caregiver at Prescott Country View Nursing Home where she dedicated 15 years of her life. She lived in Rich Hill the majority of her life until moving to Mound City around 1995 and later to Pleasanton, eventually making her home in Prescott.
Lavona was a free-spirited, fun-loving woman who loved life to the fullest. Lavona was always a spunky fireball of a person who always made get-togethers fun.
Lavona loved her family and they loved her; there wasn't anything she wouldn't do for her kids, brothers, sisters, mother, and friends, and especially her grandkids. She was a granny and was proud to be one; from the moment she found out she was finally going to be a grandma she was ecstatic about it. She always told her kids and grandkids, "There ain't no mountain high enough, ain't no valley low enough, to keep me from getting to you." And yes, she would sing it! She loved every minute of being a grandma and she rocked at it. Her grandkids were the light of her life. There wasn't a time she didn't talk about her grandkids; she loved them very much and they loved her just as much.
Lavona's several nieces and nephews will tell you how much they loved her and how excited they were to see her at family events. She always knew how to have a good time. At work, she was considered a "work mom" to some of her co-workers, even when they disagreed she'd let them know it and they would go on and it would be over.
She was a very caring person and if she could help you in any way—whether it be by giving you food, money, etc.—she would help and then tell you not to worry about it. She just loved to help people.
Lavona loved fishing, swimming, mushroom hunting and being outside, sitting on her back porch listening to music and having a beer. She also loved to be in the sunshine working in her yard and keeping it looking nice. One thing she looked forward to on her days off was going shopping with her brother Freddy, and then going to see her mother. She loved to go to town with her husband, Martin. Sometimes it would be to shop, other times it was because they needed to be somewhere, and sometimes just to drive around town. It didn't matter where they went; it just mattered that she was with the people she loved and she loved being with them.
Lavona was preceded in death by her father and her grandparents.
She is survived by her husband, Martin, of the home; four children Jennifer (husband Jeremy), Louie (wife Charity), Christopher (wife Jenn) and Gloria; three stepchildren Craig (wife Erica), Travis (Megan) and Sarah (husband Matt); 22 grandchildren Jayden, Jeremy, Jack, Kyler, Kylee, Uriah, Sydney, Jordan, James, Maddisyn, Carolyn, Anthony, Bodee, Brylee, Bailee, Breana, Zachary, Laynee, Olivia, Robert, Ethan and Michael. Lavona is also survived by her mother; four brothers Johnny Ray (wife Nellie), Bobby Joe (wife Peggy), Freddy (wife Georgia) and Dewey (wife Shannon); one sister Carol (husband John); several nieces, nephews, great-nieces and great-nephews.
Funeral services were held Friday, Oct. 21, 2016, at Heuser Funeral Home in Rich Hill. Memorial contributions are suggested to the Lavona (Gilkey) Bradley Memorial Fund, in care of Heuser Funeral Home.
OBITUARIES

Linn County News Published Aug. 17, 2022 Dean Brown, age 91, a resident of Fulton, Kansas, passed away Wednesday, August 10, 2022, at the Olathe Medical Center in Olathe, Kan. He was born Oct. 7, 1930, in Uniontown, Kan., the son of Durward "Duke" Brown and Pearl... [More]

Linn County News Published Aug. 17, 2022 Arthur Carl Hetzke, age 91, Mound City, Kan., passed away Wednesday, Aug., 10, 2022. He was born on Aug. 5, 1931, in Newton, Kan., the son of Arthur and Elizabeth (Breck) Hetzke. He served his country in the United States Air Force... [More]

Linn County News Published Aug. 17, 2022 William John Adair, Sr., age 74, La Cygne, Kan., passed away Tuesday, Aug. 9, 2022. Funeral service will be 2 p.m. Monday, Aug. 15, 2022, at the Schneider Funeral Home and Crematory, La Cygne Chapel. Visitation will be held from... [More]
More Obituaries
View All Obituaries
NEWS

Two of three rodeo horses were killed or had to be put down following an accident early Saturday morning. Undersheriff Bobby Johnson said that rodeo performer Donald Culpepper, Poulan, Ga., had made a make-shift electric fence for his horses at the Linn County Fairgrounds.... [More]

The city of Parker will be contacting Linn County about concrete surfacing assistance at an intersection that receives heavy truck traffic. At last Thursday's monthly council meeting, Mayor Cody Adams responded to a patron complaint that asphalt surfacing at the intersection... [More]

Approves a change to the tax incentive program The Pleasanton City Council took several policies and policy changes under consideration at their Aug. 15 meeting. The first of these policies is the Neighborhood Culvert Replacement Program (NCRP) which would grant... [More]
More News
SPORTS

The Linn County Farm Bureau Association hosted the annual pedal pull for kids age 4 to 12 at the Linn County fairgrounds on the evening of Aug. 12. Trophies were given to the top three pullers in each age group along with the opportunity to compete in the Kansas State Pedal... [More]

Kansas Department of Wildlife and Parks fish biologist Don George once again assisted with hosting the annual fishing derby at the Linn County fairgrounds on the morning of Aug. 13. Like in the past, the derby was divided into three age groups, 4-7, 8-10, and 11-16. Awards... [More]
More Sports

OBITUARIES POLICY
• May be mailed, e-mailed, faxed or hand delivered.
• Must be received by 9 a.m. on Tuesday morning in order to appear in that week's edition.
• Full obituaries submitted by individuals are required to be paid in advance.
• Obituaries submitted by funeral homes will be billed to the funeral home.
• Cost: $30 for 300 words or less. Each additional word over 300, 10¢. Photograph $5.
Call Barbara at 913-352-6235 or e-mail linncountynewsreporter@gmail.com