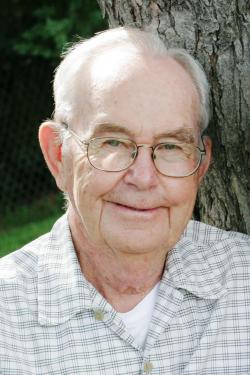 05-02-1918 to 09-09-2019
Linn County News
Published Sept. 11, 2019
In the weeks following Pearl Harbor, as the U.S. prepared to go to war, Lee Fisher enlisted in the U.S. Navy and was hustled through their officer training course – a "90-day wonder," as they called it. When he passed away this week at age 101, peacefully, in his sleep, he was a wonder of a different sort.
Asked on his 100th birthday how he managed to live to such a remarkable age, Lee replied, "Moderation. In all things."
Lee was born May 2, 1918, in Pleasanton, Kan., the only son of Ruth and William Fisher. He graduated from Mound City Rural High School in Mound City, Kan., in 1935 as class salutatorian. There is a good chance that he said more in his speech than most of his classmates had heard him say all term long. He was a sweet, thoughtful man who listened more than he spoke – yet, the words he chose to share with the world were always worth hearing.
Lee moved to Colorado in 1937, attending DU and graduating with a B.A. in business administration. He was studying engineering at the Colorado School of Mines when the war broke out. Engineers of Lee's evident skills were prized by the U.S. Navy, and following his officer's training at the Naval Academy in Annapolis, Md., they wasted no time sending Ensign Fisher to GM University in Illinois to learn large-scale landing craft engines (they'd eventually play a part in the Normandy Invasion). He was quickly promoted to lieutenant and posted to Pacific Fleet headquarters, Coronado, Calif.
Among his duties were maintenance and logistics, which often took him across the bay to the navy offices in San Diego. It was there he met the love of his life.
Jean Stalnaker was in the secretarial pool; she'd see Lee when he came to meet with one of her bosses.
"She made it so that I'd get her phone number," said Lee.
She wrote it on a piece of paper, and had one of the guys give it to him. He called her, and they hit it off.
Jean lived in San Diego, in a house overlooking the bay. As Lee told it, "In those days, you took a ferry to get back and forth from Coronado. Either that, or you drove 25 miles down the coast to Imperial Beach and back up the Coronado peninsula to get to the base." Lee would laugh to think of the times he stayed a bit too long pitching woo on Jean's front porch, only to find himself making that long drive back to his quarters.
He may have occasionally missed the ferry, but he surely didn't miss the boat. In September 1944 he saved up his gas rations, and he and Jean headed for Las Vegas. There, in the Little White Wedding Chapel, they were married. They remained so for 66 happy years, until Jean passed in 2010.
Lee's first job post-war was for Sears, in Santa Monica. His boss left a lot to be desired. "Everything that went wrong was my fault, including things he did wrong." His mom's cousin put him in touch with a gasoline distributor in Oceanside, and he and Jean moved south. That was more to his liking, and he began learning the trade. When he was given the opportunity to take over the Ace Hi Service Station in Wheat Ridge, Colo., he jumped at it. He survived early gas wars – the prices dropped to pennies per gallon! – and countless giveaway promotions of steak knives, matching tumblers and kiddie toys. He built a reputation for honesty and mechanical skill, earning a loyal clientele that served him well, until his retirement in 1973.
Lee and Jean kept a cabin in Evergreen, Colo., roaming through the woods with one of a series of beloved bulldogs. He honed his talents as a woodworker, making furniture and toys for his nephews' children and his godsons. His favorite hobby was restoring classic Thunderbirds; he had three over the years, which made those grown-up nephews and godsons incredibly jealous.
Lee was a remarkable man. He radiated sweetness, warmth and good humor. His words were few. His impact on those lucky enough to know him, immeasurable. He will be deeply mourned and greatly missed.
Lee is survived by niece Laura, nephew Neil Stalnaker (Nancy), nephew Mike Pitts (Ann), and fondly remembered by godsons Sean and Schuyler Cayton.
Visitation is 6 p.m. Monday, Sept. 16. Services are at 10 a.m. Tuesday, Sept. 17. Both are at Crown Hill Mortuary, 7777 West 29th, Wheat Ridge, Colo. The service will be held in the Tower of Memories, where he'll be laid to rest.
OBITUARIES

Linn County News Published May 24, 2023 Gene Raymond Mitchell, 84 years, passed away on November 24, 2022 in his home Grand Rapids, Mich. He was born in Kansas City, Kan., the third child of Otto and Ruby Mitchell. Preceded in death by his parents and brother,... [More]

Linn County News Published May 17, 2023 Richard Scott Secrest, age 93 of Nevada, Mo., formerly of Pleasanton, Kan., passed away on Tuesday, May 16, 2023. He was born the son of Ancil and Beulah (Jackson) Secrest on May 29, 1929, at Edgerton, Kan. Richard married... [More]

Linn County News Published May 17, 2023 Donald Raymond Wier, age 82, of Denton, Texas, passed away on May 11, 2023. The second child of Lloyd Elmer and Thelma Olan (Meek) Wier, Don was born on July 9, 1940, in Fort Scott, Kan., a farm kid who excelled in... [More]
More Obituaries
View All Obituaries
NEWS

A health and cancer screening event is planned for 11 a.m. to 2 p.m. on June 3 at the Pleasanton United Methodist Church, 751 Main Street. This event will have prostrate and skin cancer screenings, take-home colorectal cancer screening kits, blood pressure readings, tobacco... [More]

This year's Thunder on the Street event, set for June 3 on Main Street in Pleasanton, promises several activities for all ages. The wall of death is back this year, only under a new company - Ives Brothers Wall of Death and promises tons of gravity defying entertainment.... [More]

Saturday, May 27 Linn Valley Memorial Day ceremony at the memorial at 10 a.m. Prescott Cemetery Memorial Day ceremony at 10:30 a.m.; a potluck lunch will follow at the Community Building in Prescott with the city providing the meat, drinks and table service.... [More]
More News
SPORTS

The Prairie View track team traveled to Wichita May 26-27 to compete in the 3A State track championship and brought home some hardware to say the least. The girls' team earned the school's first State track championship as they scored 41.5 points to win the 3A girls'... [More]

The Jayhawk-Linn track team traveled to Wichita on May 26-27 to compete in the 2A State track championship. The Hawks were well represented this year as they sent a total of 13, seven girls and six boys, to State. The boys' team earned multiple medals at the meet. Gus... [More]
More Sports

OBITUARIES POLICY
• May be mailed, e-mailed, faxed or hand delivered.
• Must be received by 9 a.m. on Tuesday morning in order to appear in that week's edition.
• Full obituaries submitted by individuals are required to be paid in advance.
• Obituaries submitted by funeral homes will be billed to the funeral home.
• Cost: $30 for 300 words or less. Each additional word over 300, 10¢. Photograph $5.
Call Barbara at 913-352-6235 or e-mail linncountynewsreporter@gmail.com