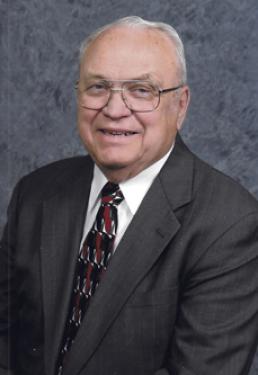 Leo D. McRae, age 84, La Cygne, Kan., passed away on Saturday, Aug. 20, 2016. He was born at Centerville, Kan., on May 14, 1932, the son of Carl and Glenna Driskill McRae. He graduated from La Cygne Rural High School and attended Artificial Insemination School at Kansas State University.
He married Margaret Hatch on Feb. 25, 1951, at Drexel, Mo.
Leo was a hard worker. His occupations included bus driver, ice delivery, ambulance driver, butcher, grocery store owner and funeral director. He was a partner in both the Mangold and Runyan Funeral Homes, retiring in May 1997. He was a member of the Calvary Baptist Church.
He was preceded in death by his parents; a brother Roy McRae; and a sister Wanda Kirk.
He is survived by his wife, Margaret; a son Ricky McRae and wife, Norma Sue; a daughter Vicky Fleming and husband, Joe; a sister Hilma Brasfield; two grandsons Eric Fleming and wife, Tally, and John Fleming; five great-grandchildren Paige and Cale Fleming and Bryan, Meghan and Allison Butler; and one great-great-grandchild Brynnley Bauer.
Funeral service will be held 10 a.m., Friday, Aug. 26, 2016, at the Calvary Baptist Church, La Cygne, Kan. Burial in the Oak Lawn Cemetery. Visitation will be held from 5 to 7 p.m. Thursday at the Schneider Funeral Home and Crematory, La Cygne Chapel. Online condolences for the family may be left at www.schneiderfunerals.com. Arrangements: Schneider Funeral Home and Crematory, La Cygne Chapel.
OBITUARIES

Linn County News Published April 21, 2021 Charles Robert Patterson, 79, Dwight, Kan., passed away April 16, 2021, at his residence. He was born March 25, 1942, in Amoret, Mo., the son of Claude and Phyllis (Mitchell) Patterson. He married JoAnn Norris on Feb.... [More]

Linn County News Published April 21, 2021 Floyd Arthur Holmes (or Arthur Floyd Holmes, it was never clear which) passed away peacefully at his residence at Grandwood Assisted Living in Grove, Okla., on Feb. 13, 2021, exactly one month after celebrating... [More]

Linn County News Published April 21, 2021 John William Woodburn, 76, died March 7, 2021 in Baxter Regional Medical Center in Mountain Home, Ark. Graveside services will be held on Saturday, April 24, at 2 p.m. at the Pleasanton Cemetery in Pleasanton, Kan.,... [More]
More Obituaries
View All Obituaries
NEWS

REVISED 4/22/2021 - The story of the murder of a Mound City woman, Dawn Rosso, began prior to her throat being cut on Saturday, June 20, 2020 – it actually began when her alleged murderer Dylan Parks-Maki broke her wrist and ribs; To see the full article, check out this... [More]

Following a 10-minute executive session for land acquisition on Monday, Pleasanton City Councilman Jake Mattingley said a representative of Family Dollar/Dollar Tree "chose us because of our location" to build a store. Mattingley said the corporation usually targets... [More]

Pleasanton City Administrator Teresa Whitaker introduced BG Consultants engineer Jason Hoskinson to the City Council Monday night, stating his job would be to "help the city out with the potential development project" and figure out where the engineering firm can... [More]
More News
SPORTS

The Pleasanton track team hosted their home track meet on April 13. The meet consisted of eight teams and the Jays placed fourth in both the boys and girls. The boys placed fourth with 79 points while the girls placed fourth with 58 points. Jayhawk-Linn won the meet for the... [More]

The Jayhawk-Linn track teams traveled to Pleasanton on April 13 to compete in the Pleasanton Invitational. Both the boys' and girls' teams did well as the boys won the meet with 124 points. The girls placed second with 96 points. Uniontown won the meet for... [More]
More Sports