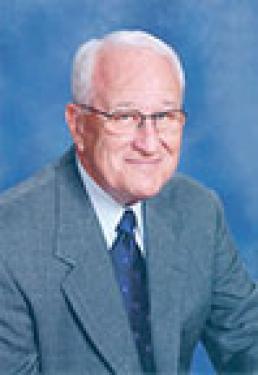 Linn County News
Published July 6, 2022
Leslie (Les) Eugene Krull, 85, of Berryton, died Wednesday, June 29, 2022, at Prairie Winds Senior Living, in Berryton, Kan. He was born June 9, 1937, to Eugene and Roberta "Pauline" (Townsley) Krull at home in Mound City, Kan. The family then moved to a farm outside nearby Blue Mound, Kan., where he attended elementary and high school, excelling in every sport and graduating as valedictorian in 1955.
Les was offered full scholarships to both West Point and Kansas State. He chose the latter, playing four seasons of football "both ways" – as quarterback on offense and as safety on defense – and lettering his junior and senior seasons. Les received individual recognition for the 1958 season as a "Wildcat" senior, including All Big 8 Honorable Mention at Quarterback and Safety, Big 8 Passing Leader, and Most Valuable Player as selected by his K-State coaches and teammates. Les enjoyed supporting Wildcat football as a loyal alumni member of the Golden Cats former players club.
Before his senior year, Les married Roberta Arlene Stuart of Mound City on August 10, 1958.
After graduation with a general business degree in May 1959, he began a 41 year career with Hallmark Cards, Inc., on June 8, 1959, before retiring on July 10, 2000. Over his career, Les worked in a variety of supervisory and management positions in the Kansas City, Lawrence, and Topeka manufacturing plants. In 1984, Les became the Plant Manager of the Topeka Plant, serving for 17 years. For a time he served concurrently as Plant Manager over the production plants in Topeka and Osage City, until the latter was shuttered by Hallmark. A "people person," Les knew the names of the more than 1,000 fellow Hallmarkers he led and he truly cared about each of them and their families. Closing the Osage Plant was the hardest thing he ever had to do while at Hallmark.
In addition to family and work, Les was active in the community, to include as a member of the United Methodist Church for the past 50 years, as chair of the Topeka United Way, as honorary chair of the first YWCA "Woman of Excellence" award program in 1991, as president of Topeka Crime Stoppers, as a board member of the YMCA, Boy Scouts, and Junior Achievement, and as a member of the Topeka and Kansas Chambers of Commerce, Topeka Rotary Club (Paul Harris Fellow), Masonic Lodge #286, Scottish Rite, and Arab Shrine.
Les is preceded in death by his parents. He is survived by his wife Roberta of nearly 64 years and his brother James Delmar Krull, Blue Mound. When Les prepared his "Last Wishes," he concluded them with this: "My proudest achievement was participating with my wife Roberta in raising our three children to adulthood. We are proud of each of them and their own families." His family legacy includes son Kyle (Gretchen) Krull, Overland Park, Kan.; daughter Kathi (Brian) Barlow, Peru, Kan.; and daughter Karen (Daniel) Remboldt, Brush Creek, Tenn.; and eleven grandchildren (Scott, Christopher, Stefanie, Sarah, Kirsten, Anneliese, Jesse, Matthew, Brandon, Bethany, and Josiah) and ten great-grandchildren (Brenn, Blake, Jett, Kannon, Trey, Blayse, Olivia, Stratton, Hope, and Gaston).
As Les grew up hoeing miles of bean fields, milking cows, driving a tractor, and doing all manner of general farm chores, he lived out his rural values by practicing the Golden Rule, working hard and having fun. Les always considered himself that same "farm boy" from Blue Mound. While he held others to high standards, they were no higher than the standards he set for himself. He was known for his unique, active sense of humor and was a gifted storyteller. Les was generous to a fault.
Les summarized his life in the family history he wrote in 2006, as follows:
"Roberta has been a strength for our family direction and our life. I am personally very blessed in the life the Lord has allowed me to live. I thank him for it."
The family would especially like to thank the "care team" at Prairie Wind Senior Center for their loving, extra-mile care of Les and the entire family in his last days.
A visitation will be held from 4 to 7 p.m., Friday, July 8, at Berryton United Methodist Church, 7010 SE Berryton Rd, Berryton, Kan. Rev. Annie Ricker will conduct a Celebration of Life service at 10 a.m. on Saturday, July 9, also at Berryton United Methodist Church. A visitation "down home" will be from 3 to 5 p.m., Saturday, July 9, at Schneider Funeral Home Chapel, 319 Chestnut, Mound City, Kan. Following the visitation, there will be a brief graveside service at Sunny Slope Cemetery, Blue Mound, Kan.
In lieu of flowers, memorials may be made in person at the visitations or Celebration of Life (or online) to Berryton United Methodist Church, 7010 SE Berryton Rd, Berryton, Kan. 66409 (https://secure.myvanco.com/YGVE/home or Shriners' Childrens, St Louis, 4400 Clayton Ave, St. Louis, Mo. 63110 (https://www.stlouischildrens.org/giving) or (non-deductible) Prairie Wind Senior Care, 5227 SE 77 th St, Berryton, Kan. 66409.
To leave a remembrance online, please visit www.DoveTopeka.com and/or www.SchneiderFunerals.com.
OBITUARIES

Linn County News Published March 29, 2023 Debra Dale Wolf, age 68, Linn Valley, Kan., passed away Wednesday, March 22, 2023. Graveside funeral service will be held 2 p.m. Wednesday, March 29, 2023, at the Trading Post Cemetery. Memorial contributions... [More]

Linn County News Published March 29, 2023 Jessica Erin Cox, beloved daughter, and granddaughter, passed away at her home in Lawrence, Kan., March 20, 2023. Jessica was born Nov. 15, 1979, at the University of Kansas Medical Center. She was a graduate of Shawnee... [More]

Linn County News Published March 29, 2023 Larry Ray Oliver, age 69, Pleasanton, Kan., passed away on Wednesday, March 22, 2023. Funeral service will be at 6 p.m. on Saturday, March 25, 2023, at the Schneider Funeral Home and Crematory, Pleasanton Chapel. Visitation... [More]
More Obituaries
View All Obituaries
NEWS

Governor Laura Kelly issued a verbal declaration of disaster emergency this morning, March 31, due to the potential for wildland fires and severe storms in the state. The declaration will allow the state to preposition assets for a quicker response to any fires... [More]

During the latter part of the meeting on Monday, March 27, Linn County Commissioners discussed the walk-through on Wednesday, March 22 at the former Memaw's Kitchen located at 6th and Main Streets in Pleasanton. Economic Development Director Jessica Hightower read notes... [More]

"Positive ramifications" for the city Following a 15-minute legal session called by Linn Valley Mayor Cindy Smith at their Monday meeting, the mayor announced a preliminary agreement with Rural Water District #1 for water rights in Linn Valley. Smith... [More]
More News
SPORTS

The Prairie View Buffalos competed in the State Powerlifting meet on March 25. The meet had 285 total lifters and the Buffalos took 16 boys and nine girls to the event. Prairie View had two lifters place second in their respective weight divisions at the meet. Rhett Jackman,... [More]

The Jayhawk baseball and softball teams opened their 2023 season at home against Southeast Cherokee on March 27. Both softball and baseball teams played a double header and the boys split while the girls swept the Lancers. Baseball won their first game 3-0 but lost the second... [More]
More Sports

OBITUARIES POLICY
• May be mailed, e-mailed, faxed or hand delivered.
• Must be received by 9 a.m. on Tuesday morning in order to appear in that week's edition.
• Full obituaries submitted by individuals are required to be paid in advance.
• Obituaries submitted by funeral homes will be billed to the funeral home.
• Cost: $30 for 300 words or less. Each additional word over 300, 10¢. Photograph $5.
Call Barbara at 913-352-6235 or e-mail linncountynewsreporter@gmail.com