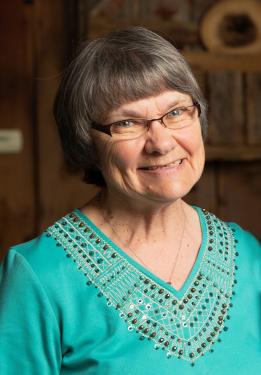 Linda Lou Brown Minkler
10-03-1947 to 01-11-2020
Linn County News
Published Jan. 15, 2020
On Jan. 11, 2020, Linda Lou Minkler of Kincaid, Kan., passed away with her husband by her side at Saint Luke's Hospice House, Kansas City, Mo., after a fierce battle with cancer. She was 72.
Linda was born Oct. 3, 1947, in Fort Scott, Kan., to Gerald "Jerry" and Vera Brown. She attended school in Hume, Mo., and graduated high school in Fulton, Kan.
Linda followed her calling as an educator. She studied at Pittsburg State University earning a bachelor's and a master's degree in education. Through her 35-year career, she impacted hundreds of students in several grades. She had a deep love for her students – one of her greatest joys was following them as they grew and flourished.
Linda also served her community. She was an active life member of VFW Auxiliary; held many offices in the Kincaid chapter of the Order of the Eastern Star, serving for several years as secretary; and enjoyed volunteering at the Kincaid Fair and serving on the election board.
She was preceded in death by her parents, sister-in-law Dollie Brown, brother-in-law Lester Stringer, nephew Steve Stringer, and niece Leslie Spitler.
Beloved survivors include husband Jess Minkler; daughter Jennifer Johnson and Bryan and their son Dayton of Cleveland, Mo.; son Mikohl Minkler and Joe Cooper of Irving, Texas; stepson Tony Smith and Chrystal of Iola, Kan.; sister Roberta Stringer of Wichita, Kan.; brother Gary Brown and Voneta of Fulton; niece Sherri Day and Jerry of Wichita; aunt Charlotte Dunavan of Mound City, Kan.; uncle Lloyd Minkler of Garnett, Kan.; and her very best friend, Betty Jo Laflen and Jerry of Moundville, Mo.
Funeral services will be held at 10 a.m. Thursday, Jan. 16, 2020, at the Centerville Community Church in Centerville, Kan. Burial will follow in the Kincaid Cemetery in Kincaid. Family will greet friends from 6-8 p.m. Wednesday at the Feuerborn Family Funeral Service Chapel in Garnett.
Memorial contributions may be made to A.C.A.R.F. or Centerville Community Church and left in care of the funeral home. Condolences may be sent to the family at www.feuerbornfuneral.com.
OBITUARIES

Linn County News Published Sept. 22, 2021 Wilhelmina "Billie" Rose Suddock, age 90, of Wichita, Kan., died Thursday, Sept. 16, 2021. In lieu of flowers, the family requests donations to the Home Health & Hospice of Kansas. Rosary... [More]

Published in the Linn County News Sept. 22, 2021 Virgil Elmer Spencer, age 82, Mound City, Kansas passed away Friday, Sept.17, 2021. He was born on August 8, 1939 in rural Mound City, Kan. the son of Elmer Allen and Thelma Barker Spencer. ... [More]

Troy E. Mitchell, age 87, of Pleasanton, Kan. passed away in Overland Park, Kan.on Friday, Sept. 17, 2021. Troy was born the son of Jesse James and Naomi Folsom Mitchell on June 23, 1934 in Kansas City, Kan. He married Ruby Venable on October 4, 1951... [More]
More Obituaries
View All Obituaries
NEWS

For immediate release: September 22, 2021 On September 21, 2021, The Linn County Sheriff's Office was given information that a student at Pleasanton USD #344 was bringing a knife to school. Information led Deputies to believe that the student may want to harm others.... [More]

By JACKIE TAYLOR Linn County News jackielcn@linncountynews.net After Linn County Sheriff Kevin Friend spoke on School Resource Officer (SRO) activity, County Commissioner Jim Johnson commented at their Monday meeting that the commissioners needed to clear... [More]

By JACKIE TAYLOR Linn County News jackielcn@linncountynews.net Continuing their discussion concerning annexation at their Monday meeting, the City Council spoke of Pleasanton resident Kimberly Campbell's request for voluntary annexation... [More]
More News
SPORTS

LINN COUNTY NEWS NEWSPAPERSRME@yahoo.com After losing their first three games, including by 30-6 at Uniontown last Friday, Pleasanton's Blu-Jays will be looking to score first when they host Troy at 7 p.m. this Friday in a non-district matchup. "We... [More]

LINN COUNTY NEWS holtadam82@yahoo.com The Prairie View football team continues to perform at a high level as they hosted Parsons on Sept. 17. The Buffalos took control of the game early on both sides of the ball, which led to an eventual 38-14 victory.... [More]
More Sports
OBITUARIES POLICY
• May be mailed, e-mailed, faxed or hand delivered.
• Must be received by 9 a.m. on Tuesday morning in order to appear in that week's edition.
• Full obituaries submitted by individuals are required to be paid in advance.
• Obituaries submitted by funeral homes will be billed to the funeral home.
• Cost: $30 for 300 words or less. Each additional word over 300, 10¢. Photograph $5.
Call Barbara at 913-352-6235 or e-mail reporter@linncountynews.net