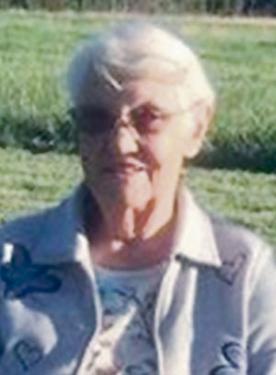 Linn County News
Published Sept. 20, 2017

Lura Jean (Wilson) Zinn, age 82 of Hume, Mo., died Sunday, Sept. 17, 2017, at Prescott Country View Nursing Home in Prescott, Kan. She was born Aug. 21, 1935, to Zella Mae Gregg Wilson and Earl DeVoe Wilson in Metz, Mo., the youngest of six children.
Jean attended several small schools in the Metz/Horton area and eventually the family moved to Nevada, Mo., where she completed her education, graduating from Nevada High School in 1953. During the summer before her final year of high school she was introduced to her future husband Willis Albert Zinn Jr. by her older brother Leroy at a weekend dance at Radio Springs Park. Willis insisted they wait to be married until she turned 18. They were united in marriage on Sept. 6, 1953, two weeks after her birthday.
Jean worked for a short time with Farm Bureau as office support/bookkeeper. Two years into the marriage their first child was born. Jean then began to work part-time for the lumberyard Willis managed. When Willis started working for the FAA as an air route traffic controller, Jean became a full-time wife and mother.
They had three girls stair-stepped two years apart. This began Jean's career as a Girl Scouts leader and council volunteer. She started as a Brownie Troop Leader with her oldest daughter Cathy in 1962 and continued even after her youngest daughter Karen had completed her time in scouting. Jean was a troop leader for each of her girls as well as volunteering at the council level for many years. Her favorite times were the council-wide trips she organized, taking girls to see various places. The two major trips were to Mexico City, Mexico, to the Girl Scout World Center and a trip to Washington, D.C., for the national Girl Scout center. In 1980 she retired from active scouting and became a Lifetime Member of the Girl Scouts.
At this point she and Willis began their retirement careers as "gypsies." Jean celebrated her 60th birthday in Hawaii with her middle daughter Pam. She had made it to all 50 states. She and Willis spent at least three months each winter in Florida, many summers in Alaska, trips to New England to see fall foliage and trips to California to see one of their daughters. In 1993 they made a point of visiting all four corners of the U.S.
Her favorite activities included playing dominos, doing word search puzzles, reading and playing cards, but most of all caring for her family. In addition to being a Lifetime Member of the Girl Scouts, she was a member of the Hume Methodist Church and the Hume Garden Club.
Jean is survived by three daughters, Cathy Thurow and husband Larry of Monticello, Ill., Pamela "Pam" Yarick and husband Meredith of Hume, Mo., and Karen McClure and husband Tom of Bloomington, Ill.; five grandchildren, Heather Kibbler and husband Sam, Ian Thurow, Kimberly Yarick, Brook Appleby and husband Aaron, and Bill McClure; many nephews; two brothers, Leroy Wilson and H.D. Wilson; one sister, Linda Byrns; and nieces, great-nephews and great-nieces.
She was preceded in death by her parents; husband Willis (in 2013); one sister, Emily Bird; one brother, Orton Wilson; and one grandson, Matthew Yarick.
Funeral service will be held 10:30 a.m. Friday, Sept. 22, 2017, at the Hume United Methodist Church. Burial will be held at 1:30 p.m. Friday at the Fort Scott National Cemetery. Visitation will be held from 5-7 p.m. Thursday at the church.
The family suggests contributions to the Hume United Methodist Church or Prescott Country View. Online condolences for the family can be left at www.schneiderfuneralscom. Arrangements: Schneider Funeral Home and Crematory Pleasanton Chapel.
OBITUARIES

Linn County News Published March 29, 2023 Debra Dale Wolf, age 68, Linn Valley, Kan., passed away Wednesday, March 22, 2023. Graveside funeral service will be held 2 p.m. Wednesday, March 29, 2023, at the Trading Post Cemetery. Memorial contributions... [More]

Linn County News Published March 29, 2023 Jessica Erin Cox, beloved daughter, and granddaughter, passed away at her home in Lawrence, Kan., March 20, 2023. Jessica was born Nov. 15, 1979, at the University of Kansas Medical Center. She was a graduate of Shawnee... [More]

Linn County News Published March 29, 2023 Larry Ray Oliver, age 69, Pleasanton, Kan., passed away on Wednesday, March 22, 2023. Funeral service will be at 6 p.m. on Saturday, March 25, 2023, at the Schneider Funeral Home and Crematory, Pleasanton Chapel. Visitation... [More]
More Obituaries
View All Obituaries
NEWS

During the latter part of the meeting on Monday, March 27, Linn County Commissioners discussed the walk-through on Wednesday, March 22 at the former Memaw's Kitchen located at 6th and Main Streets in Pleasanton. Economic Development Director Jessica Hightower read notes... [More]

"Positive ramifications" for the city Following a 15-minute legal session called by Linn Valley Mayor Cindy Smith at their Monday meeting, the mayor announced a preliminary agreement with Rural Water District #1 for water rights in Linn Valley. Smith... [More]

Possible April vote would make nepotism additions A vote may occur next month on broadening a Unified School District 362 nepotism policy as urged by its superintendent. At the monthly board of education meeting earlier this month, Rex Bollinger, Ed.D., laid out... [More]
More News
SPORTS

The Prairie View Buffalos competed in the State Powerlifting meet on March 25. The meet had 285 total lifters and the Buffalos took 16 boys and nine girls to the event. Prairie View had two lifters place second in their respective weight divisions at the meet. Rhett Jackman,... [More]

The Jayhawk baseball and softball teams opened their 2023 season at home against Southeast Cherokee on March 27. Both softball and baseball teams played a double header and the boys split while the girls swept the Lancers. Baseball won their first game 3-0 but lost the second... [More]
More Sports

OBITUARIES POLICY
• May be mailed, e-mailed, faxed or hand delivered.
• Must be received by 9 a.m. on Tuesday morning in order to appear in that week's edition.
• Full obituaries submitted by individuals are required to be paid in advance.
• Obituaries submitted by funeral homes will be billed to the funeral home.
• Cost: $30 for 300 words or less. Each additional word over 300, 10¢. Photograph $5.
Call Barbara at 913-352-6235 or e-mail linncountynewsreporter@gmail.com