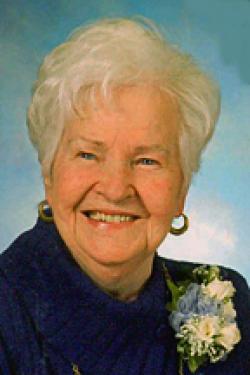 M. Louise Schwarz Post Bassett passed away peacefully in the embrace of God's mercy on Wednesday, Sept. 17, 2014. Louise was born to Otto Carl Schwarz and Bertha Nanette Autenreith Schwarz on June 18, 1918, in New Chicago, Ind.
She attended school in both Chicago and Nevada, Mo. She loved riding the Chicago "L" train, going to the Field Museum and watching the water on Lake Michigan. She completed high school at Nevada High School in Nevada and the Sedalia Business College in Sedalia, Mo. Prior to her marriage, she was a secretary at the Presbyterian Church in Nevada. She worked at the Bourbon County Mental Health Center in Fort Scott as a secretary for several years. She devoted her life to being a wonderful mother, grandmother, community member and friend.
Louise was united in marriage with George F. Post at her grandparents' home on Aug. 20, 1940. George and Louise moved to Mapleton and resided there for 45 years. George passed away on Sept. 9, 1985.
She married Roy C. Bassett on Feb. 10, 1990; he preceded her in death on Jan. 8, 2007.
Louise resided on the family farm for 66 years and loved being outdoors with the animals.
Louise was an active member of the Mapleton Christian Church and served multiple roles including superintendent, Sunday school teacher and pianist. She often volunteered to cook or do dishes at summer Bible camps and was a devoted Christian her entire life. She enjoyed participating with the Campus Christians in the last years of her life.
She was tireless in her support of education in the community and served as president of the school board. Through her efforts, the first special education classroom was organized in Mapleton before these types of programs were state mandated. She helped locate children in Bourbon and Linn counties to attend classes because she was determined that no child, regardless of disability, would be denied the opportunity for an education. She was an active supporter of the Association for Retarded Children, Special Olympics and Tri-Ko workshop services.
Louise was active in several community groups including the Delightful Time Club, the Christian Women's Fellowship, Eastern Star and the Azrum Temple Daughters of the Nile. She was always generous in giving of her time and talents. There was no community activity that she didn't support with her time, finances and energy. She had volunteered for many years at the Linn County Fair. She also enjoyed participating in Shrine-related activities with her husband, George.
They enjoyed their retirement by traveling, going on trail rides and being with their grandchildren. She loved to dance and was a talented pianist. Her exuberant personality will be sorely missed.
Louise is survived by her son Greg (Sandy) Post of Mapleton; her daughter, Deborah Post Potter (William) of Pittsburg; her granddaughter, Alicia Potter Burk (Bob) of Pittsburg; grandson, Gregory Dewayne Post (John) of Kansas City; and several special nieces and nephews.
She was preceded in death by her daughter, Sherry Louise Post, on July 5, 2013, and brother, William X. Schwarz.
Pastor Don Smith and Pastor Matthew Hamilton conducted funeral services Saturday, Sept. 20, at the Mapleton Christian Church with a dessert celebration immediately following. Private burial followed in the Mapleton Cemetery. In lieu of flowers, the family requests memorials to the Mapleton Christian Church or the PSU Campus Christians, which may be left in care of the Cheney Witt Chapel, 201 S. Main, P.O. Box 347, Ft. Scott, KS 66701. Words of remembrance may be submitted to the online guestbook at cheneywitt.com.
OBITUARIES

Linn County News Published Nov. 29, 2023 Larry Wayne Miller, age 65 of Pleasanton, Kan., passed away, Sunday, Nov. 26, 2023, in Fort Scott, Kan. A visitation will be held from 5 to 7 p.m., Thursday, Nov. 30, 2023, at the Schneider Funeral Home and Crematory,... [More]

Linn County News Published Nov. 22, 2023 Vernon Earl McGee, 78, resident of Wichita, Kan., passed away at St. Francis Via Christi Hospital on Tuesday, Nov. 7, 2023. He was born at home in Goodrich, Kan., on Oct. 7, 1945, to Earl J. McGee and Jennie Irene (Adams)... [More]

Linn County News Published Nov. 15, 2023 Vicki A. Capp, age 69 of Mapleton, Kan., passed away on Monday, Nov. 6, 2023, at the Olathe Hospice House. She was born the daughter of Frank E. and Claudeane (Shaw) Craig on Aug. 8, 1954, at Fort Lewis, Wash. ... [More]
More Obituaries
View All Obituaries
NEWS

During the Nov. 27 meeting of the Linn County Commissioners, County Counselor Gary Thompson requested a 15-minute executive session for legal matters to review the resolution he had drafted, in response to and to set in place, the moratorium that was decided on by a 2-1 vote... [More]

At the direction of its board of education, Unified School District 362 administration will be seeking information from school districts now utilizing a four-day school week. Hearing at the board's regular monthly meeting Nov. 21 that most districts using the four-day... [More]

Joey McLiney with McLiney and Co., a division of SAMCO Capital, spoke to commissioners on Monday, Nov. 27, noting they are ready to go public on the sale of the bond refinance that was previously approved by commissioners. McLiney noted that they had been waiting to do so in... [More]
More News
SPORTS

The high school football season has concluded and it is time for this year's All County high school football team. This year there were plenty of good players to choose from as all three local teams, Pleasanton, Jayhawk Linn, and Prairie View, had winning seasons. ... [More]

The start of the competitive basketball season is still more than a week away for the three Linn County schools, but across the Missouri state line, the Miami girls' squad has already equaled its on-court victory total from last year. Rebuffing a Hermitage second-half... [More]
More Sports
OBITUARIES POLICY
• May be mailed, e-mailed, faxed or hand delivered.
• Must be received by 9 a.m. on Tuesday morning in order to appear in that week's edition.
• Obituaries submitted by funeral homes will be billed to the funeral home.
• Full obituaries submitted by individuals are required to be paid in advance.
• Cost: $40 for 300 words or less. Each additional word over 300, 10¢. Photograph $5.
Call Barbara at 913-352-6235 or e-mail linncountynewsreporter@gmail.com
View Legals for Free